AR Ventures Teams Up With Luxury Bitcoin Pen Producer Ancora1919 To Write A New Page In Blockchain's Development  
The blockchain space welcomes another exciting partnership these days, as AR Ventures, a UAE blockchain consultancy company, and Ancora1919, one of the oldest Italian luxury pen manufacturers that created the world's first Bitcoin Pen just revealed a strategic partnership that will support the development of new blockchain products.
AR Ventures supports business leaders driving the fintech revolution
AR Ventures is a venture capital and consultancy company which aims to support the developments in fintech and blockchain technologies.
The company was founded this year by Alexander Rugaev together with a team of fintech enthusiasts who share the very same goal of creating a brand new financial world via innovative and disruptive technologies.
Rugaev is a serial entrepreneur, an expert in blockchain technology, crowdfunding, fintech startups, and peer-to-peer lending.
It's also worth mentioning that he was a seed investor in startups SingularityNET, BankEx, and Vimana Global. Rugaev also co-founded and later exited the blockchain SaaS platform ICOpromo.com.
The team behind the company has invested in the blockchain technology since back in 2914 and it managed to gather a lot of robust experience.
In 2016 they began consulting for crowdfunding campaigns, helping them to raise a total of over $150 million for blockchain startups including INS Ecosystem, Blackmoon Crypto, SONM, TAAS, Chronobank, and DAO.Casino.
AR Ventures' main goal is to support business leaders who are ready to drive the fintech revolution to reach the next level.
The company is offering support in venture investments, fintech expertise, marketing expertise, investor relations, software, and project development.
Ancora creates the world's first Bitcoin Pen
Italian pen-maker Ancora1919 and digital moneymaker Bitcoin may seem to have little in common, but the value of both assets is based on the economic concept of scarcity.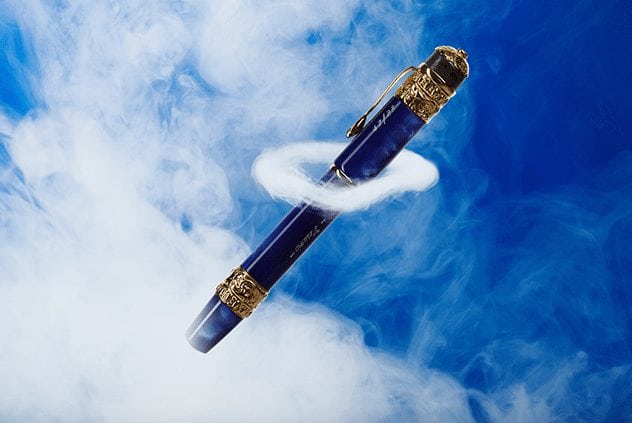 The scarcer and asset, the higher its demand, and an increase in demand will increase the asset's value.
Ancora understood perfectly the concept of scarcity since its inception back in 1919 along Lake Maggiore in Italy.
The maker of fountain pens and ballpoint pens produces its fine products in limited editions only and its latest special edition is the BitcoinPen.
Bitcoin fountain pens are an attractive and safe investment, because, in addition to the quality of materials, investors value them for their rarity, reputation and design themes as well.
The partnership between AR Ventures and Ancora1919
The two companies will be working together between 2018 and 2019, creating new designs and improving Ancora's brand awareness among the crypto community.
For starters, the plan is to relaunch Ancora's website by November 1st, 2018. AR Ventures is set to implement a marketing strategy in order to help Ancora penetrate new markets such as UAE, India and the USA.
Back in June, Ancora purchased the most iconic Italian pen brand OMAS (Officina Meccanica Armando Simoni), which was purchased in 2011 for $50 million. 90% of OMAS was now under O-luxe Group (ex. Ming Fung) and 10% remained with the French luxury goods company LVMH.
AR Ventures will also develop digital services and marketing for these brands.
"I am proud that Ancora1919 has chosen AR Ventures as their partners. Their crypto pens are really unique because they preserve century-old traditions but are designed for people fascinated with cutting-edge blockchain technologies," Alexander Rugaev stated about the partnership between the two companies.
The blockchain industry awaits the innovative and exciting developments that will be achieved via this latest collaboration.
An experienced finance writer for more than 10 years, active industry watcher, and gadget enthusiast.
CEX.IO
Coinbase
Binance
Lasted news