Bitcoin $100k Prediction Is Back Amidst New Price Correction
We have a new correction in the crypto market and Bitcoin managed to fall below $45k. At the moment of writing this article, BTC is trading in the red and the king coin is priced at $43,011.
Bitcoin can still break $100k
Amidst this price correction, one of the world's top financial firms believes that BTC can breach a key psychological price benchmark by taking market share from a competing store of value.
In a new article, Bloomberg revealed that a Goldman Sachs Group report lays out how Bitcoin might surpass $100,000.
Goldman Sachs made sure to explain the following:
"that if Bitcoin delivers a compound annualized return of around 17% over the next five years as investors continue to adopt cryptocurrencies, then BTC could reach the $100,00 price target."
As the online publication the Daily Hodl notes:
"At approximately $700 billion float-adjusted market cap in the "store of value" market, Bitcoin currently makes up just 20% against gold's value of $2.6 trillion."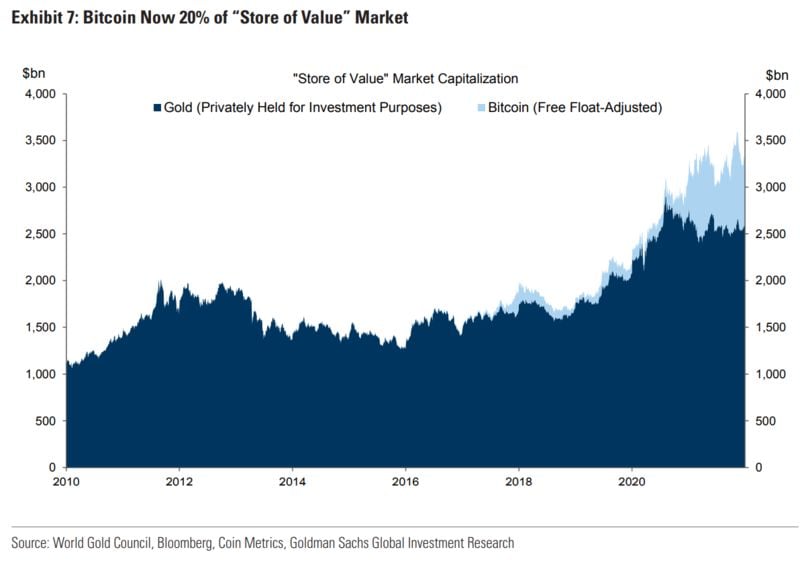 New BTC prediction
The pseudonymous analyst known as TechDev just revealed that a cycle top for BTC is coming at some point this year.
He is using two-week candles on a chart that incorporates logarithmic growth curves and Fibonacci levels – he said that a close above the middle level will likely act as the trigger to send Bitcoin on a parabolic rally above the $200,000 mark.
"After more research, I've come to believe this next (possibly final) impulse will come after a two-week close over the cycle 1.618, as they always have. If this happens, it may provide a timeline estimate, but it honestly does not matter, and I don't plan to focus on it."
He also made sure to explain the fact that BTC will follow previous cycles by launching off the 1.472 Fibonacci level into a final leg that extends well into the six figures.