Bitcoin (BTC) Falls To $7,700 After Surpassing $9,000 – The Could Be The Pullback Predicted By Analysts
Not too long ago, BTC was able to go above $9,000, and everyone was confident that it would soon surpass the psychological level of $10k as well, leading to the FOMO being unleashed to the mainstream.
But BTC did not last long above $9,000, and it fell as low as $8,000.
BTC fell to $7,700 – a normal correction
According to reports coming from Cryptoslate, BTC plunged again to $7,700 before recovering to prices below $8,000.
At the moment BTC is trading in the red on CMC at the most important coin in the market is priced at $7,990.43.
The online publication mentioned above notes that this might have been the pullback that has already been predicted by analysts after BTC surged like crazy during the past weeks.
They also note that this sudden recent drop managed to erase all of the gains from May 26 which saw the price of BTC shoot up from just below $8,000 to above $8,800 and testing the $9,000 resistance three times before falling again.
Crypto experts are saying that if the bulls don't step in, BTC could fall even more.
For those that weren't around in the bull market in 2017, these sorts of drawdowns are normal and to be expected. Bitcoin is insanely volatile and will test your will. I'm not saying we are in a big "BULL", but if it is, expect this

See below for ~24hr drops in the last bull pic.twitter.com/AO4txhixNz

— Crypto Quantamental (@CryptoQF) May 17, 2019
Analysts say that price corrections are something normal during a bull run and there's nothing to worry about.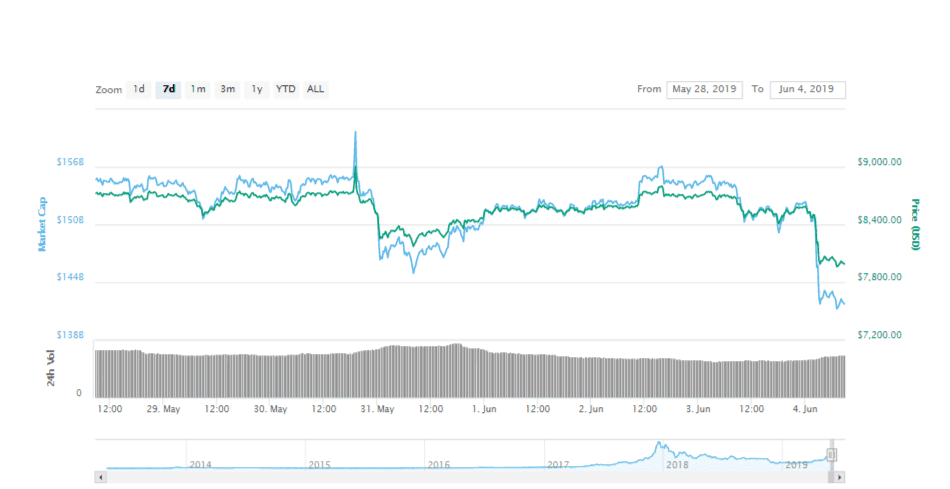 BTC is expected to race towards $12,000
Not too long ago, it was reported that the CEO of the blockchain-based crypto identity Civic has said that BTC could soon surpass more resistance levels and hit $12,000.
The Daily Hodl reported that Vinny Langham who was bearish on BTC a little while ago said that BTC's newfound return to volatility makes him believe that the most important coin in the crypto market will reach $12k soon and the coin will then find consolidation around $10,000.
This was before this unexpected fall to $7,700, but we'll just have to wait and see where the price will go this time and if the bulls decided to return.
CoinMarketCap
CoinMarketCap is a website that provides cryptocurrency market cap rankings, charts, and more. It was purchased by Binance for $400M in 2020.
An experienced finance writer for more than 10 years, active industry watcher, and gadget enthusiast.
CEX.IO
Coinbase
Binance
Lasted news