Bitcoin (BTC) Recent Crash Is Still Under Investigation – Other Potential Causes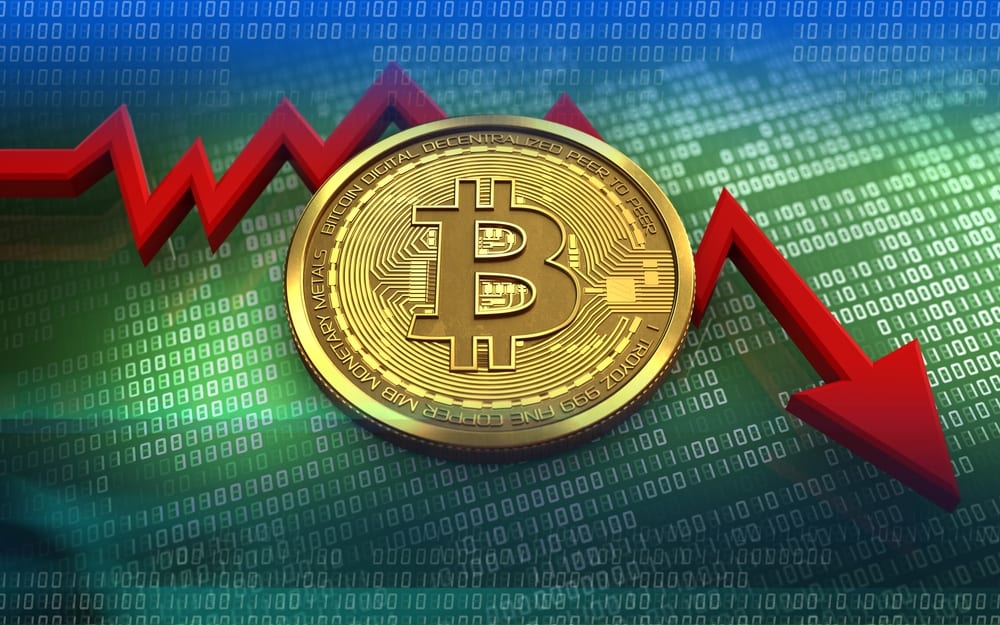 After a massive surge that took place a few days ago, BTC hit the $8,000 level, and more experts believe that it would continue to surge to $10k, but the coin crashed.
The SEC to blame for the price pullback in the market
There's been a lot of speculation on the reasons for the crash, and some claims suggested that the SEC is involved.
Smartereum online magazine comes with an extremely interesting claim. They say that the SEC may be to blame for this pullback in prices.
The online publication notes that the SEC has always had its eyes on ICOs hosted on the blockchain.
The reason is that they are dedicated to protecting the average trader.
Bitstamp launched an investigation
Now, the Luxembourg-based crypto exchange Bitstamp said that it's launching an investigation into a huge Bitcoin sell order that reportedly triggered the crash of BTC this Friday.
"A large sell order was executed on our BTC/USD pair today, strongly impacting the order book. Our system behaved as designed, processing and fulfilling the client's order as it was received. We closely examine every event that causes large-scale movement in our order book and have started an immediate case investigation."
2/2: We closely examine every event that causes large-scale movement in our order book and have started an immediate case investigation.

— Bitstamp (@Bitstamp) May 17, 2019
Someone commented "If the order was placed and executed as intended, then the goal of the seller was to inflict maximum impact. In equities, that person would be fined and potentially locked up depending on the jurisdiction. Love to see how this turns out but would imagine nothing happens."
This sell over reportedly sent the price of BTC on Bitstamp into a sudden spiral, and it dropped from $7,800 to as low as $6,250 in a matter of minutes.
After that, the drop reportedly triggered the liquidation of a massive number of long positions on BitMEX which calculates its BTC index based on the average price between Bitstamp and Coinbase Pro.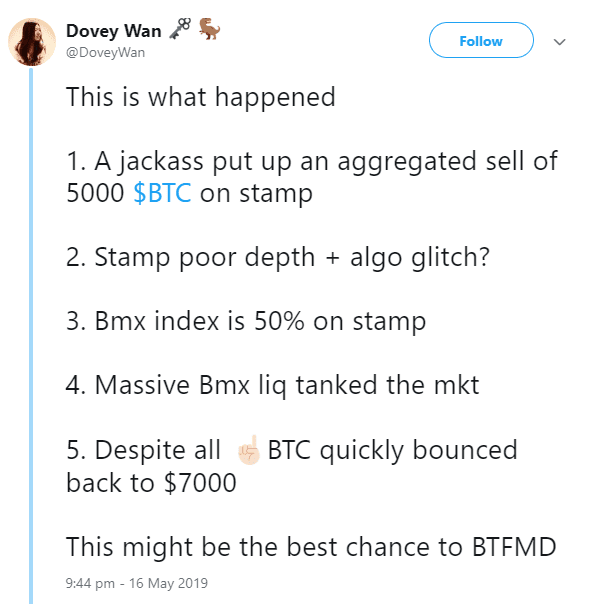 As the liquidations from BitMEX were executed, the price of BTC fell across all the crypto exchanges.
It's important to note that Bitstamp did not confirm the exact size of this trade but the founding partner of venture capital and private equity firm Primitive Ventures, Dovey Wan has estimated that the big sell order was 5,000 BTC.
Now BTC surged again, and it's priced at $7,953.80 on CoinMarketCap. This rapid recovery of BTC after the crash is a strong indicator of how positive the sentiment in the market is these days.
CoinMarketCap
CoinMarketCap is a website that provides cryptocurrency market cap rankings, charts, and more. It was purchased by Binance for $400M in 2020.
Coinbase
Coinbase is a digital currency exchange headquartered in San Francisco, California.
An experienced finance writer for more than 10 years, active industry watcher, and gadget enthusiast.
CEX.IO
Coinbase
Binance
Lasted news