Bitcoin Halving Triggered Revenue Plunge For Miners – BTC Is Trading Below $9,900
The crypto market looks great today, and most coins are trading in the green. At the moment of writing this article, BTC is priced at $9,838.05.
New on-chain data is showing an early look at the impact of the Bitcoin halving on miners that are powering the network.
Bitcoin halving triggered a plunge in miners' revenue
Before the May 11th halving event, total miner revenue topped $17 million, according to data compiled by Blockchain.com, before plunging to $7.82 million following the much-awaited event.
As you know, on May 11th the Bitcoin reward for completing a block has been reduced by 50% to 6.25 BTC – this led to the fact that the revenue earned by miners fell instantly by 48%.
The increased pressure on miners forced a lot of them to fold. According to the latest reports coming from the Daily Hodl, Alejandro De La Torre who is vice president as mining pool Poolin said that an important number of miners who comprise about 30% of the whole BTC network hash rate are currently working really hard to turn a profit.
This is mainly because they are running their operations on old and inefficient equipment such as Bitmain's S9 miner.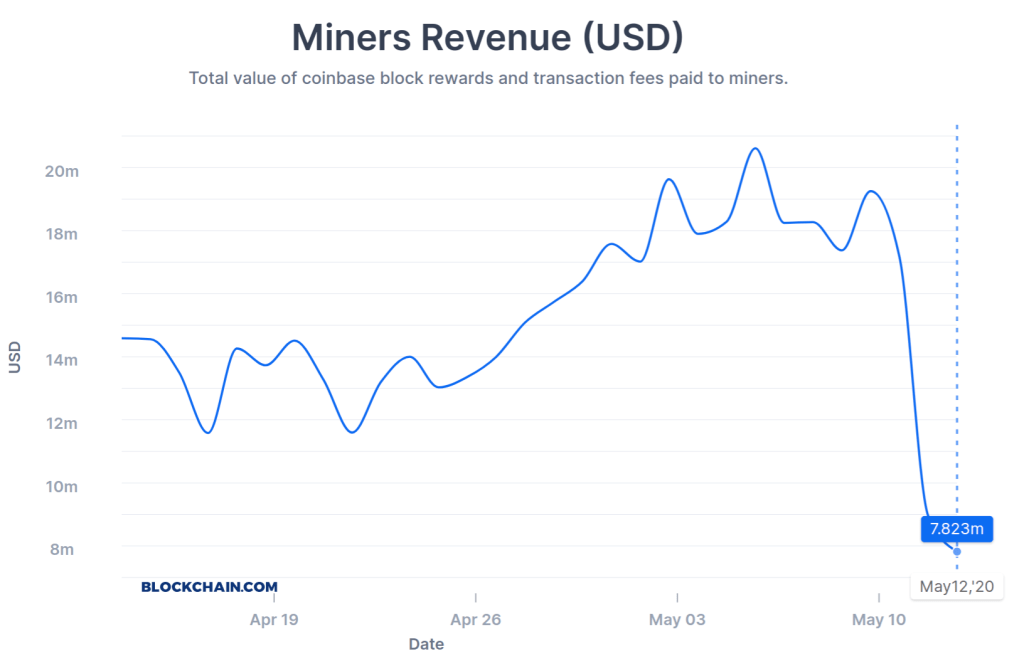 A lot of miners expected to shut down
De La Torre stated the following:
"While we expect most of these miners will shut down after the halving, it is likely that some of them have cheap enough electricity to survive in the near future."
We recommend that you check out more about what he had to say in the official notes.
The crypto market is now rallying and crypto enthusiasts cannot wait to see BTC hitting the massively important psychological level of $10k. This is a FOMO-triggering crucial level.
While we're waiting, make sure to check out some really useful advice offered by an early BTC adopter about investing, trading, exchanges, and more interesting crypto-related issues.
CoinMarketCap
CoinMarketCap is a website that provides cryptocurrency market cap rankings, charts, and more. It was purchased by Binance for $400M in 2020.
I am a technical writer, author and blogger since 2005. An industry watcher that stays on top of the latest features, extremely passionate about finance news and everything related to crypto.