Bitcoin HODLing Sentiment Registers 3-Year High – A Bullish Sign
Numerous investors have stopped trading Bitcoin but rather started to follow the traditional buy-and-hold strategy.
Data collected by Glassnode showed that around 8 million Bitcoin tokens had not been transferred in at least three years. That makes up 44 percent of the total crypto coin supply, which is a level, as Glassnote also noted, we have not seen in more than three years.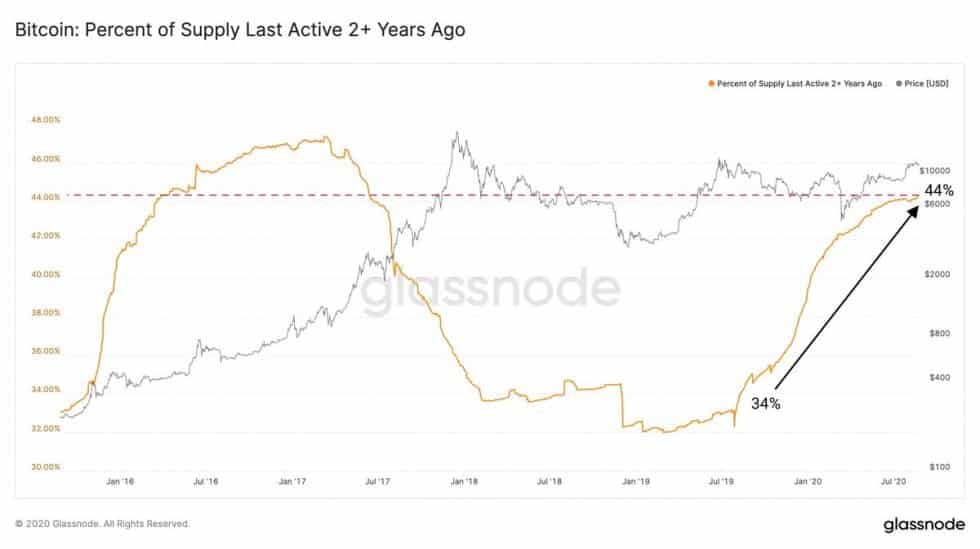 The so-called 'HODling sentiment' started to become popular in the late 2019s. Back then, the price of the king coin had dropped as low as $6,430 for the year-to-date high close to $14,000. Traders purchased the coins in anticipation of securing both short- and long-term profits.
The Price Recovered
The BTC/USD exchange rate was on a continual rise after December 2019. The two assets entered this year with major gains as bids for Bitcoin enhanced against the then-ongoing U.S.-Iran tensions. Then, on February 13th, the cryptocurrency was trading for as much as $10,522.
All the same, Bitcoin did not manage to sustain its upside view against the pandemic. Entering March, the king coin crashed together with the global markets, including gold and stocks, after governments issued lockdowns. As of March 13th, the BTC/USD exchange rate was changing hands at a minimum of $3,858.
However, that did not decide the HODLing sentiment​, as per the Glassnote chart above. Investors caught the Bitcoin's drop, aided by central banks' open-ended incentive policies. Therefore, the cryptocurrency went up by more than 200 percent, closing above its prior year-to-date high to get to $12,486 on August 17th.
Exchanges Outflow
The HODLing sentiment saw further affirmation from the data registered during the leading cryptocurrency exchanges. On-chain research firm CryptoQiant stated that the number of Bitcoin tokens kept in trading platforms went down to a new 2020 low the past week.
The figures, once again, indicated a drop in trading sentiment among the Bitcoin users. The HODLing pattern increased in spite of Bitcoin trading close to its fresh year-to-date level above the $12,000 line. That seemed to be in opposition to what happened in March, as back then, exchanges had more Bitcoin tokens in their reserves at the time of sell-off.
CryptoQuant CEO Ki-Young Ju backed up this, noting that the next major Bitcoin crash seems rather improbable.
He added: "People keep worrying about the great sell-off like March, but exchanges don't have as many idle Bitcoins (waiting to be sold) as that day."
Bitcoin is Now Trading Up
Konstantin Anissimov, the executive director of CEX.io, on the other hand, mentioned a massive rise in the number of new trading accounts on their exchange platform. He said that their monthly signups rose by about 80 percent in the first half of this year, which, obviously, led to equally higher trading activity.
"Out of all the traders, 66 percent are turning a profit for themselves. For traders who are active 70 percent of business hours, the average success rate increases to 73 percent," Mr. Anissimov added.
At the same time, the Bitcoin market has gained profits to its holders on 98 percent of all days since 2013, UTXO data by Glassnode shows.
An experienced finance writer for more than 10 years, active industry watcher, and gadget enthusiast.
CEX.IO
Coinbase
Binance
Lasted news