Bitcoin Struggles Below $6,900 – Retail Investors Bought The Dip
The crypto market looks pretty bloody today, with almost all the digital assets trading in the red.
At the moment of writing this article, Bitcoin is also trading in the red, and the most important coin out there is priced at $6,883.82.
Retail investors and institutional traders recent behavior
It's been revealed that analysts from the crypto intelligence company Coin Metrics said that they have been witnessing all kinds of behaviors from retail investors and institutional traders ever since March 12th sell-off.
After the crypto market fell, the blockchain analytics company reported that an important number of retail investors seem to have jumped on the BTC wagon to buy the dip.
"The number of addresses holding relatively small amounts of BTC has been increasing since the March 12th crash… This could signal that adoption is growing, as new users start acquiring relatively small amounts of BTC," according to the official notes.
The same notes reveal that institutional traders sold their positions during the same timeframe.
Check out the graph from CoinMetrics below to see more, and we also recommend that you take a look at their analysis.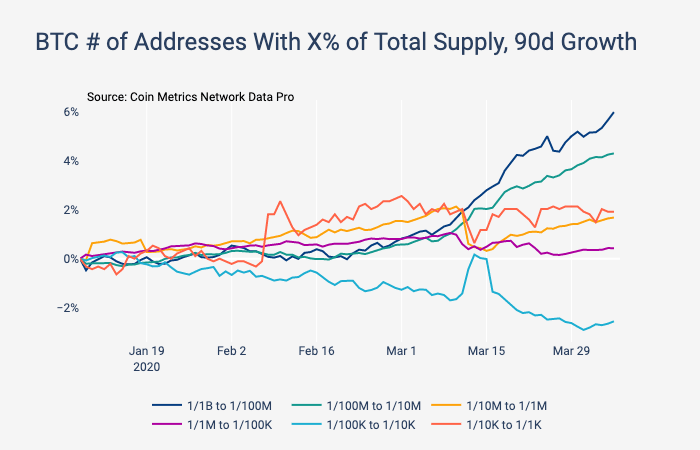 Optimistic Bitcoin predictions ahead of the halving
Despite the massive market volatility, there are all kinds of optimistic predictions about the price of Bitcoin, and most of them are mentioning the same price trigger: the upcoming halving that is scheduled to take place next month, in May.
The event will slice in half the BTC reward that miners can earn for processing transactions.
The impact that the halving process will have on Bitcoin and crypto has been debated for months by crypto analysts, and there have been optimistic but also some gloomy predictions about it.
On the other hand, more analysts are saying that during this global crisis that's triggered by the coronavirus pandemic, Bitcoin and the digital assets will show their true benefits.
CoinMarketCap
CoinMarketCap is a website that provides cryptocurrency market cap rankings, charts, and more. It was purchased by Binance for $400M in 2020.
An experienced finance writer for more than 10 years, active industry watcher, and gadget enthusiast.
CEX.IO
Coinbase
Binance
Lasted news