Bitcoin to Rise to $14K as U.S. Dollar Goes Below Classic Support
Bitcoin's price went higher during the Wednesday trading session as demand for other safe-havens remained steady against an underperforming U.S. dollar.
The benchmark coin rose five percent to close at $11,756.75, according to data from Coinbase. Its gains tracked a record upside run in the gold market, wherein the metal's price went higher after passing the $2,000 milestone. In general, the fight in scarce assets showed fears of inflation among investors.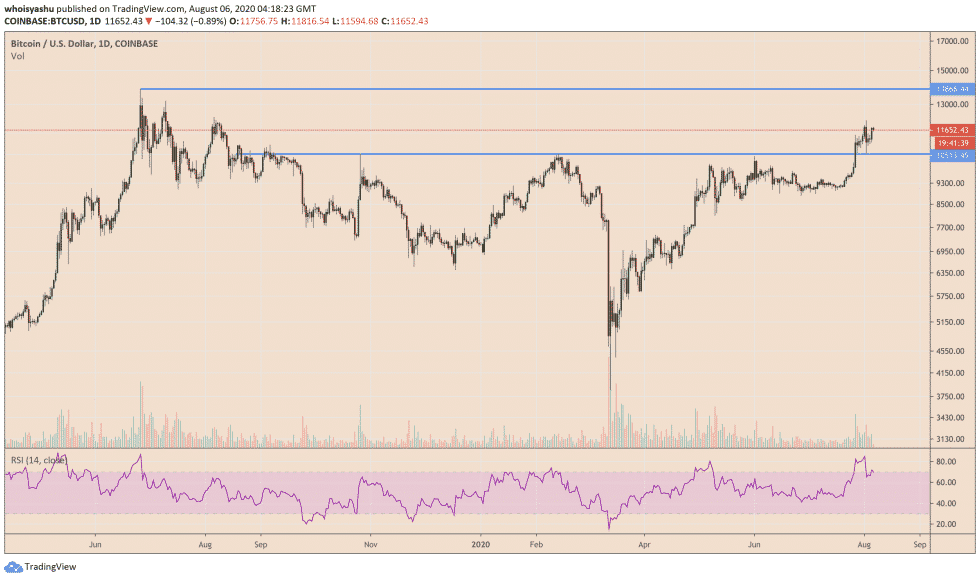 Luca Paolini, the chief strategist at Pictet Asset Management, said in a statement to FT that investors are rather cautious now after the stock market's huge rally post-March. He considered that the Wall Street valuations stand overstretched as 'downside risks to earnings remain.' According to the strategist, fears of a massive correction had made investors look for safety in the bond market, which itself is even more costly, and is providing the worst yield in two decades.
More Declines for the U.S. Dollar
In the meantime, the latest decline in the U.S. dollar further implies that investors do not want to put their capital into the greenback. Part of the reason is the Federal Reserve's open-ended easing policy with a liberal inflation target at two percent, as well as U.S. Congress' trillions of dollars of incentive packages that are leading the greenback into an oversupplied realm.
That has increased the appeal for gold as a next-best asset, while Bitcoin is simply cashing on its decade-long safe-haven narrative. Technical levels on the U.S. dollar index chart also depict the price going towards a further weaker path in the following weeks.
Bitcoin to go up to $14K
As for Bitcoin, the challenging short-term outlook for the U.S. dollar may end up leading it into a bull move towards $14,000, a level close to its 2019 high. Scott Melker, a cryptocurrency analyst, noted a similar reverse association between Bitcoin and the U.S. dollar index, mentioning that it would end up 'insanely bullish' for the cryptocurrency.
"It's early in the monthly candle, too soon to judge," said Melker. "That said, the dollar looks ready to take a jump off the side of a mountain. This would be insanely bullish for BTC."
Bitcoin was trading for $11,778 at the time of press.
Coinbase
Coinbase is a digital currency exchange headquartered in San Francisco, California.
An experienced finance writer for more than 10 years, active industry watcher, and gadget enthusiast.
CEX.IO
Coinbase
Binance
Lasted news