Bitcoin Trajectory: Bloomberg Strategist Reveals BTC Outlook
The optimistic predictions about the king coin continue, despite the market volatility.
After Amazon denied rumours that it will start accepting BTC as a form of payment and that it would even create its own crypto by 2022, BTC's price dropped, and the king coin has been trading around $37k.
At the moment of writing this article, BTC is trading in the red, and the king coin is priced at $37,247.82.
Bitcoin new potential price moves
Bloomberg Intelligence commodity strategist Mike McGlone addressed Bitcoin's (BTC) outlook and whether or not the top crypto is more likely to revisit $60,000 than to drop to support at $20,000.
Eric Balchunas, Bloomberg's exchange-traded fund (ETF) senior analyst, shared a section of McGlone's report.
"Bitcoin is more likely to revert toward $60,000 resistance vs. $20,000 support, if its history of recovering from similar too-cold conditions are any guide. Our graphic depicts the benchmark crypto akin to the 2018-2019 consolidation period of around $4,000, just before launching to the 2019 peak at about $14,000," he writes.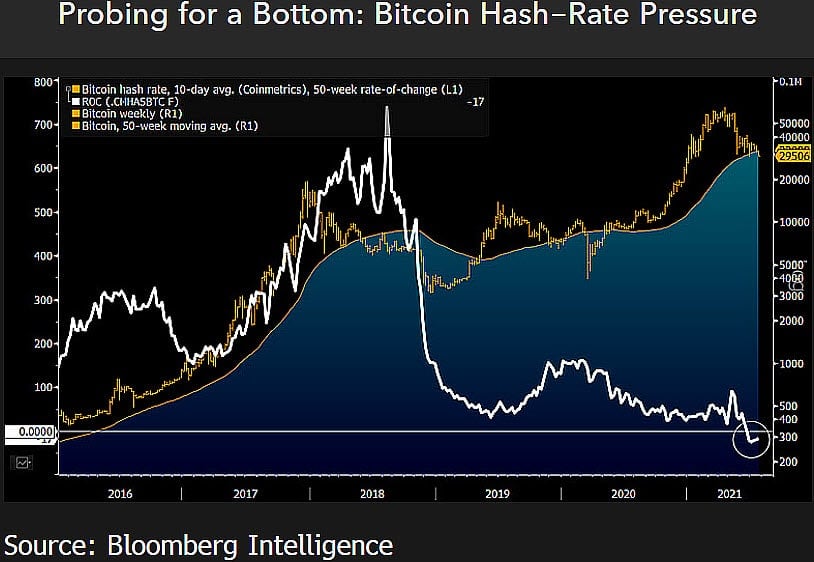 He continued and noted: "The more tactical-trading-oriented bears seem to proliferate when Bitcoin sustains at about 30% threshold below its 20-week moving average, allowing the buy-and-hold types time accumulate."
McGlone said that Bitcoin's consolidation above $30,000 is suggesting the fact that the king coin sets the stage for a sustained uptrend as opposed to triggering another round of sell-off.
"Shorter-Term Bitcoin Pain Typical for Potential Longer-Term Gain: Probing $30,000 is more a matter of supportive maturation within a longer-term pricing uptrend than a signal that Bitcoin is destined for dark days. China's crackdown [confirms] Bitcoin's revolutionary value."
We suggest that you check out the complete article in order to learn more details about the potential Bitcoin moves, according to Bloomberg's analyst.
Also, the mass adoption of Bitcoin is going great. The other day, we revealed that JP Morgan allows wealth management clients to access institutional Bitcoin and crypto funds.