Chainlink Registers All-Time High Price With 26 Percent Rise Within 24 Hours
Chainlink (LINK) is currently on the move again, after it raised by 25.5 percent in the last 24 hours to get to its current value of $13.49, which is an unprecedented high for this crypto coin.
Chainlink​ is the token that functions behind the decentralized price oracle, and it now holds the position of seventh-largest cryptocurrency by market cap. The reposition came after it jumped before Cardano (ADA) last night.
A New All-Time High
The latest move continues since almost two weeks of near-continual growth for Chainlink​, which has been on the rise since July 27th. Throughout its rise and until its peak last time, LINK has more than doubled its price, with the coin now up by 61.7 percent in the last weeks and 121.8 percent in the last month.
Chainlink​ is currently at its highest ever value and is on the list of the best performers of this year.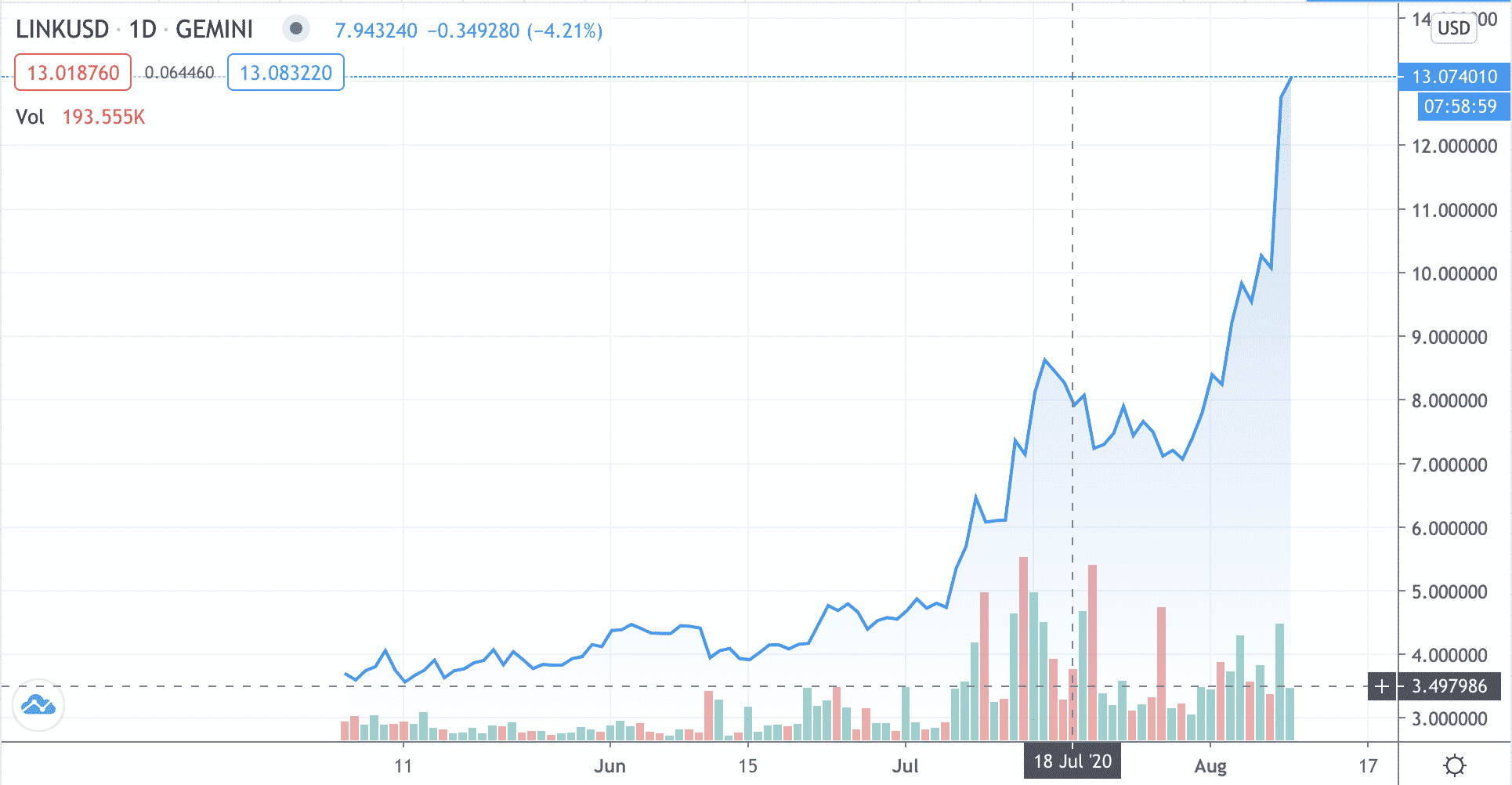 LINK now has a market capitalization of more than $5.18 billion, and if its price were to rise by a further 20 percent, its market cap would exceed its nearest competition – Bitcoin Cash – which could see it take its place as the fifth-largest cryptocurrency.
Some Positive, Some Skeptical
Even though many Chainlink​ holders are definitely elated at the recent price action, crypto asset management company Zeus Capital is of the predominant opinion that the coin will drop at some point. To detail on this theory, Zeus Capital published a 59-page document explaining why it believes Chainlink​ is overvalued and likely to face a dramatic drop.
The report has been debatable as the company is also suspected of doubling-down on its position with a $20 million LINK in minus, which may have been entirely liquidated after the coin went above $12.80.
Chainlink's​ most recent gigantic growth comes in spite of U.S. cryptocurrency broker Coinbase temporarily disabling buy and crypto-to-crypto trades for the coin. These have now been re-enabled on the platform, but Coinbase hasn't yet explained the reason why it closed the trades for Chainlink in the first place​.