Coinvest (COIN) We are big supporters of the third generation crypto companies that are leading the charge on the blockchain economy. Coins like IOTA, Ripple, Stellar, and Power Ledger are growing exponentially as they move toward full launch of new products to revolutionize old billion dollar industries. Coinvest is launching a token sale to create the TD Ameritrade of crypto coin exchanges.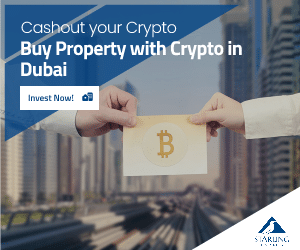 Current exchanges like Binance or Bitfiniex allow users to buy, sell, and trade individual coins on centralized exchanges in exchange for a percentage of the total exchange. This can become quite costly with the increasing price of coins and size of transactions. Coinbase allows free trades on its platform but is limited currently to only Litecoin, Ethereum and Bitcoin leaving options for trading limited.
Coinvest (COIN) is looking to start the first flat rate trading platform based on the ethereum blockchain allowing individual traders to set up and purchase any coin on the platform for a fixed price of $4.95. Beyond just individual coins, Coinvest will also allow users to set up a mutual fund of sorts basing a portfolio on a mix of coins set up by the buyer. If you want a group of coins like Ripple, Litecoin, Stellar, Cardano, and Populous with 20% of each and set it to autobalance daily, Coinvest has a platform for that. The platform will utilize Ethereum based smart contracts to build a decentralized crypto market.
The Platform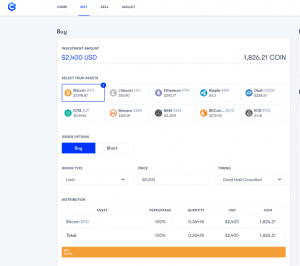 The platform is set up like a portfolio showing current balances of each coin held and allows the account holder to make various trades such as buy, sell, short and eventually use margin trades. They will have pre-built index funds and user generated options to build the fund you want.
There are options to set up triggers for automatic trades also. As the crypto market never closes it is possible a coin you are interested may increase or decrease in price to force a buy/sell. To prevent the need to babysit the portfolio you can simply set triggers to initiate trades.
COIN Token and Token Sale
Despite being headquartered in the US, the token sale is only limited participation to US residents. Once listed on private exchanges COIN will be open to anyone interested in using the Coinvest platform. As no fiat is planned to be accepted, COIN is required for Coinvest use. It is central to the application.
When an order is placed, COIN is placed into a smart contract and the user wallet is updated with desired crypto coin balances. When a sell order is placed, the ending balances are noted and an equal amount of COIN are distributed to the user wallet. Reserves which back COIN value are stored as crypto currency with 25% of revenue used to re-invest in the reserves.
The Token sale launches January 14th and runs through early 2018. The team plans to hit the trading markets at a value of $0.70 per COIN with the price of COIN driven by market demand. To stabilize the COIN in the future, revenue is planned to partially be used to re-purchase COIN if needed. No announcement exchanges yet from the dev team.
The Team
The dev team is solid and mixed technical and even some political connections. The third US Chief Information Officer Tony Scott and the founder of Mashable Pete Cashmore serve as advisors. Damon Nam, founder and CEO, worked for Microsoft in various technical positions over 16 years. The Chief Technical Officer, Byron Levels, has worked for many fortune 500 companies including Microsoft, AT&T and American Airlines over 23 years. Dexaran Derat is an Ethereum blockchain expert and serves as the blockchain engineer on the Coinvest team. The team has posted a video to better understand the project for interested users and investors.
We've published a video to help you understand Coinvest in 60 seconds:https://t.co/CXX7qsczLx

Let us know your thoughts and please help us spread the word!

— Coinvest (@CoinvestHQ) December 7, 2017
Coinvest and New SEC Blockchain compliance Rules 
The SEC can be difficult to manage for small companies. Coinvest has chosen to file legally with the SEC to register and comply with applicable SEC blockchain rules. Th cost associated with filing is also re-assuring that the Coinvest team is investing funds and understands the risk they are taking. Investors can be confident that SEC compliance is in place and should give legal protection to purchasers. From the team on the SEC filing announcement, "Unlike many other companies in this space, Coinvest is working to ensure that our business is compliant will all local and foreign jurisdictions and laws which might deem various activities illegal if these steps aren't taken. Our priority is to ensure the safety and security of our users, investors, and overall business. We hope that our actions validate our seriousness and goal to protect everyone within the Coinvest ecosystem."
Conclusion
Coinvest has the right team and a strong market concept for success. They are following applicable rules and regulations to help instill confidence to investors. The token sale and crowd sale is coming with a launch of the public platform which could launch Coinvest to a household name like Coinbase. Take a look at the Whitepaper which is well put together and includes an in depth look at all the features to come to the platform. The future promises a Debit card, trading rewards and even earning trading fees if other people purchase your portfolio. The BitCoinTalk thread is growing with active dev participation.  Big things could be ahead for coinvest. Check out the token sale here.