Crypto Messiah: What is Triggering Huge Meme Coin Rallies and the Next Bitcoin Bubble
Renowned analyst and trader Crypto Messiah has revealed a lot about the DeFi ​mania in a new Venture Coinist interview, in which he explains how investors are benefiting from the decentralized protocol Uniswap to try and supersize their portfolios.
The analyst says the simplicity of the smart contract platform, which enables traders to basically swap Ethereum (ETH) for another coin without intricate trading orders, is the special ingredient that's produced a burst of liquidity.
However, the trader says, it takes a massive amount of luck to see the next coin that will grow insanely much in a matter of days. Also, for every person who says they made big gains, there are 100 people who probably lost everything they had.
A Meme Coin for the DeFi Age
He recommended anyone looking to expand their portfolio to learn how to invest in legal projects with innovation, a narrative, and a reliable team leading the way.
"You can immediately protect yourself, whether you are an extremely knowledgeable market participant or not, by only even considering things that are novel in some shape, form, or fashion. When Tendies dropped, I was talking about it a $1 million market cap; people said, 'Oh, you're a piece of shit for talking about Tendies bro. That's bullshit blah blah blah,'" the trader said.
"As silly as it is, it's novel," he added. "We're talking about a meme coin for the DeFi age. You've got really two things that are pumping and pumping really hard right now. Those are DeFi projects and other projects that are revolutionary monetary experiments…"
The trader further explained: "The probability of you having that next 100x bag is extremely low. While this may seem unrealistic, all it takes is a 5x rolled into a 5x rolled into a 4x for you to achieve the same result with lower downside risk and higher probability. Why would you not take that approach versus being a hopium bag holder, hoping you have the next big thing?"
​Tendies (TEND) is a hyper deflationary crypto asset that rewards the holders who have the most amount of coins. It went up, as shown in the chart below, more than 800 percent in less than three weeks after its release, as per CoinGecko.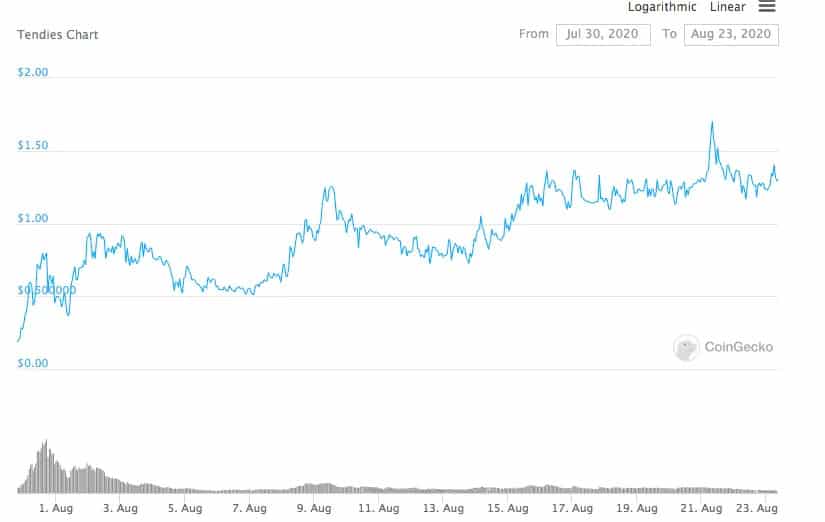 Crypto Messiah says that Uniswap has created a craze that reminds him of the crypto markets in 2014. Even though it is not hot at the moment, he says traders have to understand the markets in the euphoric stage of a new Bitcoin bubble that is meant to burst.
"This bubble pop is going to be really, really bad this time. That's part of the reason why I said, 'I'm going to semi-retire after this bubble' just because I don't have it in me to sit around for five years after this. That's how brutal it's going to be," he said.
An experienced finance writer for more than 10 years, active industry watcher, and gadget enthusiast.