In Summary:
Pirate Chain (ARRR) is the best privacy token available, hands down. Other, better known, currencies like Monero (XMR) have tipped their hat to the tech behind Pirate Chain.
Pirate Chain's second halving event took place on Februrary 27th. For updates and more regarding the development of Pirate Chain (ARRR) you should check out their public Trello.
The token ARRR is up around 10% today, following the general coin market. ARRR can be found on a growing list of exchanges including CITEX and CoinEx.
Batten down the hatches and look over the women and children, the real pirates of the blockchain are running ashore! Battle hardened and hungry for market cap, Pirate Chain (ARRR) is poised for serious gains, having weathered the worst of the storm that pounded the altcoin market over the past week.
What Exactly is Pirate Chain (AAAR)
Pirate Chain (AAAR) is, pure and simple, a secure and anonymous cryptocurrency. Utilizing zk-SNARKS to encrypt and anonymize transactions,  no conclusions can be drawn about your spending (or hodling) behaviour. The piratechain does not allow metadata to be transmitted, so ARRR are for all intents and purposes,  invisible.  Visit Pirate chain's (ARRR) official website for more information.
How Pirate Chain (AAAR) Won the Privacy Debate
Other competitors in the space, though awesome in their own right, just don't have the tech that Pirate Chain (AAAR) deploys.
The most obvious competitor, and largest coin by market cap in the privacy space is Monero (XMR). Monero (XMR) benefits greatly from their early entrance onto the privacy scene. When compared side by side to the lesser known Pirate Chain (AAAR), however, it simply doesn't measure up.
According to the Pirate Chain (AAAR) blog,
Pirate Chain has two main features that makes it at least the technological leader in the privacy sector. First, Pirate Chain employs zk-SNARKs, which is an anonymization protocol that does not reveal any details about the transactions. Pirate Chain is the first cryptocurrency to astutely employ a strategy of enforcing non-optional, private-only, zk-SNARKs protected addresses and transactions. Unlike Monero's limited anonymity set of 15, every transaction in Pirate Chain's history builds into an ever growing anonymity set. Second, Pirate Chain is secured by delayed Proof-of-Work (dPoW). Protected by dPoW, any potential attacker would have to first overcome both Bitcoin's and Komodo's blockchains. There is no comparable technology today in terms of blockchain security.
In this way, Pirate Chain (AAAR) won the privacy token debate and remains, hands down, the undisputed champion of secure, privacy focused tokens available on the blockchain.
Notably, members from both the Monero (XMR) and Zcash teams have publicly commended the Pirate Chain (AAAR) anonymity set.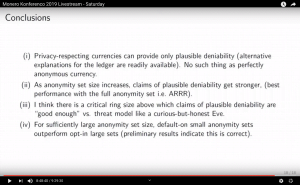 News from Pirate Chain (ARRR)
Pirate Chain's second halving event took place on Februrary 27th of this year. With high expectations for price increases due to the scarcity of coins that stems from smaller block rewards, this halving unfortunately began with an epic market slump. As the dust settles, however, and the market picks itself back up, those staking positions in AAAR could be rewarded many times over.
Another great thing about Pirate Chain (AAAR) is the growing list of stores accepting ARRR as payment can be found online. Seriously, the market is collectively know as the Aaarmada. So when the next hater on the blockchain whines about not being able to spend their crypto anywhere, make them walk the plank!
For the most up to date info on the development of Pirate Chain (AAAR), check out the team's Trello page. Here you can see news regarding collaborations, partnerships, upcoming site changes and more.
Brief Market Analysis of Pirate Chain (ARRR)
Pirate Coin (ARR) is ranked number 549 by coinmarketcap.com. With a total market capitalization of US $2.3 Million, ARRR boasts a volume of over US $32,000 over the past 24 hours. Currently there are 151,059,596 tokens circulating out of a total supply of 200,000,000.
Up nearly ten percent on the day, Pirate Chain (ARR) has proven itself capable of weathering the dramatic storms plaguing the current altcoin market. Currently trading at US $.0156, Pirate Chain (ARRR) look poised to surprise the land-loving market dwellers who weren't savvy enough to see through the FUD surrounding their current HODL.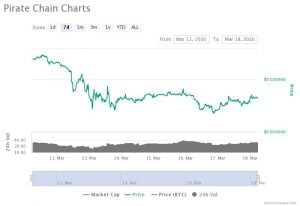 Maintaining their vessel and keeping their powder dry, the team at Pirate Chain (ARRR) looks ready to plunder the booty of incoming market participants. With their intensely private and ultra secure token, growing market place and continuing development, it's a great time to put Pirate Chain (ARRR) on your radar, and in your portfolio.
Micah C. Miracle
Follow me on Twitter and Subscribe to my YouTube channel for more!
Featured Image by VanveenJF on Unsplash
Disclaimer: This article is not meant to give financial advice. Opinions herein are purely the author's and do not necessarily reflect those held by Crypto Gazette. Do your own research before investing. Thanks.