IOTA (MIOTA) Takes a Huge Blow from Microsoft Misunderstanding: Will it Recover?
IOTA has dominated the cryptocurrency space market in recent days. When the IOTA team announced the new partnership with tech giant Microsoft, the market was in a frenzy with every investor seeking a piece of the pie. The high demand for IOTA's native cryptocurrency, MIOTA, led to an amazing spike in price. In less than 30 days, the price had risen more than 600%! Although Bitcoin had experienced a very massive increase in price as well, this dwarfed its achievement. The price acceleration was further fueled by the announcement that other tech giants such as Samsung and Cisco would also join the IOTA data marketplace.

Those who had acquired the revolutionary cryptocurrency were smiling all the way to the bank while those who hadn't been ruing their bad luck. The unbelievable price rise took their market valuation from less than $3 billion to over $13 billion and for the very first time, IOTA had a bigger market capitalization than Ripple to become the fourth most valuable digital currency.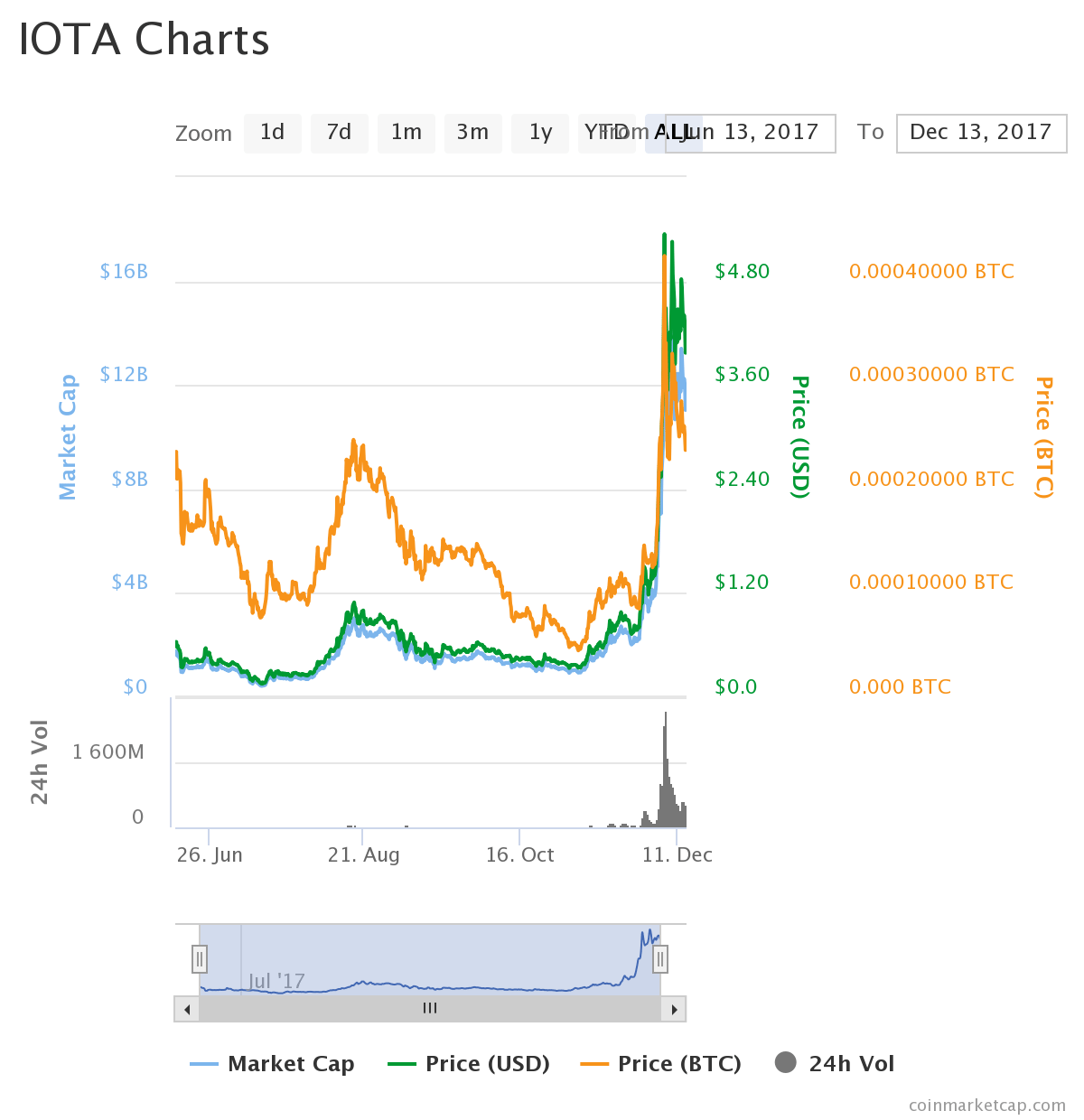 .
The bubble gets burst
On Wednesday, IOTA (MIOTA) cofounder Dominik Schiener clarified the misconception regarding the relationship between the IOTA foundation and Microsoft. While many had been led to believe that the two institutions had started a partnership, Schiener explained that no such announcement had been made. In an interview with The Next Web, Schiener explained that none of the companies in the data marketplace is a partner. Instead, he referred to these companies as participants.
Image 2 – IOTA (MIOTA) cofounder Dominik Schiener Source: youtube
.
Drastic fall in price
IOTA's price fell drastically in just a few hours as the market reacted to the revelation. While the digital currencies are meant to liberate their users from the influence of huge corporations, strategic partnerships between cryptocurrencies and major players in the tech industry are critical. Investors' confidence in IOTA had risen astronomically immediately after they thought that one of the biggest tech companies had endorsed it, The announcement by Schiener led to a quick market reaction which saw Ripple and Litecoin overtake IOTA once again in market capitalization.

Deliberately misleading?
The recent clarification put into doubt IOTA's ethics with many terming it as a deliberate effort by IOTA's development team to mislead the market. The communication released initially had indicated that it was a partnership which greatly favored IOTA's market value. Microsoft's blockchain specialist, Omkar Niak had been quoted terming it a partnership initially yet the IOTA team never bothered to correct him or to clarify the relationship until recently.

Will IOTA recover?
The most pertinent issue is whether IOTA will recover from this major blow and return to its upward trajectory. It most likely will and regain its market value. This is because, despite the setback, the technology and infrastructure behind the data marketplace are still intact, with or without the participation of Microsoft. The data marketplace is a revolutionary product by IOTA and it still has major tech companies participating already which include Deutsche Telekom, Fujitsu, Airbus and the Huawei Group. This marketplace seeks to monetize the extremely large volume of data that is generated every day by third-party sensors. It allows interconnected devices to transfer, buy and sell diverse data securely with the transactions being carried out on IOTA's impenetrable Tangle-based platform.

Should you invest in IOTA?
Investing in IOTA is a must for any cryptocurrency investor. It has set itself apart from all other cryptocurrencies, not just by its better blockchain platform known as Tangle which is much more secure and fast but also by its target market. IOTA seeks to capitalize on the ever-growing Internet of Things (IoT) industry which is fast becoming the focal point of modern technology. IOTA is the premier blockchain protocol for all communication and transactions from interconnected devices and as this market expands, so will the market value of the sixth most valuable cryptocurrency currently.
CoinMarketCap
CoinMarketCap is a website that provides cryptocurrency market cap rankings, charts, and more. It was purchased by Binance for $400M in 2020.
CEX.IO
Coinbase
Binance
Lasted news