Mike Novogratz Expects Bitcoin And Crypto Rally By The End Of 2018
The former Wall Street hedge fund manager Mike Novogratz expects the price of Bitcoin to head for a massive jump by the end of this year which will also be followed by a more significant surge at the beginning of 2019.
Novogratz is also the founder of Galaxy Digital, an investment company that's highly focused on crypto.
He told CNN Money that he is expecting a surge of about 30% by the end of 2018.
Exchanges and important companies are taking crypto more seriously
Novogratz highlighted the fact that big companies and exchanges have started to take crypto more seriously.
"Starbucks and Microsoft will allow you to use bitcoin," he told CNN Money.
He continued and said, "As you see more adoption of just people being comfortable with it, it feels like it's going to go up."
Novogratz is also pretty confident that more institutions will jump on board for fear of missing out.
He continued and explained that over time, more people would start to think of Bitcoin as a store of value just like gold.

"Thirty percent – there are some key levels. You've got to take out $6,800, and if that breaks, you'll go up to $8,800, $9,000, and if that breaks, it's $10,000. Those kinds of numbers make sense to me by the end of the year," Novogratz predicts.
He says that we will not see this massive bull run until the institutions actually start buying a lot. This will take a little longer, according to him.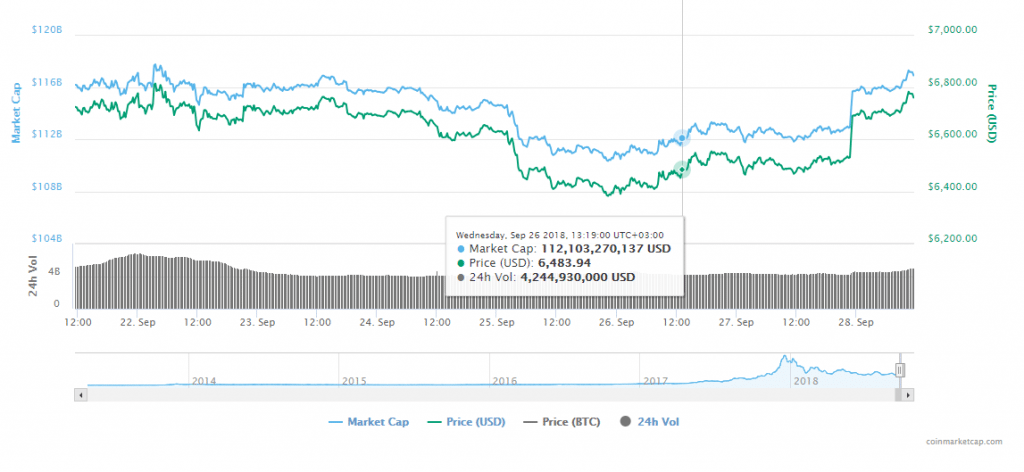 Bitcoin's current state in the crypto market
Bitcoin has recently consolidated inside a quite symmetrical triangle formation that can be seen on its 4-hour time frame before breaking out.
The price has closed above the top of the triangle around $6,700 to signal that the bulls might be gathering the upper hand.
In other words, a bullish breakout might be on its way and maybe Novogratz's prediction might become a reality by the end of this year. We'll just have to wait and see.
Bitcoin is currently trading in the green at $6,738.93 on CoinMarketCap.
CoinMarketCap
CoinMarketCap is a website that provides cryptocurrency market cap rankings, charts, and more. It was purchased by Binance for $400M in 2020.
An experienced finance writer for more than 10 years, active industry watcher, and gadget enthusiast.
CEX.IO
Coinbase
Binance
Lasted news