PATRON Reveals Robust Plan To Benefit Token Holders: Token Swap, Buy-Back Program, And Five New Exchange Listings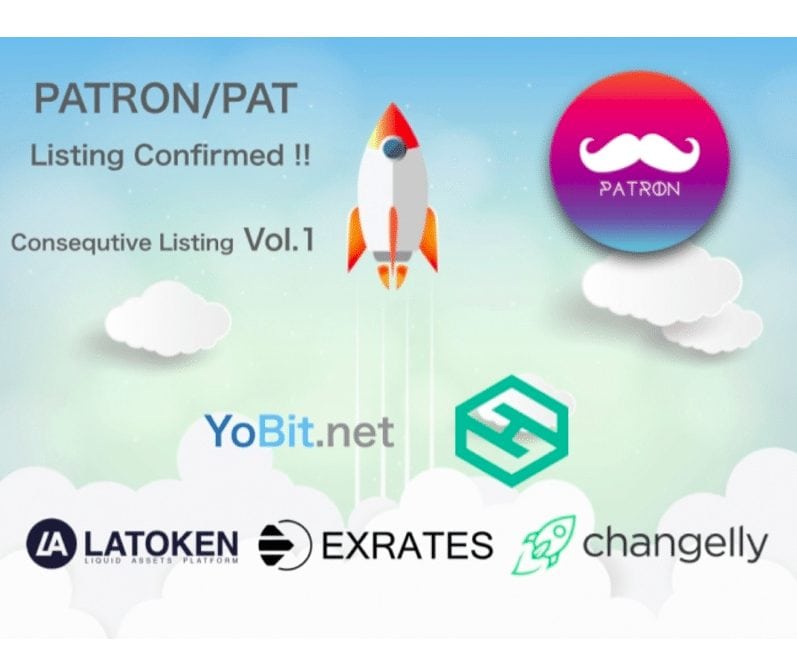 PATRON is a subsidiary of EXTRAVAGANZA INTERNATIONAL INC. and has announced an aggressive plan to benefit current and new token holders. This plan that the team has developed will consist of a token swap, a buy-back program, and at least five new exchange listings.
The company's CEO Atsushi Hisatsumi organized a $40 million token sale and some initial exchange listings.
The company recently teamed up with various leading influencers in the U.S. including Saweetie.
The company also had the privilege of being featured in Forbes as the top blockchain startup to keep an eye on.
The robust plan that was developed will begin with continuous exchange listings and also a buy-back program that will see the board of directors burn some of the tokens in order to benefit the greater community. A proposed token swap is currently developing as well.
PATRON's exchange listings
The team behind PATRON managed to seal five partnerships to help acquire new token holders, enhance liquidity and also increase the volume of transactions.
Five exchanges have approved PAT tokens for listing: Hotbit, Extrates, Yobit, Changelly, LATOKEN.
The team also announced a future listing on the leading South Korean exchange, Kucoin.
This is set to happen in a few weeks, and the details of this deal will be announced when everything is confirmed. PAT is also in the running at CoinEx for listing, and you can vote to support it here.
PAT token buy-back and coin burn
PATRON (PAT) is about to launch its mainnet, and the event should take place before September ends. This will also involve a platform change and a token swap that are required for compatibility.
In the case in which another blockchain platform than Ethereum will be used token holders will be guided on the migration and swap.
When it's time for the mainnet launch, PATRON will announce holders all about both host wallets and guest wallets.
You will need to be current PAT holder in order to take part in the token swap. More than that, the team behind the company will also perform a buy-back and a coin burn of PAT tokens. These will support liquidity and appreciation of the tokens. PAT tokens will be burned from the team's pool as well.
PATRON to participate in Crypto Finance Conference
The company's team will attend the Crypto Finance Conference in California on September 5th, and Hisatsumi will be a guest speaker there.
The conference will take place at the Ritz-Carlton at Laguna Niguel. Other confirmed speakers and guests include Chris Larsen (Ripple Chairman), Tim Draper (Draper Associates), David Namdar (Galaxy Digital), Bill Tai, Jeffrey Wernick, Catherine Ross, Dane Morehead, and more.
You can learn more about PATRON on their official website, and we also recommend that you check out their white paper here.