Rentberry ICO – A Win for Tenants, Landlords and Investors
For Rent on the Blockchain
Sometimes you open up a white paper on a new ICO and you're struck with the awesome sensation that you found it. The proverbial it being a gold mine of opportunity, sold on the cheap, and a chance to reap the rewards we've been promised by the Gods of the crypto-universe. Reading the whitepaper on Rentberry gave me that feeling. Yes, the force is indeed strong with this one.
With the current increase in rental prices globally and the development of blockchain technology ready for mass adoption, Rentberry is among the first outfits (outside of the typical peer-to-peer transactions the space is typically known for) to give a useable product to the largest segment of our population. The US middle class is indeed warming to blockchain technology as Coinbase introduces them, slowly, to the largest (and perhaps least useful) crypto-currencies. But we aren't the only one's. And as our new-founded crypto-tech expands globally, people across the world are starting to realize that the blockchain is more than a get-rich-quick pyramid scheme. Soon, the lotto scratcher-mentality currently predominating the crypto-market will fade and a bright new world of opportunities will be unveiled. Rentberry is one of these opportunities.
Check out Rentberry ICO here: https://rentberry.cryptonomos.com/
What Does it Do?
Rentberry is simple. I like simple. Rentberry hooks up landlords and tenants in the brave new de-centralized housing market. Think Zillow or Trulia without the inevitable middle-men. But Rentberry is more than just some over-hyped, mania inducing website like the above mentioned rental products. Utilizing the Ethereum blockchain, Rentberry allows for smart contracts to be made through a user-friendly platform, truly allowing for peer-to-peer (tenant-to-landlord) transactions while effectively automating the complex bureaucratic procedures involved. The service will prove highly beneficial to the users on both ends of the deal.
As is often the case, rental companies (like all middle-men) drive up prices for tenants and charge more than necessary from landlords. As the terms of rental contracts become more transparent, the bidding on rental agreements will inevitably prove cost-effective for the renter. And with the ability to inform landlords of verifiable credit scores and rental histories, collect payments, and settle disputes, Rentberry effectively helps landlords become their own rental company. Win-win.
Rentberry is Already in Use
Going beyond a vision and a roadmap, RentBerry already has 120,000 users and 224,000 properties on their platform, and has raised over $4 million from well-respected angel and institutional investors. Their latest platform went live earlier this year and is already being hailed as a major disrupter of business-as-usual in the rental market. Though headquartered in San Francisco (talk about high rents, sheesh), Rentberry has their eyes set on an international presence. After-all, it isn't just the US experiencing an explosion in the real-estate market.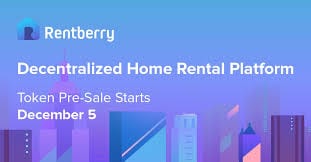 Token-Sale
The Rentberry token is the proprietary coin designed for the rental market. Known as a BERRY, the token is selling for the price of 2500 BERRY for 1 Ethereum (ETH). The sale began December 5th but you aren't too late. As a matter-of-fact TODAY is the last day to get a HUGE 33% bonus on your purchase! Don't say I didn't warn you. At the time of this post, there are only 5 hours left to claim your reward!
This Initial Coin Offering continues until February, but the bonuses slowly tail off toward the end of the sale of this fantastic product.
Conclusion
Rentberry is a win for landords a win for tenants and a win for various invested third-parties (like credit agencies). And if this newest altcoin product turns out to be everything it promises to be, we may be  looking at a new all-in-one rental market-place for the increasing number of tech-savvy millennials finally moving out of their parent's basement (thanks to their crypto-gains from 2017)!