Riding the wave: Ethereum (ETH) hits $720, Bitcoin Cash (BCH) reaches $1,500 and IOTA bounces with 16%
The significant growth over the past 24 hours has almost all the coins up in green. The leader in the Top 30 is Verge (XVG) and the coin witnessed a 21% gain in the past 24 hours.
After its controversial partnerships with Pornhub and Brazzers, Verge fell a bit and many argued that free giveaways could have triggered the recent sell-off. Others did not approve of these partnerships at all. The most important winners of last week are Cardano (ADA) with a growth of 40% and VeChain (VEN) with a spike of 37% in the past week.
Ethereum (ETH), Bitcoin Cash (BCH) and IOTA (MIOTA) have been sparking the return of bulls these days.
Ethereum (ETH)
On May 1st, at 00:00 UTC, Ethereum (ETH) was trading at $627 on Coinbase and today after just three days, at 04:15 UTC. ETH was trading at exactly $724 to a token with a market cap of $71 billion. The coin jumped 14% over the course of last week. Most voices claim that Vitalik Buterin's announcement regarding the sharding system is taking credit for the crypto's massive boost. On the other hand, there are a lot of members of the community who are saying that investors don't understand the concept of sharding and the current rise is just a shift.
Bitcoin Cash (BCH)
BCH hit a resistance at $1,560 in 24th of April and then it pulled back to trade at around $1,300. The coin managed to bounce back since yesterday and now it's trading at $1,054 to a token with a market cap of $25 billion. We're talking about a 12% bump in the last 24 hours.
Analysts say that a break in the minor resistance at $1,550 would indicate a bull run and take the coin's prices to the moon aka to about $1,800.
IOTA (MIOTA) dethrones Tron
IOTA jumped by 15% during the past 24 hours and now the crypto is trading at $2.27 with a market cap of $6.3 billion. It even managed to push down Tron (TRX) from its ninth position on CoinMarketCap.
Fujitsu recently said that IOTA could become the new Global Automation Standard.
Overall, the crypto market's most popular coins seem to recover steadily.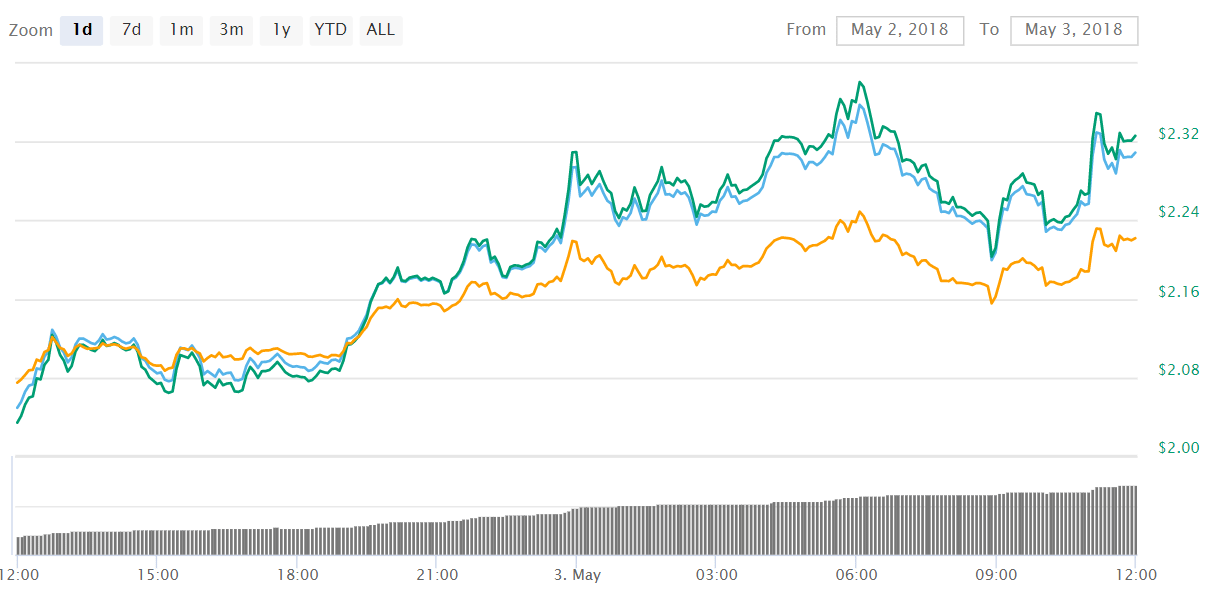 Vitalik Buterin
Vitaly Dmitriyevich "Vitalik" Buterin is the co-founder of Ethereum, the world's most popular smart contract platform that enables developers to build decentralized applications (at the time of wirting this, ETH has a market cap pf $2B). Prior to his development of Ethereum, Buterin was the co-founder of Bitcoin Magazine.
CoinMarketCap
CoinMarketCap is a website that provides cryptocurrency market cap rankings, charts, and more. It was purchased by Binance for $400M in 2020.
Coinbase
Coinbase is a digital currency exchange headquartered in San Francisco, California.
An experienced finance writer for more than 10 years, active industry watcher, and gadget enthusiast.
CEX.IO
Coinbase
Binance
Lasted news