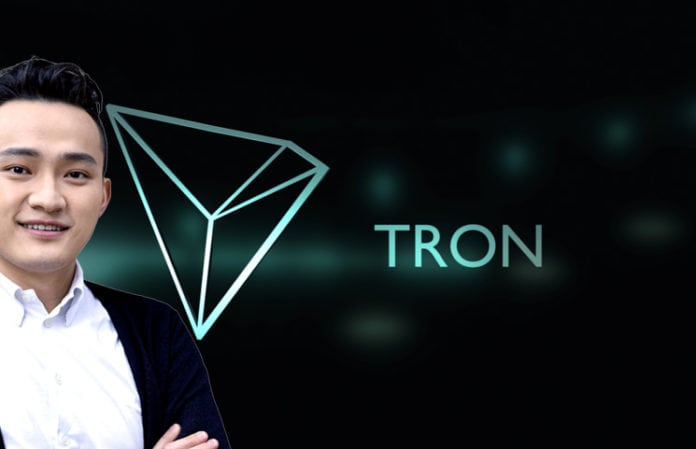 Tron's digital asset, TRX surged almost 8% yesterday, October 8, after the company's CEO, Justin Sun claimed that the update that was scheduled for last evening would make sure that TRX defeats Ethereum on speed and EOS on costs.
Odyssey 3.1 is the latest version of Tron
Odyssey 3.1 which is the newest version of Tron went live last evening at 8 pm SGT Sun confirmed this on Twitter as a result of community consensus.
It's important to mention that this change also included the launch of Tron Virtual Machine.
Tron VM will allow developers to test smart contracts before they transfer to the Tron mainnet.
Tron has also been hit by the bearish trend that has been floating in 2018 over the crypto market, but this did not stop Sun and his team to continue working hard to achieve their plans and developments.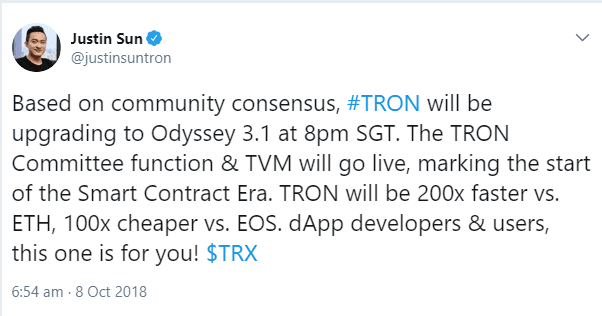 2019 brings a two-day Tron conference
Justin Sun had hinted earlier in 2018 at the possibility of hosting a developer conference as soon as the project was independent from the Ethereum platform.
The team has kept its word and launched a new website for the Tron Developer Conference which is scheduled for early 2019, in January.
The conference will begin on January 17, and it will last until January 18, 2019.
The venue for the event is Yerba Buena Center for the Arts, 701 Mission Street, San Francisco, CA 94103, USA.
"niTRO(n) is our very first developer conference in San Francisco, CA! Come join the TRON community to fuel your mind. The 2-day conference features inspiring content from industry thought leaders and key community members that will bring you into the vibrant world of the TRON ecosystem and all that is possible with blockchain to the power of TRON!" Tron describes the conference.
Tron was also recently mentioned in a piece released by NASDAQ  which was a great achievement for Sun and his company. They were present in Malta at the DELTA conference.