Why IOTA (MIOTA) Could See a Major Boost in 2018
Two days ago, IOTA (MIOTA) announced its new product where it has partnered with over twenty global organizations to launch the premier public data marketplace for the Internet of Things. This new partnership will facilitate the sharing and monetization of data in a safe and secure way and will give IOTA the opportunity to demonstrate its ability to offer a market for data that can't be infiltrated. Some of the companies that have partnered with IOTA are Microsoft, Fujitsu, PwC, Bosch, and Accenture.

Upon the release of the news, the price of IOTA rose by over 30% in just a few hours as the market reacted to the new frontier that IOTA offers.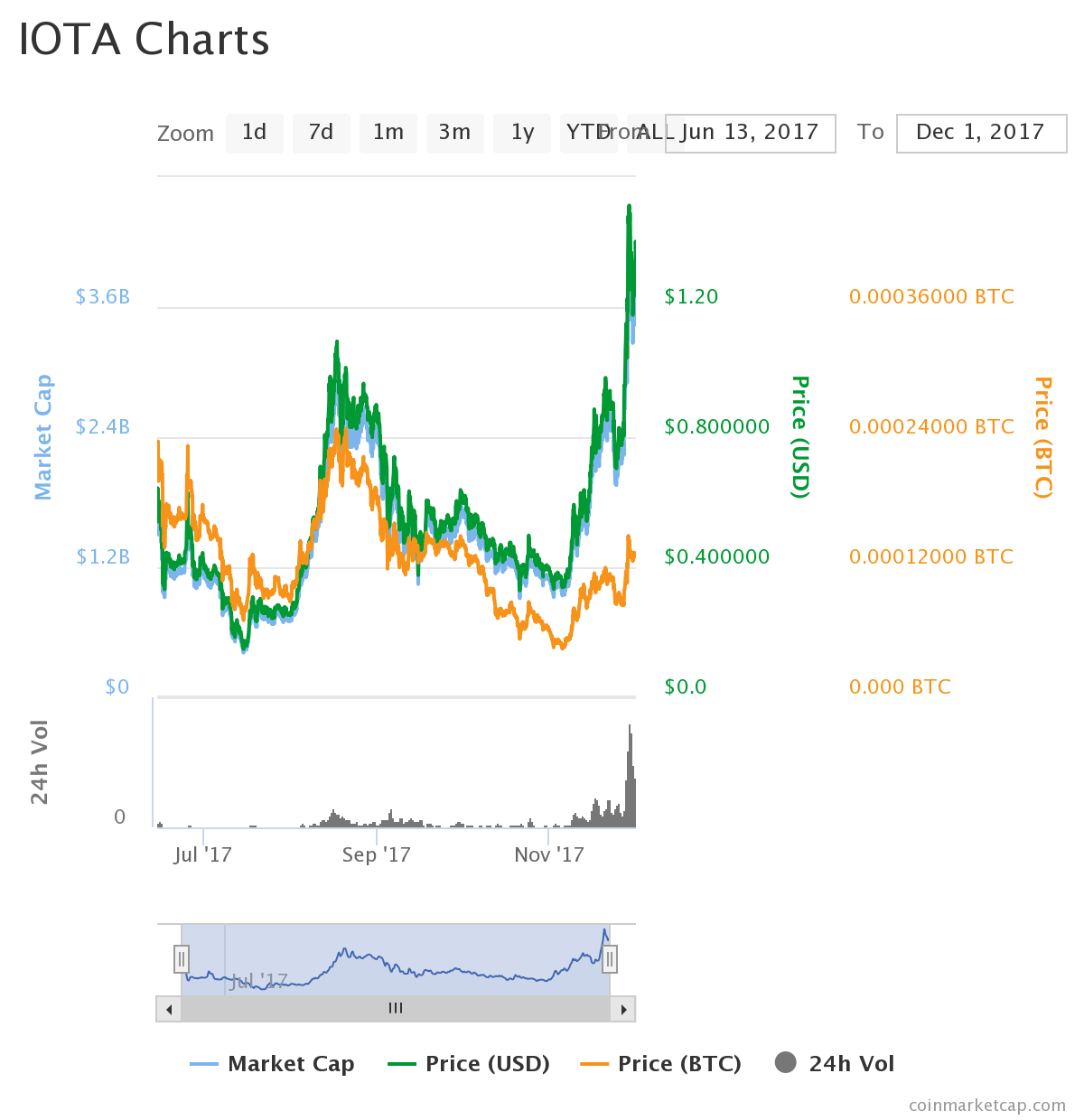 IOTA (MIOTA) is a digital currency that was developed in 2015 to provide a real-time, secure and lightweight transactions between machines. It was developed with the inter-machine communication and payment in mind and aims to be the go-to currency for all Internet of Things (IoT) transactions.

Everyone is excited about this cryptocurrency and here is why:

1. Focus on Internet of Things
IoT is the biggest thing happening right now. Global tech companies are trying to secure this market in every way they can, such as Google's acquisition of Nest for over $3 billion. This is because they have realized the enormous potential this market segment offers.
With an expected market value of IoT of over $100 billion by 2020, IOTA could not have been developed at a better time. The focus on smart devices will drive the interest on IOTA to great heights as it will become the go-to currency for all things devices.
IOTA has also developed a new flagship project in which you can sell information stored on your devices in a secure and anonymous manner making it even better, not just for investors but also for the users.

2. No transaction fees
The nature of financial transactions is that there are high transaction fees which benefit the facilitator. In the first-generation blockchain platforms such as Bitcoin or Litecoin, these charges go to the miners. The charges can be quite high as is the case for Bitcoin or relatively low as is the case for Litecoin. However, the IOTA platform is going a step further and making the whole transaction absolutely free!
This is made possible by the elimination of miners found in the proof-of-work system. The users validate other transactions randomly and have other users validate their transactions.

3. Superior technology
Any cryptocurrency that has its eyes set on world domination must maintain cutting-edge technology and IOTA has done just that. It uses the Tangle, a directed acyclic graph (DAG) that is not found with any other cryptocurrency. This protocol gives IOTA numerous advantages over its peers ranging from infinite scalability to zero cost.

4. Most scalable
Among the unique qualities of Tangle is the ability to scale infinitely to accommodate as many users as are available. This is crucial as it has been one of the biggest issues for other cryptocurrencies especially Ethereum and Bitcoin where an increase in users almost always results in slow transactions. Tangle, however, allows IOTA to be infinitely scalable and accommodate as many users as they come.

5. Offline transactions
Tangle platform once again sets IOTA apart from other currencies with this unique feature. Tangle allows the IOTA network to facilitate transactions even when the user is offline. Once the user is online again, the nodes in the network transmit this information to the Tangle platform. This ensures that even people from remote areas who lack a constant internet access can be part of the blockchain.

Why everyone is crazy about IOTA
IOTA identified a unique niche and it is fully exploiting it. The IoT revolution is in its infancy stage and IOTA has already positioned itself strategically to be the dominating currency in this field. With the launch of strategic partnerships as it did with Microsoft and other global tech companies, there simply is no stopping IOTA. Its current market capitalization stands at $3.5 billion and its price is quite affordable at $1.27. Not investing in IOTA right now is a decision one will regret in the very near future.
CEX.IO
Coinbase
Binance
Lasted news