XRP Expansion: 12 Companies Confirm The Adoption Of Ripple's Product xRapid
Even though it's not too far-fetched to say that Ripple began 2019 with a defeat, the company behind the digital asset moves on, focusing on its developments and plans.
As we reported earlier, ETH reclaimed its title as the second most valuable cryptocurrency on the market.
More voices in the crypto space have been predicting that the token will eventually regain the second spot and now it happened.
They were claiming it was just a matter of time until Ripple's digital asset would fall under the pressure of ETH and that's precisely what happened.
12 companies confirmed they have implemented or plan to use xRapid
By now, Ripple only confirmed that the crypto exchanges Bitso, Bittrex, Bitstamp, and Coins.ph will be using its software solution that's powered by XRP, xRapid in order to boost the speed of cross-border transactions between the US and the Philipines and the US and Mexico.
Ripple also stated that the payment platforms Cuallix, Mercury FX, and Catalyst Corporate Federal Credit Union would use xRapid to enhance the speed of cross-border transactions as well.
Now, five more companies announced that they are planning to implement xRapid in the near future:
SBI Virtual Currencies
IDT
Viamericas
SendFriend
Bitrue
Ripple implemented xRapid for commercial production in October 2018
Back in October, Ripple implemented xRapid for commercial production.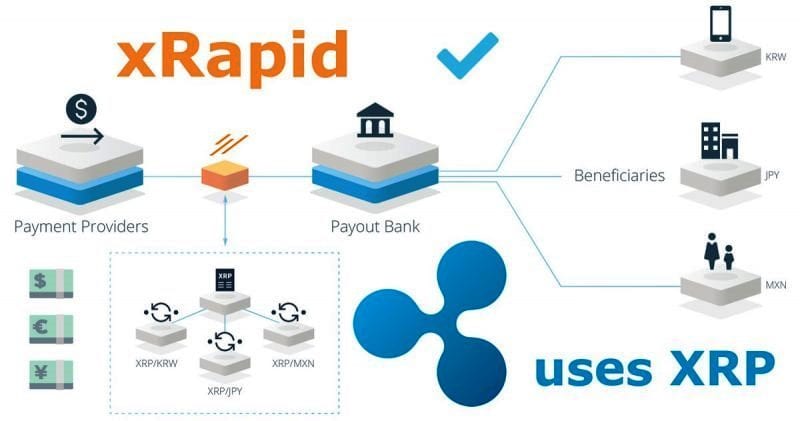 The company behind the digital asset XRP made sure to highlight its use case back then saying that it's a regulatory complaint way to send money from one part of the world to another fast and cheap.
"xRapid eliminates the need for a pre-funded nostro account when executing a cross-border payment. It sources liquidity from XRP on exchanges around the world. As a result, cross-border transactions occur in minutes and at a lower cost compared to traditional methods, which take days and incur high foreign exchange fees."
An experienced finance writer for more than 10 years, active industry watcher, and gadget enthusiast.
CEX.IO
Coinbase
Binance
Lasted news