Zilliqa (ZIL) – Listed on Binance
Zilliqa (ZIL) – is a next generation, high speed blockchain platform based on the technology of sharding – which allows for linear scaling as a blockchain grows in size. It is the first high-throughput public blockchain platform. This project was founded by researchers and developers at the National University of Singapore and addresses the transactional problems we see in the cryptocurrency community today. The team sees security and scalability as a strong suit while most other cryptos struggle with scalability. Zilliqa is building up hype as their development and marketing teams progress in preparation for the release of the public testnet launch of their platform. CEO of Zilliq Xinshu Dong says there will eventually be a mainnet launch. Zilliqa even has their own smart contract programming language, Scilla, that helps ensure the security of systems running on the blockchain. Developers will be able to test applications on the network this month when the test net is released.
Providing a strong level of security and decentralization, Zilliqa plans to be a big player in the market. The underlying technology that put sharding from theory to practice has been under development for two to three years. With new concepts in place, there is a potentially huge opportunity for crypto miners on their platform. Zilliqa has been encouraging mining since they started up in 2017.
Releasing their white paper in August of 2017, the team at Zilliqa has come a long way. While the price right now is on a downtrend that doesn't mean anything bad as this happens regularly in the crypto market. We could start to see some massive trading volume start to come in as more and more investors discover the beauty of this coin.
Recently added on Binance, the ZIL token is currently trading at $0.04. This coin is relatively new – as are many coins in the cryptocurrency market. It is a very exciting time for everyone participating in this revolution. Zilliqa's team looks very strong and actually just recently added two new members who will help the token reach its grand potential as quick as possible: Dr. Ilya Sergey and Evan Cheng are the two new members of Zilliqa's advisory board. Dr. Sergey, assistant professor at University College London, researches programming languages, program analysis, and formal verification. He will focus on scalability with methods and software. Mr. Cheng is an ACM software System Award winner and a current engineering director at Facebook. Evan's experience is key.
Zilliqa (ZIL) CEO Xinshu Dong Image source: CNBC

In a recent trial run Zilliqa reached 2488 tx/s with a mining network of 2600 nodes. They did this using the technique of sharding.
With very little news on this project one may think that it is not all that advanced. But the truth is that the team on this project is very credible and the fast technology speaks for itself. Zilliqa has the potential to match benchmarks set by traditional payment methods like VISA and MasterCard. As network fees for bitcoin rise and transaction time delays, quicker technology ends up coming up with solutions. By fundamentally changing how the blockchain reaches a consesus with the sharding algorithm, there is theoretically no limit the number of transactions ZIL could complete in one second. Sharding divides the network into several component networks called shards. Ziliqa is creating a whole platform of its own that can become a dominant force in the market.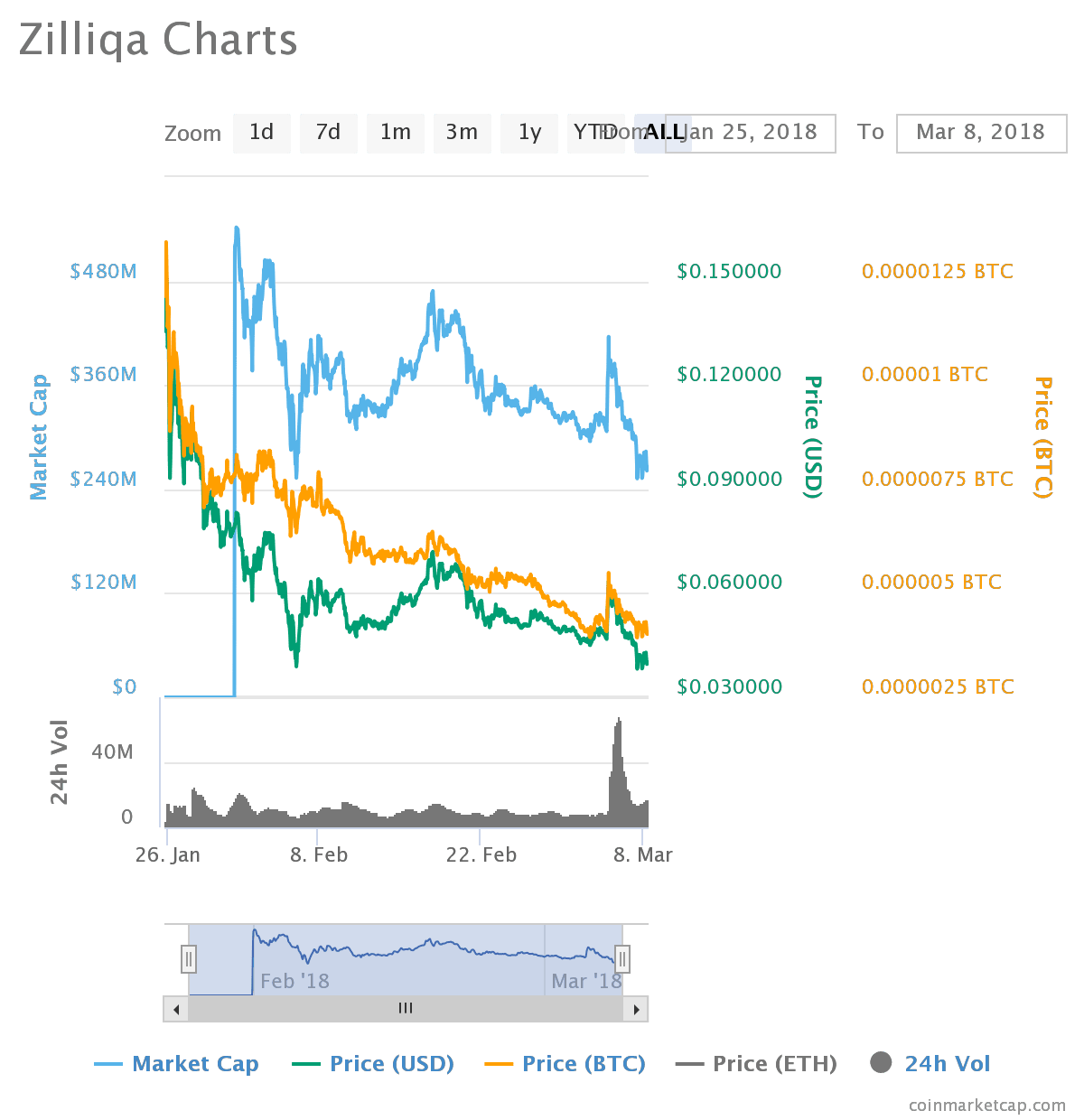 Zilliqa (ZIL) Chart: Image source: coinmarketcap.com
Scalability
As more and more cryptocurrencies continue to see scalability problems, we can expect to see a lot of problem solving in the months to come. Zilliq'a platform's transaction speed increases when it has more miners. By chaining the architect of their entire system, Zilliqa has set out to positively increase network size and consensus speed. Zilliqa tackles scalability head on and could prove to be an important improvement to blockchain.
Zilliqa gathered $12 million in private funding in late 2017. ZIL/BNB, ZIL/BTC and ZIL/ETH trading pairs are now available on Binance for trading. Binance has stated that Zilliqa won this months community coin competition and was therefore given a free listing placement on the world's most popular exchange.
CoinMarketCap
CoinMarketCap is a website that provides cryptocurrency market cap rankings, charts, and more. It was purchased by Binance for $400M in 2020.
CEX.IO
Coinbase
Binance
Lasted news