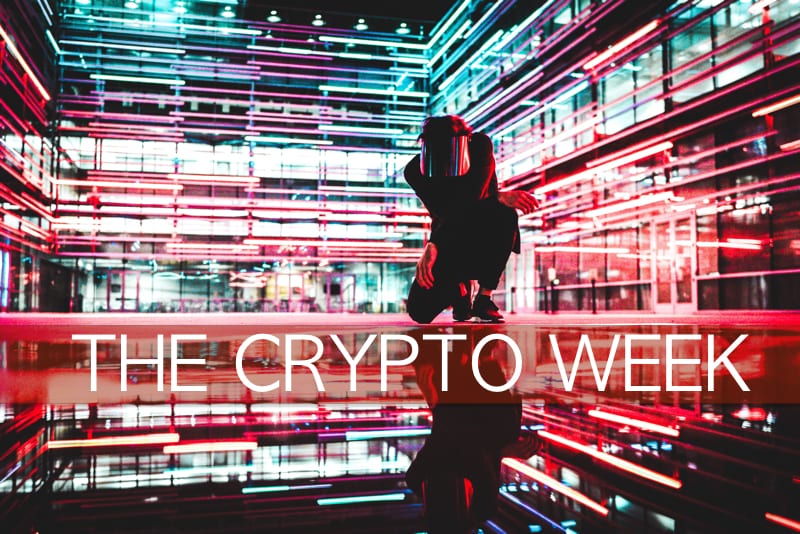 Bitcoin (BTC) 
Maybe I should not post about Bitcoin. The news is everywhere. At time of publishing it was just under $10k per coin. That places it at a market value greater than 3M and twice as much as American Express which just partnered up with Ripple. Speaking of, Ripple has a market cap now over 10% of American Express. Ethereum is just over half of Amex. Something to ponder – General Electric has a market value of $156 billion at time of writing and had $119 billion in revenue. Bitcoin is at $167 billion. At some point a correction has to come. Those who survived the dotcom bubble will not hold forever. Companies will lobby for regulation and governments who get paid by lobbyists might just listen.
Monero (XMR) bumped down to #10  
Monero is up 17% to near $190 a coin and still moved down to #10. Partly because of the addition of Bitcoin Gold to #5 and partly from the large jump Ethereum Classic. This morning the Monero mining faucet was turned back on. This means those looking for free Monero for watching videos and clicking on links can now do so. This is an official faucet but as always be cautious for malware. Payouts start at 0.02 Monero and are automatic to the wallet. Complete instructions are available on the website. This is not a paid link so we get nothing if you sign up. .02 Monero is worth nearly $4 today. Better get started if this is your retirement plan.
Ripple (XRP) value higher on Bithumb than Bitfinex
South Korea Crypto exchange Bithumb is by far the largest crypto market in the world. Today it makes up 47% of the Ripple market and has Ripple priced at $.2776 while Bitfiniex is at $.254. That might sound small but represents a near 10% price discrepancy which means if you could find a way to buy on Bitrex and sell on Bithumb you could pocket the spread minus fees. Course this would require understanding the fees involved, sending coins from multiple wallets and there is no guarantee the price holds steady between exchanges. This may also indicate a rise on other markets as the market leader tends to drive the price.
# Source Pair           Volume (24h)     Price     Volume (%)
1 Bithumb XRP/KRW $199,896,000 $0.277646 47.03%
2 Coinone XRP/KRW $44,027,300 $0.276721 10.36%
3 Korbit XRP/KRW $36,619,800 $0.275795 8.62%
4 Bittrex XRP/BTC $26,939,900 $0.254024 6.34%
5 Poloniex XRP/BTC $22,181,600 $0.255911 5.22%
6 Bitfinex XRP/USD $19,008,700 $0.255600 4.47%
Monacoin (MONA) up 45% today
are you looking the lord of dragon doji on the chart #mona#monacoin
amazing , receive for tip 😬pic.twitter.com/Qyw7EJbRkq

— yuda (@aduyNasgor) November 28, 2017
Mona is the only decentralized coin in Japan available for purchase with Japanese Yen. At least until the rumored J-coin comes out. It has been the best performing altcoin in the market over the last month. Giving back some profits from a new record high it started a climb again today breaking through to another new all-time high. Now in the top 30 cryptocurrencies. The only market to trade Mona for fiat is Zaif and the only currency is the Yen. Bitfinex is showing a $6.93 value in trading for Bitcoin. Plus the chart looks like a dragon. Who doesn't want a dragon chart?
Dogecoin poker now accepts Bitcoin
Dogecoin started as a joke before actually achieving some market value when I first started mining. Amazingly, somehow, it is still around and has a poker app where you can play with Dogecoin. Almost in a nod to having zero value they have now integrated Bitcoin deposits. Good luck, certainly there is nothing shady about sending bitcoin to a dogecoin poker site online. As far as I know this is the only real use for Dogecoin.
Litecoin is a poor man's Bitcoin
.@novogratz : Litecoin is a poor man's Bitcoin

— CNBC's Fast Money (@CNBCFastMoney) November 27, 2017
This was mentioned today on CNBC fastmoney which is typically a quick hitter investment section of the show. Each expert gets to make a quick statement which is generally pumping something they bought or own or building for a short they placed. Bitcoin has been mentioned on CNBC several times but this might be the first time a talking head on CNBC recognized Litecoin as a running partner with Bitcoin. Litecoin is up over $90 per coin and seems to run with Bitcoin on this recent run up in price. Check out the volume leveling off at the end of the day today. No surprise if the price is down a bit tomorrow.