ASGARD ECO FUND aims to beat plastic pollution using Blockchain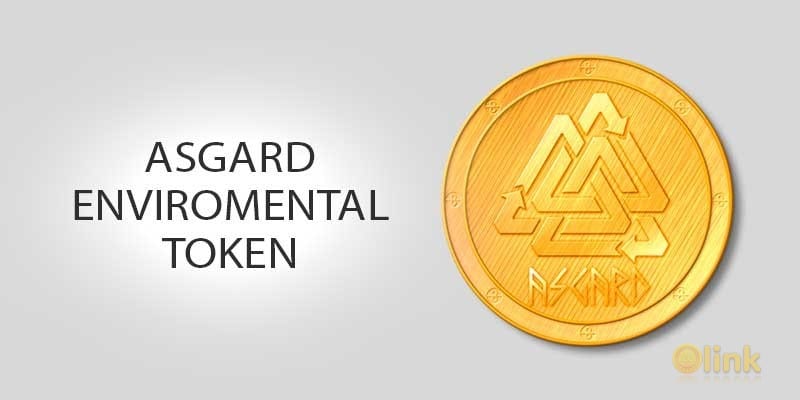 UAE based company AMFG launches an ICO to create a decentralized crypto ecological fund ASGARD aimed to solve the global plastic pollution problem. The founders of ASGARD ECO FUND project are well experienced in waste management. They are sure that slowly decomposing plastic debris is one of the most hazardous wastes generated by human activity.
Objectives of the fund (sourced from the website of ASGARD ECO FUND):
Environmental damage elimination.
Crypto monetary incentives for environmentally oriented enterprises.
Plastic and other waste recycling and processing into secondary raw materials (ASG RECYCLING).
Capital assets renovation of existing ecologically oriented manufacturing units.
Waste segregation projects (including reverse vending machine installation).
Crypto financing of the phytoplankton farms with the aim of re-oxygenating of the atmosphere.
Cleaning of rivers, lakes, seas and oceans from floating plastic and other waste (ASG NEPTUNE).
Waste collection and recycling ocean platforms launch (ASG OCEAN).
Crypto financing of organic farming.
Support of ecologically focused activities, green public organizations, media resources focused on environmental topics. Environmental awareness support.
Crypto loans with negative interest rates.
ASGARD creates an effective motivation system for people who are passionate about the environment in finding hidden environmental crimes (such as illegal dump sites) and voting for their liquidation. Members of ASGARD get a reward in ASG tokens for every contribution they make.
ASGARD raises awareness about the true extent of the danger resulting from plastic pollution and contributes to finding solutions to the problem of air and water pollution and soil contamination caused by decomposing plastic wastes. According to ASGARD team, up to 45% of domestic solid waste remains out of the official statistics worldwide. In other words, almost half of the waste produced by humans is not declared and ends up on illegal dumpsites, in the oceans and so on. ASGARD ECO FUND offers an alternative tool for crypto funding environmentally oriented projects and solutions aimed at the collection of polymer wastes and processing them into industrial goods. ASGARD claims that it will lead to 7-9% annual reduction in the volume of undeclared polymer wastes.
Part of ASGARD team has been involved in waste management business for decades. The founder of the fund, Oleg Zhokhov, has a 30-year experience in the environmental business. Due to this fact, the team is able to reasonably analyze which solutions meet all the requirements and are the most effective and reliable in terms of preserving the environment.
ASGARD Blockchain
ASGARD ECO FUND is based on socio-environmental Blockchain platform which will give all the inhabitants of the Earth an opportunity to participate in the elimination of ecological crimes. ASGARD creates a community of reasonably-thinking people who realize the necessity of taking action regarding saving our planet from an ecological disaster. Members of the community will be able to get ASG tokens in exchange for media materials featuring existing environmental crimes. All the photos and videos will be uploaded on the Blockchain platform in order to create an interactive map showing the real ecological situation on the planet to the public. Apart from that, it will make the process of elimination of environmental damage easier for environmentally oriented companies. Blockchain guarantees that all the information received by the platform cannot be changed or deleted. ASGARD ECO FUND is decentralized, meaning that only the members of the fund will decide which projects or programs will be funded by simply voting on the platform. It excludes the possibility of assets manipulation within the fund as all the financial streams are transparent and automatically controlled by smart contract.
ASGARD projects
According to the roadmap, ASGARD ECO FUND plans to issue crypto loans aiming the launch of effective model projects: ASG RECYCLING, ASG NEPTUNE, and ASG OCEAN. The purpose of ASG RECYCLING is the launch of recycling plants processing plastic waste into valuable goods. As ASG RECYCLING is a model project, the team already has an effective solution based on the team's experience. ASG NEPTUNE is designed to clean rivers, lakes, seas, and oceans from floating plastic using existing effective technologies. Finally, ASG OCEAN is the most ambitious project of ASGARD ECO FUND that involves the launch of green floating platforms in the ocean for collecting polymer waste and its further processing and conversion into valuable goods. ASGARD ECO FUND can significantly contribute to solving the global problem of ocean plastic pollution which is one of the major environmental issues nowadays. The projects of the fund are not limited by the ones mentioned above, ASGARD will provide funding for fixing various environmental problems worldwide.
For investors
ASGARD has launched an ERC20 token ASG which is planned to be used as an accounting currency of the fund and its socio-environmental Blockchain platform. The Pre-Sale has already started with an initial price of U.S.$0.1666 (to be paid in ETH only) for 1 ASG token. Open Pre-Sale lasts till 30 December 2018. The ICO is planned for Q2 2019. After the completion of all stages of Pre-Sale and ICO, ASGARD will provide funding using crypto assets for environmentally oriented projects on the international level. ASGARD creates a culture of digital investing in the environmental sphere allowing its investors high-yield achieving. ASG token holders who bought ASG during Pre-Sale & ICO will benefit from 6% monthly ASG airdrop, promised by ASGARD team in their Whitepaper.
To conclude 
ASGARD ECO FUND is an innovative project which combines real business and latest Blockchain technologies to fight against the problem of plastic pollution all over the world. It provides alternative financing of technologies which have been tested over decades and gives people all over the world a chance to take part in saving our planet from a global disaster caused by plastic pollution.
Useful links
Website: https://asgardecofund.io/
Whitepaper link: https://asgardecofund.io/wp-content/uploads/WHITEPAPER_EN.pdf
ASGARD on Facebook: https://www.facebook.com/AsgardEcoFund