Blockchain Protocol Bytom Launches Global Developer Competition With A Prize Of 2 Million BTM Tokens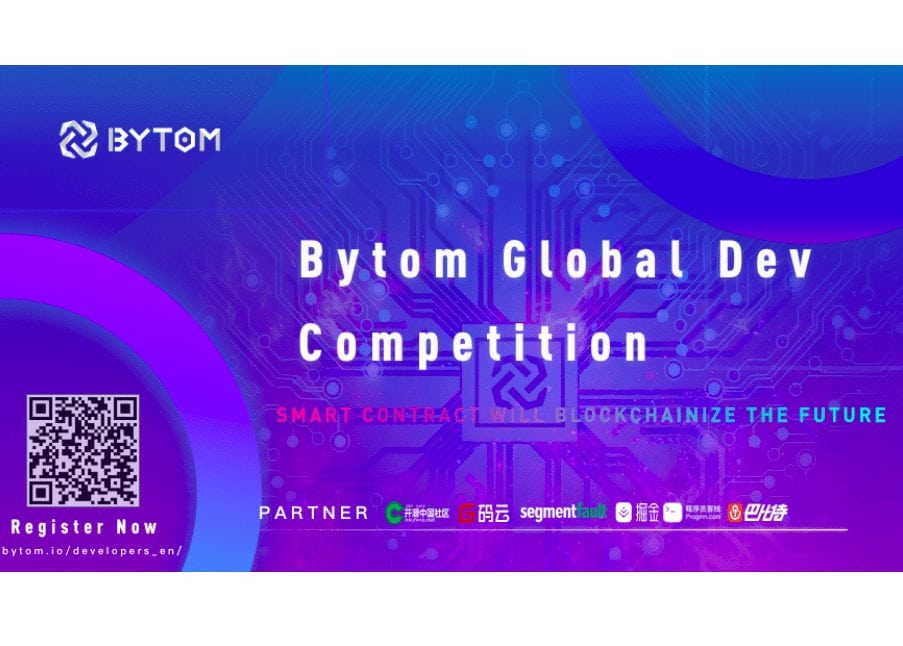 Bytom launched its mainnet back in April and released the smart contract in July.
The events marked the establishment of the company's core which will promote its commercialization.
Bytom's language and protocol
Bytom uses its very own Equity language which is a Turing-complete and interpretive high-level language. Operating the assets on Bytom is a flexible process to integrate the assets into various business scenarios.
The Bytom Blockchain Protocol is an interactive protocol of multiple byte-assets.
Byte-assets (digital currency and digital assets) and atomic assets (warrants, dividends, warrants and more) can be registered, exchanged, gambled and engaged in more operations via Bytom.
Now, Bytom brings an extremely exciting announcement for all developers.
The Global Dev Competition will search for tech talents
Blockchain Protocol Byton revealed the launch of the Global Dev Competition which is an event that will promote the application of blockchain technology and strengthening the exchange and collision of tech peers in China and abroad.
The competition will focus on finding more tech talents, enhancing Bytom's development features and its open source ecology.
For motivation, the winning teams of developers will receive 2 million BTM tokens. More than that, the organizers will offer technical guidance and business incubation for the most promising innovative projects.
All interested enthusiasts can now register for the competition and there will be a preliminary online contest available.
Developers will get the chance to upload their coding to the website and two weeks after the deadline, there will be announced a list with the developers who enter the final competition.
This will be a closed two-day development contest that will take place from October 18 to October 21 in Hangzhou, China.
Developers will get all the tech support they need and also a developer guide in order to understand Bytom better. There will also be a Bytom Developers Conference held in Silicon Valley at the end of October.
Byton provides three directions for developers
The first one is a tokenized economy. Developers will be able to establish a tokenization logic, issue tokens and create apps.
The second direction involves supporting tools such as the Btm-scan blockchain browser that was developed by Bytom team. This can be used for exploring and searching the Bytom blockchain for transactions, tokens, addresses, prices and more activities. Another similar example is the AI Miner mining optimization tool that allows mining for larger equipment and was developed by Discus-Fish/F2Pool.
And last but not least, the third direction that can be chosen by developers is DAPP.  Developers can develop asset-based apps such as financing, bonds, and equity.
Closing words
Bytom's primary focus is to connect the digital world and the physical realm while creating a decentralized network where various digital and physical assets can be registered and exchanged.
Bytom plans to become the world's largest dedicated blockchain platform that will have the ability to enhance the security, value, and liquidity of its assets to the maximum.

You can learn more about Bytom on their official website here and join the Global Dev Competition here.