Bringing The Blockchain Tech To Education: TrustED Startup And Binance Team Up And Announce First ICO On The Binance Chain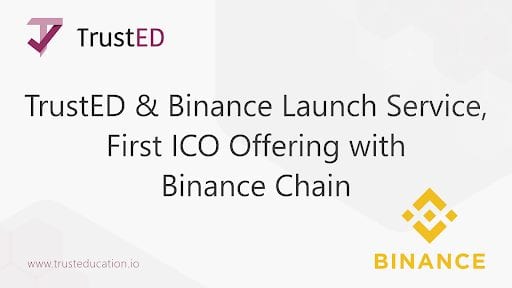 TrustED is a startup from Australia that aims to bring enhanced transparency to verifying academic credentials via the blockchain tech.
The firm has just teamed up with Binance, and they've agreed to launch TrustED on the Binance Chain.
Binance is currently up and running after the recent hack which saw 7.000 BTC stolen. But Changpeng Zhao and his team made sure to work things out, and things are back to normal now, with operations resuming.
Binance Chain, a revolutionary move towards mass adoption of crypto
Binance has recently launched the Binance Chain, which is a blockchain software system that has been originally developed by Binance and its community.
The transactions that are taking place on the innovative Binance Chain take 1 second to be confirmed. Binance Chain's goal is to revolutionize finance and bring us closer to the crypto mainstream adoption.
This is one of the most important goals for this year in the crypto space, after the bearish 2018 which was essentially a year that separated the valuable projects from the less powerful ones.
TrustED is focused on bringing the innovative tech into education
The startup was created back in 2017 and it offers educators the tech and training for them to be able to store, issue and check academic credentials via the blockchain tech.
The company is extremely excited to reveal the partnership with Binance that will result in using the Binance Chain for their goals.
Kosta Batzavalis, TrustED CEO, addressed the partnership and said:
"Being one the first projects on Binance Chain is not only an honor but also a massive stepping stone for the TrustED project. With Binance technology behind us, TrustED can deliver on SLAs and security requirements necessary to make a blockchain-based academic solution enterprise-grade."
Also, Ted Lin, Chief Growth Officer at Binance stated: "We're excited to have TrustED be one of the first startups to utilize Binance Chain and look forward to the growth that is to come in further bringing cryptocurrency mainstream."
Besides its plans to use the Binance Chain, TrustED will also conduct a public token offering for more fundraising and community building.
TrustED will be the very first initial token offering to take place with the native Binance Chain BEP2 Token standard.
Find out more about the startup's plans on its official website.