Cardano (ADA) Is On The Right Path To A Surge
Cardano (ADA) reacted pretty great to the latest Bitcoin bull run, and it had its own run as well. The crypto started July at $0.134, and since then, it's been continually rising, going all the way up to $0.166.
Now, it's currently trading at $0.151940on CoinMarketCap, and ADA is still in the green.
ADA is now more than 23% up compared to the past week, and this makes the coin the biggest gainer among the top 10 coins.
ADA/USD will probably maintain its positive trend upwards with a critical support line sitting at the previous resistance of $0.145.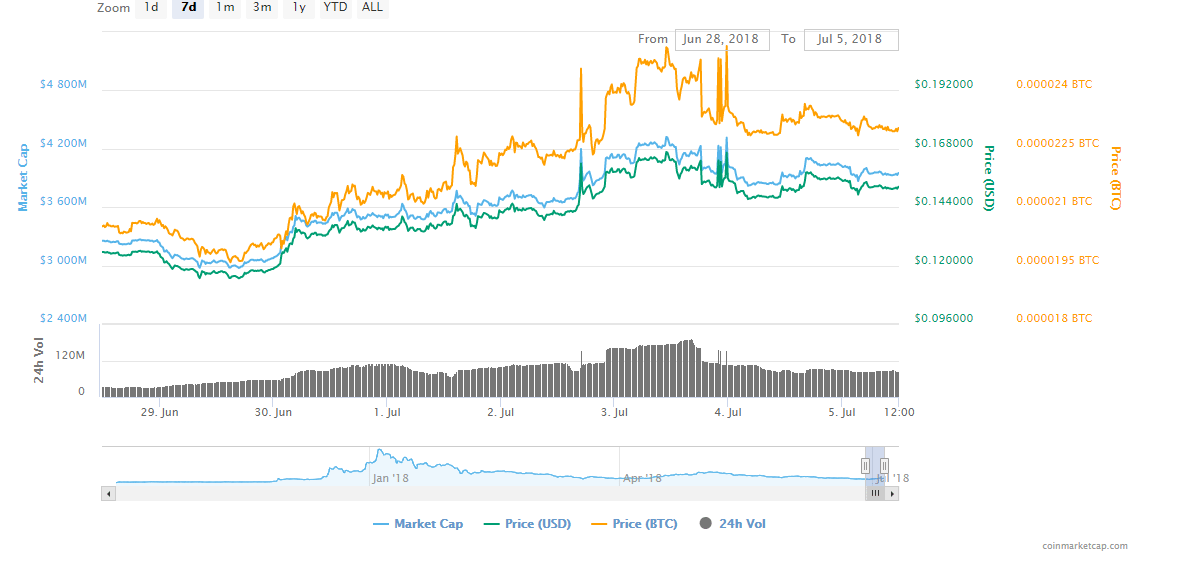 A potential partnership between Cardano and Tron
Charles Hoskinson, the creator of Cardano and IOHK which is the foundation that's in charge of ADA, has been making headlines lately.
The alleged partnership between Cardano and Tron that everyone was looking forward to will probably not be discussed between the two teams in the near future even if Hoskinson offered Justin Sun a piece of Cardano's codebase for his project.
Here's what Hoskinson tweeted recently:
Ok- final final- housekeeping piece of info. There is no partnership or collaboration with Tron. There is no endorsement of Tron. I just recommended to Justin to use Mantis as EthereumJ isn't a solid or safe codebase to work with and they are building on the JVM.

— Charles Hoskinson (@IOHK_Charles) July 1, 2018
Users appreciated his announcement. "Cardano team doesn't want to create FuD to manipulate price like others. They had a clear vision, it takes time, but they will reach as soon as possible," someone replied.
Cardano gets increased media exposure
Hoskinson also complained recently that his project is not getting enough media attention, but now things are obviously not the same.
He and IOHK's director of engineering Duncan Coutts have been recently invited to Google's London headquarters to discuss the Cardano project and the Ouroboros protocol.
"So I can walk over to Starbucks, and I can have my house tokenized, and I can sell it. There's a market maker that lives in between that, and I sell one-millionth of my home, and I can buy that cup of coffee, somebody bought that from me, and the merchant gets paid in dollars or pounds." Hoskinson said, explaining the utility and liquidity that cryptos could introduce in our daily lives.
Cardano has also been recently listed on CoinRoom which is a Korean crypto exchange, and it will be traded against the Korean Won for the first time. This listing could trigger more influx of liquidity into ADA markets, and this could lead to more price gains shortly.
Justin Sun
Founder of TRON (TRX)
CoinMarketCap
CoinMarketCap is a website that provides cryptocurrency market cap rankings, charts, and more. It was purchased by Binance for $400M in 2020.
I am a technical writer, author and blogger since 2005. An industry watcher that stays on top of the latest features, extremely passionate about finance news and everything related to crypto.
CEX.IO
Coinbase
Binance
Lasted news