CoinGecko Releases Their 2018 Full Year Crypto Report: Market Dynamics, ICO Insights, dApps, Securities And More
CoinGecko is a crypto market ranking chart app that ranks digital currencies by developer activity, community, and liquidity.
They began 2019 by continuing their hard work to enhance the platform and add extended functionalities.
At the time being, CoinGecko proudly announces the whole crypto community that they just released the 2018 Full Year Crypto Report featuring various interesting pages with the most exciting crypto insights.
The team behind CoinGecko has worked with really significant names in the industry in order to be able to come out with this complex report. These names include Masternodes.Online, Dapp.com, TokenMarket and NonFungible.com.
2018 Full Year Crypto Report – Market Dynamics
CoinGecko addressed the not so fortunate year for the crypto industry, as 2018 was almost completely embraced by a lingering bearish trend.
"The market capitalization of the top-30 coins fell on average 78.85% in 2018," they note in the official blog post.
It seems that as the crypto market fell throughout the year, investors moved towards Bitcoin, because BTC dominance went from 40% to more than 55% by the end of 2018, according to CoinGecko's report.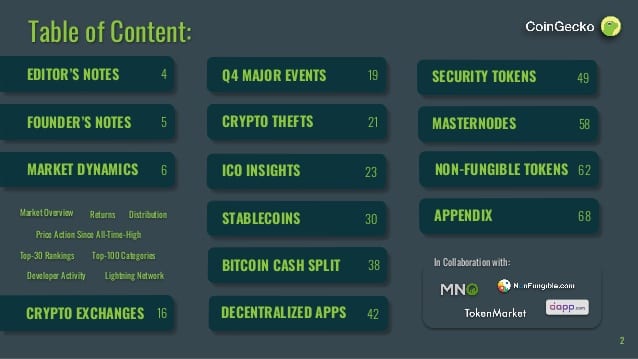 ICO Insights
ICOs have been struggling to raise funds, as the crypto prices were reaching the all-time lows. "The percentage of ICOs meeting their hard cap decreased from around 53% at the start of the year to 10% by the end of the year," according to CoinGecko.
dApps
2018 witnessed a massive growth in dApps, and COinGecko teamed up with Dapp.com to analyze and address the subject.
They describe EOS and Tron's mainnets launch and more exciting details regarding the dApp competition. The preferred dApps are games and betting apps.
Securities
The section on Security Tokens was made in collab with TokenMarket.
There's a lot of potential coming from securities because they have a strong chance of increasing global market liquidity.
Masternodes
CoinGecko worked with Masternodes.Online for this section. After a deep analysis of the largest masternodes, the conclusion was that the top 4 masternode coins are privacy-related ones.
"2018 also saw strong growth in masternode coins where it went from 57 to 536 coins, representing almost a 10x growth. However, the market capitalization of masternode coins was also similarly affected by the decline in 2018," according to CoinGecko.
Non Fungible Tokens
NonFungible.com reports in this section that 2018 witnessed a huge growth in the non-fungible tokens as well.
There's a lot of interesting and exciting data revealed in CoinGecko's 2018 Full Year Crypto Report, and you can check out the complete information found in the sections above and others such as crypto theft, stablecoins and more.