Cryptonex (CNX) – A Coin? An Exchange? A Product to dig into!
The platform itself
Cryptonex is a Cryptocurrency Exchange Platform and a Digital Wallet Service powered by CNX.
Main objective of this Platform – to offer the chance to exchange any world's currency for any cryptocurrency or tokens. To be able to pay for goods, services using mobile phones or cards, with the smallest commission.
The Company recently announced that: It is possible for the users to buy Bitcoin (BTC), Ethereum (ETH) and Cryptonex (CNX) using currencies such as: USD, GBP, EUR and Russian Ruble. Plus this will work via VISA and MasterCard.
Besides this works a P2P exchange system, where Cryptonex platform is the guarantor and the transactions happen individually either online or offline.
Peer-to-Peer Exchange
It will Work in an Extremely easy way:
Post an ad
Receive an answer (from a seller or buyer)
Confirm the deal and wait for the confirmation
Wait for the "the deal was successful message"
If anything goes wrong, use the report button and Cryptonex will solve it
Some more details on P2P by Cryptonex 
Definitely a smooth way of exchange. We have Exchanges such as Binance, that are known to be trying to create the same. Although, no news have come up about releases yet.
CNX Coin
Nowadays we can find around 55 million CNX in circulation. With a total supply of 107 millions. And a Max Supply of 210 millions.
With an All Time High of $10 USD it is currently trading on a more than 80% loss – $1,61 USD.
Although its Market Cap is above 85 Million USD and they hold an impressive Daily Trading Volume of $1,548,787 USD. This does prove that this is a very well backed Cryptocurrency and a well trusted platform.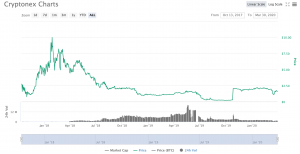 CNX Wallet
As discussed above, the Platform offers its own desktop wallet .
Serving not only to keep CNX but other coins as well.
Supporting: Cryptonex (CNX), Bitcoin (BTC), Ethereum (ETH), Ontology (ONT);
And Brazilian Real (BRL), Euro (EUR), British Pound (GBP), Russian Ruble (RUR) and United States Dollar (USD).
Consumer can top up the wallet by using a QR-Code or by direct depositing to the wallet address. Inside the wallet all supported currencies are allowed to be exchanged.
Cryptonex Cards
The platform offers  two types of prepaid cards – Nominal Card and Chargeable Card. Cards are issued with the amounts of 1; 2; 10; 20 or 100 CNX.
The chargeable card, as the name implies, can be topped up with any supported cryptocurrency from your account. Can be bought with CNX and then be topped up with BTC.
Meaning, you can give and receive cryptocurrency in the real world using this prepaid cards.
Future for Cryptonex
Cryptonex besides trying to creat partnerships with Big Companies and Financial Institutions does have a great product in its own hands. The development of this platform is something to keep on the notifications tab. We might see big projects being developed on this platform. As we might see interesting movements regarding its Trading Price.