Facebook's Libra Has Ripple's Brad Garlinghouse Worried
Not too long ago, we reported that Ripple's CEO, Brad Garlinghouse, addressed the Libra subject.
He said that all the controversy surrounding this project had been brought upon it by Facebook itself.
Now, he offered his opinion on Libra once again.
Facebook reportedly hurried to reveal too much about Libra
During a summit in Menlo Park, California, which was hosted by The Information, Ripple CEO believes that Facebook rushed to announce the project that they have been working on.
"I think that the way they approached it demonstrated, frankly, [from] my point of view, arrogance in how they rolled it out. I think Facebook did not appreciate the trust deficit they had," Garlinghouse said.
It's been also reported that the regulatory backlash against Libra in the US and all over the globe has Ripple's CEO worried that governments may begin to take harsher measures on crypto and the blockchain tech in the payments industry.
"Now I worry, am I going to get caught in the crossfire?"
Libra lost a vast part of its support
Visa, Mastercard, PayPal, Stripe, eBay, and Mercado Pago – all dropped their support for Libra this month.
In the beginning, Libra received a lot of praise, and the project was surrounded by excitement, and then, the controversy became deeper.
Brad Garlinghouse said that Facebook drew all this upon itself, and this is why there are regulation-issues these days.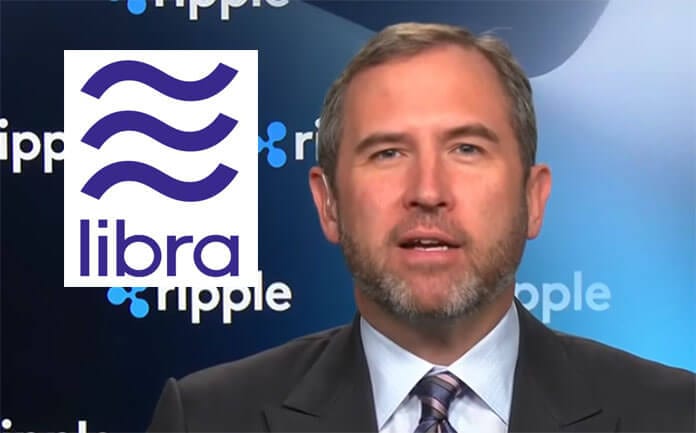 David Marcus says there's no need to worry
On the other hand, Facebook's head of blockchain, David Marcus, told Yahoo Finance that the project that Facebook is working on is not in danger at all.
"You really have to, as a member, have passion and energy and fortitude to go through this because it's hard. And it's going to continue being hard. If anything, it's going to get harder before it gets easier…" he said.
Marcus continued and said: "We're fleshing out all of the regulatory requirements and oversight required for this to operate, but nothing has changed."
Brad Garlinghouse
Garlinghouse is both the CEO and Chairman of Ripple Labs. This year, Ripple surpassed 300 partners, including over 115 banks worldwide. Having launched On-Demand Liquidity (ODL) for cross-border payments, Ripple now has more than 20 partners using XRP for ODL, including Moneygram, Western Union, and American Express.
David Marcus
Former president of PayPal, Marcus has sat in Coinbase's Board of Directors since 2017 and was previously fulfilling the role of VP of Messaging Products at Facebook. Marcus now heads up Facebook's Libra team - which could potentially introduce digital currencies to Facebook's billions of active users.
An experienced finance writer for more than 10 years, active industry watcher, and gadget enthusiast.