Depending on privacy-invading advertisements for revenue is never exciting. Now, there's a new solution that helps websites and apps get rid of them.
Gath3r is a next-gen browser crypto miner developed to support websites and apps so that they can eliminate the use of ads for revenue y offering an alternative way of monetization.
Gath3r addresses especially publishers who are making a smaller revenue who have shorter visits and higher dropout rates due to digital ads and trackers.
Gath3r is the ideal solution for them, and it will allow the complete replacement of ads while supplementing revenue at the same time, even if that seems hard to believe.
How exactly does Gath3r work?
Using Gath3r, website owners and app developers as well will be able to invite their users to support them by using a tiny part of excess computer power in order to mine crypto.
Browser crypto mining with Gath3r will provide essential advantages such as saving costs and overcoming the energy-intensive conventional mining process.
It does all these by decentralizing the mining process with excess computer power of daily website and app visitors.
After the Gath3r code gets installed on an app/website, it will allow owners to earn commissions based on their users passively mining crypto with a bit of excess GPU and CPU power.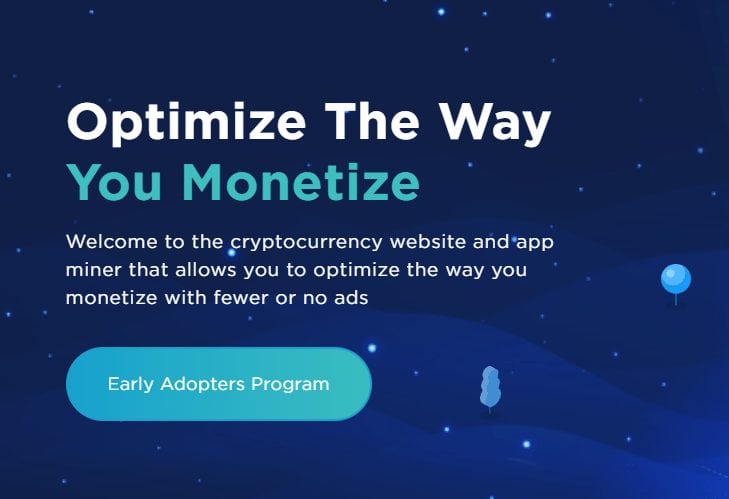 It's important to understand that this process only takes place during the times in which the user is visiting the website or using the app. Each user must opt-in to take part so that transparency is completely ensured.
To understand the potential of Gath3r's mining technology, just think about the fact that there are more than 2.5 billion live websites.
Transparency and a high level of privacy
Gath3r boasts a high level of transparency regarding the opt-in process.
Users will be conscious that there's a system implemented when they access the website or app.
In order to take part in the mining process, users will have to opt-in. the Gath3r software will make sure that the users' devices will never get too slowed down.
What's in it for users?
Gath3r Loyalty Program will allow the owners or a website/app to give back to their visitors via rewards which will be in the form of Gath3r tokens.
This will be added next to the Paywall Program and future plans for a proof of stake network.
The whole concept basically makes Gath3r the most sustainable browser mining solution that has ever been created.
Scaling was also taken into consideration
A Gath3r miner can switch proof-of-work algorithms based on block and price profitability, besides the hash power per website and pay out in Gath3r tokens (GTH), BTC or local currencies wherever they are supported.
The software's platform is powerful enough to support massive amounts of websites/apps and their users.
Supporting the decentralized nature of cryptos
Lots of mining processes are currently centralized, and this happened due to the massive computational power that's required in order to perform successful mining.
This obviously threatens the very core values that cryptos have – decentralization.
Gath3r's web browser crypto mining decentralizes the mining process, offering a safe and transparent revenue stream for publishers.
This will turn out to be a safe and private way for users to reward apps and websites and a way for publishers to share revenue with their most enthusiast users.
Gath3r's primary target is to provide a win-win context for both publishers/their webs and apps and the users as well.
The project supports website and app owners in optimizing the way that they monetize sites and apps and users will finally be able to enjoy their browsing experience free of ads.