Go Hard on Litecoin (LTC) or Go Home: Rise to $500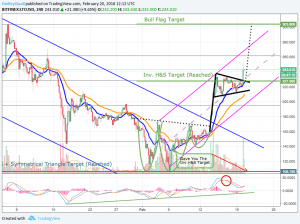 https://www.tradingview.com/x/50r8G12J/ – Trading View graph
We hate numbers but love profits!…

Litecoin (LTC) – Do you guys see the breakout of this more or less perfectly looking "flag"? – Yes, it seems like LTC has just opened the road back to its historic heights! Though, you can never know anything for sure unless you just came back from the future. It is also possible that LTC is going to retrace back a little bit closer to its yesterday's price level. At the time as I am writing this article, LTC is trading at $243.5 (Coinbase) and the big bullish candlestick (the one that broke the flag) has successfully managed to close. However, let's be cautious. In fact, the market capitalisation has risen from $12 bln as for yesterday up to almost $14 bln by today. And that is just in 1 day! The MACD indicates an upside trend. Though, not confirmed yet. Technically, LTC is still under the bearish crossover but this situation will most likely change within the next couple of days. If you are the one who entered the trade yesterday, congratulations, 9.7% of a profit! For those of you who purchased LTC at the beginning of February when the price was fluctuating around $107, congratulations, 112% of a profit! That's a big game and if you want to play it you have to know the rules of the market and diversify your portfolio in order to hedge the risk. So let's keep an eye on LTC and see if it holds.

The market is whispering…

The internet is flooded with the news regarding the future of Litecoin, its recent fork and upcoming updates that all together combined have created a tremendous fundamental magnitude on the market. "The fork won't happen!" – they shouted. Charlie Lee, a famous creator of Litecoin, in his Twitter account actually mentioned that any fork associated with LTC is a scam, but he never said that the fork won't happen at all.
And it forked, guys! That is a new reality now and nobody actually knows what to expect next. In my not so humble opinion, Litecoin Cash fork is certainly not the same scenario that occurred with Bitcoin when it forked on August 1st, 2017. Bitcoin Cash is a new crypto that people were asking for, while Litecoin Cash has just appeared out of nothing. Though, the team behind Litecoin Cash (LCC) claims that SHA256 proof-of-work hash implemented into their brand new protocol enables a new use for previously obsolete Bitcoin mining hardware. Concerning the network resilience, LCC will be utilizing Evan Duffield's proven DarkGravity V3 algorithm from Dash. What is really special about the DarkGravity V3 It has fast retargeting and it is non-linear. From what I've found out, this algorithm looks back on the last 24 blocks and adjusts the difficulty based on that, unlike the previous versions that have always relied on time, this one relies on block generation. To emphasize, the company does not claim to have any affiliations with Litecoin.
"We're using the Litecoin Cash name simply because it has become customary in recent months for a coin which forks a blockchain to prefix its name with the name of the coin being forked." (Litecoin Cash team)
This information is taken from the official Litecoin Cash website:

1.Target block time of 2.5 minutes gives 4 times the transaction bandwidth of Bitcoin, while transactions are 90% cheaper than Litecoin.
2.Block rewards will start at 0.25 LCC and grow to 250 LCC over the first 2000 blocks after the fork. The first 24 blocks after the fork will be mined at minimum difficulty. After this, DarkGravity will adjust the difficulty based on observed block generation time.
Compared to Litecoin: LCC has lower transaction fees, better difficulty adjustment, and is mined with SHA256.
Compared to Bitcoin: LCC is much faster and cheaper, and has far more bandwidth and better difficulty retargeting.
Compared to Bitcoin Cash: LCC supports Segwit, and has much faster block times.
Take a look at this chart:


Here is my suggestion – stay away from this coin for a while. First of all, we have to make sure that this project is at least not a scam. The best solution right now is to wait for experts to review the source code of the LLC wallets, and the Litecoin Cash technology itself, before downloading and installing any of their software.

The LitePay is coming
The LitePay will be launched in 6 days. This can be a breaking point. In general, the LitePay is the payment processor of Litecoin (LTC) that allows businesses all over the world to accept payments in Litecoin and the Litecoin-exclusive debit card.LitePay users will be able to convert LTC to USD and vice versa through the Visa-compatible LitePay cards, which can be used at all cash points or business that have integrated Visa payments. In fact, LitePay will charge you a flat 1% fee per each transaction, compared to standard credit card fees which are around 3% and the BitPay fee of $5 dollars per transaction. Most analysts researching crypto anticipate that LTC price will soar even higher. Some claim that LTC is a future of cryptocurrency being used as a payment method. However, we shouldn't forget about Ripple (XRP) which has a transaction speed of 25,258 per hour whereas Litecoin has only 2,414 according to Bitinfocharts.So let's wait for the market's reaction. I bet that LTC price will go up further.
All things considered…
This week is a Litecoin week. Too many news about it. Please note that in this article I am providing you with a more or less in-depth fundamental and technical analysis. In any case, do your own research before considering investing in LTC or any other crypto. And do not forget one of the main investment principles: Do not invest money you are not ready to lose. I hope you guys liked this post. Stay tuned! New articles and investment ideas are coming soon.

P.S Before you go here is the joke I came up with while writing this article for you:
Do you guys know why LTC is a king of altcoins? – because the word "Altcoin" has "LTC" in it.

Follow me on Twitter: Dmitry_Quail
My Medium page: @dmitryquail
Investment ideas: DmitryQuail