On the 26th of February, we all waited anxiously for Litepay, the Litecoin (LTC) solution for using cryptocurrencies to transact in everyday commerce. But this was not meant to be. An email announcement went out to those who had pre-registered for the service announcing that the launch of Litepay was to be delayed indefinitely due to constraints getting a card services provider that was friendly to cryptocurrencies. This means that Visa and Mastercard have pretty much declared an all out war on any Crypto backed payment solutions piggy backing on their card services.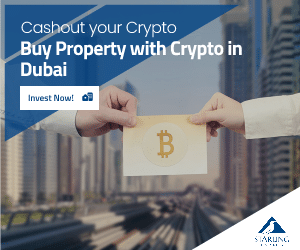 This is a tad bit disappointing for the anticipated release of Litepay, had helped propel the price of Litecoin (LTC) to around $233 on the day of the scheduled launch. Litecoin (LTC) is now trading at $209 and seems like it might drop back below $200.
But the beauty of the Cryptocurrency world is that when the first solution to a real life problem does not succeed, another project is also working on the same problem albeit using a different approach. In the case of a delayed Litepay launch, we can cross our fingers and turn to Crypterium (CRPT) to deliver on the promises the project made to its ICO participants last year when they put forth their proposal to bridge the gap between Cryptocurrencies and their use in every day purchase of goods and services.
In their projections of the future of cryptocurrencies and banking, the Crypterium team suggest that in 8 years time, the cryptocurrency economy will exceed $10 Trillion dollars. This economy will need Crypto-banks to link the decentralized economy to everyday life in the future. This is where Crypterium comes in by providing the payment infrastructure and products for the cryptocurrency owners and traders without physical cards.
This means, no negotiating with Visa or Mastercard! Yes. We can all smile now! 
Crypterium has the added benefit of what all cryptocurrencies were designed to do. It will be secure, cheap due to low transactions costs on the blockchain and fast. Also, all international boundaries will become a thing of the past once Crypterium goes online. This means for international travelling, all you need is the Crypterium platform. I see a situation where Central Banks will start issuing warnings against Crypto-banks very soon. So expect some FUD around Crypterium and any other Crypto banking project including Bankera.
But such projects for Crypto-banking are unstoppable. There are approximately 3 Million daily cryptocurrency users and this number is bound to exceed 200 Million by 2025. The Crypterium banking app that is to be released later on in Q1 of this year will be available on android and iOS. There will be no need for physical cards as is the case with Litepay, Visa and Mastercard. The instant processing engine on the Crypterium platform will provide instant processing for both fiat and crypto based currency transactions while enabling inter-changeability between the two. Exchanges rates will be based on efficient algorithms that will give the best rates of conversions.
The Crypterium banking platform will only be accessible for use if you have Crypterium tokens that will be used as 'gas' for the transactions. Every time a person makes a payment, a fee equal to 0.5% of the value of the transaction in CRPT is taken from the CRPT token holder's account and is burnt as fuel for the transaction. This means the CRPT tokens will be reducing with time and as demand goes up, so will the price. So it would be a wise idea to stock up on the CRPT tokens currently valued at $0.60 and with a total supply of 99,983,577 CRPT tokens. A number close to that of the supply of Ethereum (ETH) at 97 Million.
In summary, the Litepay hiccup sure does hurt but we should not worry. Crypterium (CRPT) in there magical ways of predicting the hurdles with physical cards and negotiating terms with payment providers, have a solution in the offing this year. The regular fiat world cannot stop the use of Cryptocurrencies for regular day to day trade of goods and services for the regular guys.
WE SHALL BE VICTORIOUS!
[Photo credit: btcurrencies.com]
Follow us on Telegram