Monero (XMR) Has been smashing threw its resistance points making new all-time highs. Thursdays trading took Monero to an all-time high of $99.07 and a total market cap of 1,481,425,868. At Time of writing The current circulating supply for Monero is 14,953,626.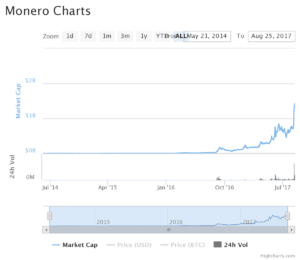 Just less than 15 million is a relatively small circulating supply for crypto currencies, as monero becomes more popular its value will continue to rise. While it's often tough to narrow down the exact cause of price fluctuations, the recent weeks have seen some good gains for monero.  Some reason Monero might be making new highs are the fact that Monero is set to be trading on Bithumb commencing on August 27th 2017 one of south Koreas most popular exchanges.
Crypto Currency Monero (XMR) is open sourced and was created April 2014 which mainly focuses of privacy decentralization and scalability. Monero is based on the cryptoNote protocol, unlike many other crypto currencies that are derivatives of Bitcoin. Monero possess significant algorithmic differences relating to blockchain obfuscation.
Monero is by far the leading cryptocurrency targeting privacy
Monero's main focus is on private and censorship-resistant transactions. Most cryptocurrencies including Bitcoin and Ethereum are transparent, meaning your transaction history is revealed to the world. Monero on the other hand uses cryptography to ensure no one can see how much money is in your wallet or where you spend it, even if they know your wallets address.
Monero Transactions are confidential and untraceable
Every transaction untraceable and transaction amounts are confidential. Monero uses an "always on privacy" system which means every users activity enhances the privacy of all other users. Since the source Funds on the monero blockhain are untraceable, they cannot become tainted by association of their previous owners. This allowing you to accept funds without the risk of them being blocked or censored by exchanges or merchants.
Monero's Kovri project
This project could be another reason for the recent highs in monero over the last several trading days.
The Kovri project uses end-to-end encryption so that neither the sender nor receiver of a Monero transaction need to reveal their IP address to the other side or to third-party observers (the blockchain). This is done using the same technology that powers the dark net, i2p (Invisible Internet Protocol). The project is currently in heavy, active development and is not yet integrated with Monero.
Open Alias
The OpenAlias project simplifies cryptocurrency payments by providing FQDNs (Fully Qualified Domain Names, i.e. example.openalias.org) for Monero wallet addresses in a way that ensures everyone's privacy is secure. The project is well underway and has already been implemented in many Monero wallets.
Monero is a grassroots community attracting the worlds bets cryptocurrency researchers and engineering talent
Monero has over 240 developers that have contributed to the project this includes 30 core developers. Monero welcomes all forums and chat channels to help grow their supporting community. Monero has a research lab, core development team and community developers that are constantly breaking new grounds on what is possible with cryptocurrency privacy and security.
Monero cannot be shut down or constrained by any legal jurisdiction because it is not a corporation. It is developed by cryptography and distributed systems experts from all over the globe, they either donate their time or are funded by community donations.
MINING MONERO
Monero is a cryptocurrency that relies on Proof-of-Work mining to secure the network. To understand more about mining Monero and why mining is necessary or other beginner's questions check out the user guide. I personally downloaded Monero Spelunker for Windows and it seems to be working pretty well.
Time will tell if Monero will continue its rise breaking through the $100 mark. I personally do not own any Monero but yes I regret that decision since its over 100% rise within weeks. I will not be buying it at this price i will wait for a pull back before i would make any entry. I will continue to slowly mine at a snail's pace with my home CPU, if you don't know how mining works I suggest you check it out as mining will be big for years to come in many different crypto currencies.