The crypto industry has been booming lately, and this is extremely exciting considering the fact that since the beginning of last year we are in one of the most severe crises that our generation has seen.
AXIA is building a digital ecosystem
The crypto ecosystem has been seeing new members and massive developments at a fast pace. One of them is AXIA – the organization that is building a digital ecosystem around the world's first hyper-deflationary digital currency AXIA Coin (AXC).
The firm has just revealed that it's launching the privacy-focused secure browser AXplorer.
This allows its users to get paid in AXC for their everyday online activities. More than that, they will;l be able to customize their privacy settings based on their preferences.
The announcement is supported by AXIA's acquisition of California-based tech company UBDI (Universal Basic Data Income).
This has been working to allow Internet users to monetize their data since 2018.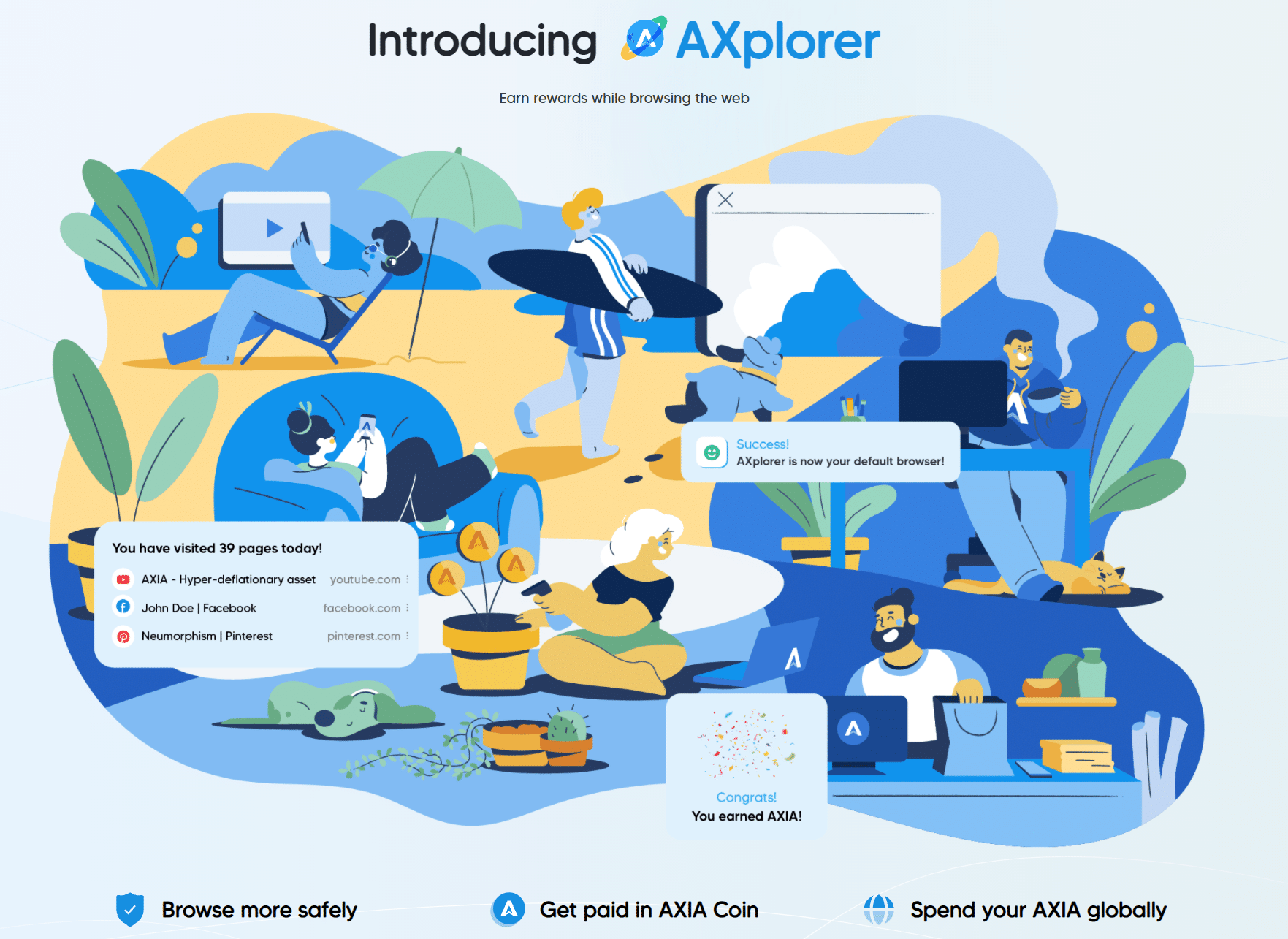 AXplorer 1.0 will allow users to earn AXC on a daily basis for simple tasks. These include setting it as their default browser. It's also important to note the fact that the UBDI acquisition will allow people to monetize all aspects of their online experience on AXplorer and the rest of its platforms and digital properties.
Granting users complete data ownership
The main goal that AXIA has is to offer users complete ownership of their data via this innovative browser. This protects them from online fingerprinting that no one desires.
The release of this browser comes with a referral program that is going to allow users to earn AXC when someone installs the browser using their referral code.
The browser will also allow users to sell data on the marketplace via the built-in AXIA Wallet.
Users will be able to earn AXC which is powering the ecosystem, but they will also have the ability to earn this by watching ads and taking part in quizzes, surveys, competitions, and other opt-in programs.
"Corporations are making billions off the data they harvest without paying users for it. AXIA is going to change the tide and reverse the model."
This is what Nick Agar, Founder of AXIA had to say. He continued and explained the following:
"AXIA is all about providing value to individuals and businesses. AXplorer's launch will rightfully put the power back in the hands of the people and provide the immediate antidote to the unjust reality we've all grown accustomed to."
He also explained that users can now get value from their data, and people will always be free to choose whether to capitalize on it or not.
AXIA to use UBDI's proprietary data monetization platform
AXIA will also be using UBDI's data monetization platform, and this will provide current and future users with various ways for monetizing online activity.
"Joining AXIA was a decision that made perfect sense for us because our organizations are completely aligned in our goals and values, especially when it comes to empowering our members."
This is what Mark Kilaghbian, Director and Chief Revenue Officer of UBDI, stated not too long ago.
He continued and said that they were looking forward to working together with AXIA.
He also addressed the main goal of "democratizing and shifting data ownership back into the hands of individuals rather than corporations and big tech."
AXIA coin has a unique economic design
The coin is a unique one and it's important to mention the fact that the supply is constantly decreasing with all transactions and fees being automatically burned.
At the same time, it's important to note the fact that the pool of supporting assets in the AXIA Reserve can increase – this is a breakthrough deflationary mechanism that makes the coin more scarce and valuable.
All of this makes the coin a more innovative store of value compared to Bitcoin and more alternatives.
It's worth noting that AXIA Coin can be integrated with the real-world economy to be used as a medium of exchange.
According to the official notes from a press release, the new users can download AXplorer for iOS, Android, MacOS, and Windows by visiting AXplorer.io or the app store of their choice.