Ripple Vs. SWIFT: The Competition Intensifies As SWIFT Launches Solution To Challenge The Blockchain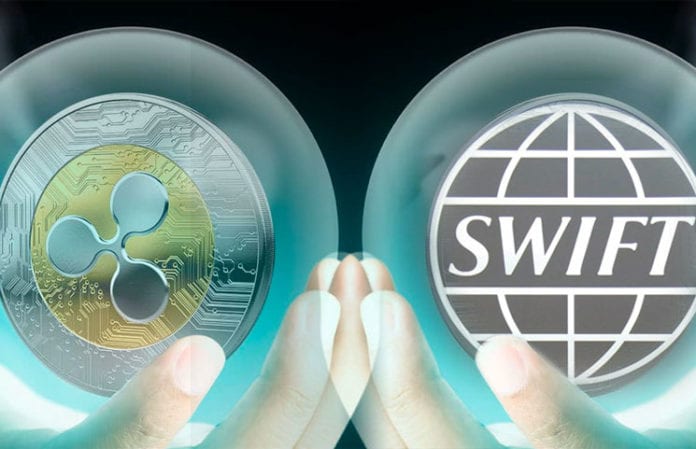 After a lot of rumors floating in the crypto community back in 2018 which were claiming that Ripple and SWIFT will eventually team up, things became clear.
Ripple addressed these allegations, highlighting that Ripple's plan is to compete with SWIFT and address all its flaws.
Ripple has been intensifying its efforts to overtake the traditional payment system, and this attracted a lot of attention from the media.
SWIFT fights back
It is more than obvious that SWIFT has been feeling the pressure of the emerging technologies and Ripple's solution for a better, enhanced payment system.
In December 2018, SWIFT revealed the launch of "integrated payment validation" solution which is their approach to compete with Fintechs and the blockchain solutions.
SWIFT's main aim is to scrutinize the complaints regarding payment efficiency.
The firm managed to finalize 14 significant banks for pilot testing on "pre-validation" in order to detect errors.
"The pilot is the first stage in the roll-out of the ambitious gpi validation programme. The goal of the pilot is to build the foundation of a new integrated and interactive service that will significantly improve efficiencies in the payments process and which will ultimately be made available to all 10,000 banks across the SWIFT network," the official statement said.
SWIFT trials new payment system to compete with Fintechs and emerging Blockchain solutions. https://t.co/N3HWLRMffn

— Christoph Kreiterling (@KreiterlingCh) January 3, 2019
Ripple vs. SWIFT
Cory Johnson, Ripple's chief market strategist, said on various occasions that they plan to overtake SWIFT and in a recent video he made sure to detail the core aspects of the solutions offered by Ripple.
The video dates in November 2018, and it came out after Ripple's CEO Brad Garlinghouse was interviewed by Bloomberg and said that Ripple aims to overtake the SWIFT banking network.
He told Bloomberg that there are at least 100 SWIFT-connected banks which include Santander that have already employed Ripple's xCurrent product.
– Ripple is meant to replace SWIFT
– XRP is meant to be a digital way to move value
– All of Ripple's customers are using both Ripple and SWIFT

Cory Johnson, Ripple
Nov18 pic.twitter.com/egqDlbvCyX

— Steven Bull Diep (@DiepSanh) January 3, 2019
There are various customers using both Ripple and SWIFT, but Johnson said that customers would choose to go with the option that provides quick transfer and fewer costs and this is definitely Ripple and XRP.