Ripple (XRP) Recorded New 2018 Lows This June – Will It Recover?
Ripple (XRP) shed 17% in the last week, while yesterday recorded a 4% drop to $0.453, reaching new lows in 2018. Today, however, XRP gained a shallow 0.11% so far, at the moment of this writing.
Yesterday, from a value against the USD of $0.546, Ripple (XRP) went down towards $0.453, a low price that XRP has never recorded again since December 2017. However, back in 2017, in December, taking advantage of the cryptocurrencies market boom dictated by Bitcoin (BTC), XRP surged from around $0.4 all the way up to $3.81.
As we already know, that market boom lasted until mid-January when every crypto coin started to drop significantly. So did Ripple (XRP), too.
But, when the cryptocurrencies started to recover in April this year, and some of the big cryptos surged towards new maximums, XRP remained shallow in comparison to the others. Indeed Ripple (XRP) gained about 60% in April, but that didn't help XRP enter into direct competition with other bullish cryptos at that time.
Ripple (XRP) reached new 2018 lows this month, June, but the future might be bright for the XRP
Just recently, Daniel Aranda from the Ripple company talked about the upcoming "Internet of Value" and Ripple (XRP) position in this new type of Internet.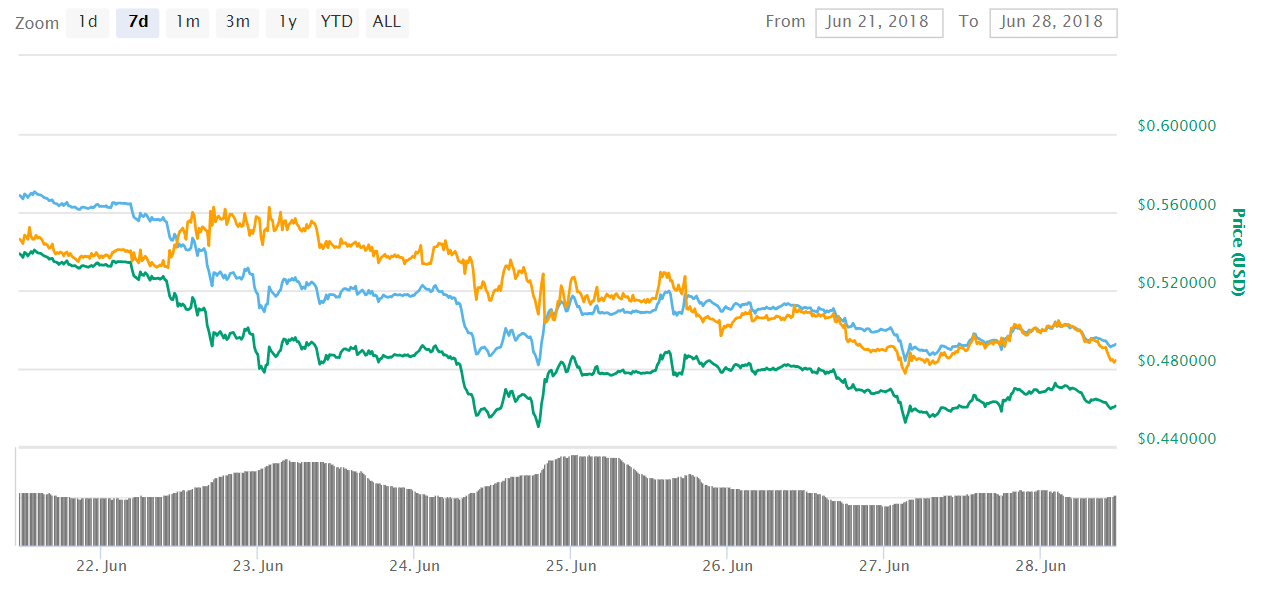 "We think that if the internet of today is tethered with packets of information and data being sent around, the internet of value will have a similar kind of architecture, but what will be sent around is money," said Aranda during CryptoCompare MJAC Blockchain Summit 2018.
What Aranda tried to say is that Ripple and Ripple (XRP) will be the foundation of this new type of Internet, dubbed as "Internet of Value."
On the other hand, Aranda also discussed Ripple's and Ripple (XRP)'s importance in revolutionizing the banking system, suggesting that Ripple has already managed to surpass SWIFT in innovating cross-border transactions.
Therefore, at least according to Ripple's Daniel Aranda, Ripple (XRP) holds more in its bag for us, in the future, so it might indeed surge once again to new maximums. When would that happen, we can't tell!
An experienced finance writer for more than 10 years, active industry watcher, and gadget enthusiast.
CEX.IO
Coinbase
Binance
Lasted news