Tron's Justin Sun Reveals BitTorrent File System – The Price Of TRX And BTT Skyrocket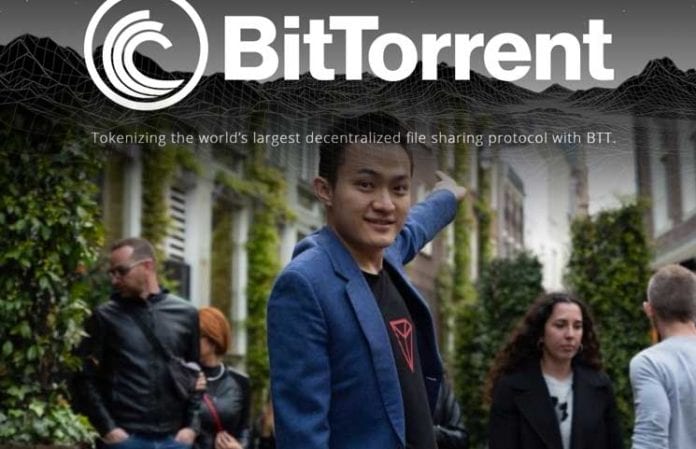 Justin Sun revealed yesterday, on May 27, that Tron is about to launch the BitTorrent File System (BTFS) as the largest decentralized file-sharing protocol in the world with more than 100 million existing users.
Justin Sun's announcements
This comes after Justin Sun revealed that there will be something exciting announced by June 1, 2019.
"Welcome to the next generation of decentralized storage systems! #BTFS will be the largest decentralized P2P storage network with close to 100 million @BitTorrent user nodes, over 1000 #TRON full nodes, 27 SR nodes, and global #TronGrid nodes. 3 days left! Are you excited?" Sun tweeted.
Misha Lederman commented,  Realizing that BitTorrent Speed, BitTorrent Live & #BFST launching very soon is mind-boggling."
A large portion of the crypto Twitter is bullish on BTT and this launch has come in perfect time for the market to capitalize on this.
There haven't been revealed any details on the launch, but BTCManager writes that it is legit to assume that the same BitTorrent interface will continue.
https://twitter.com/justinsuntron/status/1132548016739475456
https://twitter.com/justinsuntron/status/1132949563268947969
The same online publication writes that there's an equal number of people who are bullish on BTT but bearish as well.
"The main criticism for the tokenization of BitTorrent is the obvious lack of necessity. BitTorrent could have been integrated into TRON without tokenizing the platform; transactions over BitTorrent for subscriptions (…) could've been done in the native TRX token of the TRON blockchain," they posted.
Not too long ago, Sun tweeted that the release of BitTorrent Speed is the very first goal among many others that his team is gearing up for.
Tron's TRX is back on the 10th spot on CoinMarketCap
All the enthusiasm triggered by Sun with his announcements and the latest Tron and BitTorrent achievements have led to the fact that TRX jumped on the 10th spot on CoinMarketCap all over again.
https://twitter.com/justinsuntron/status/1133253956619055104
The price of both TRX and BTT skyrocketed.  Currently, TRX is priced at $0.034476 and it went up by 6.74% and BTT is priced at $0.001764 and it went up by 9.90%.