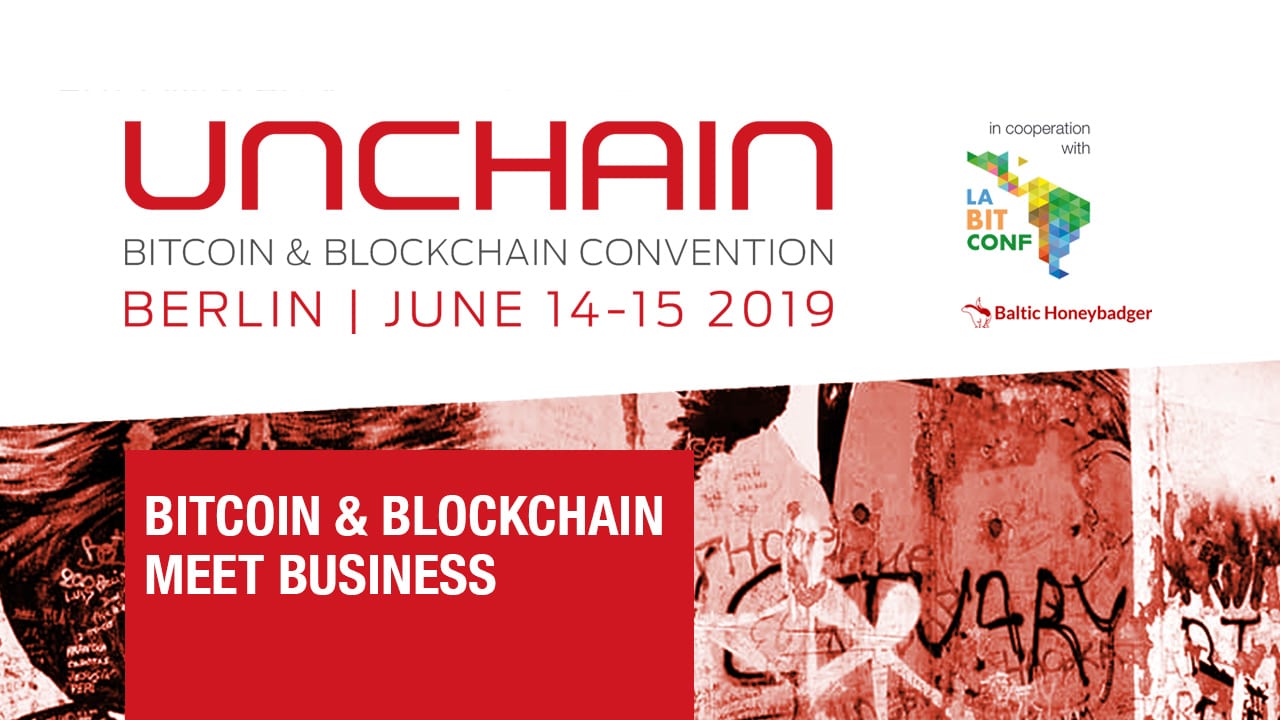 Not too long ago, we reported that this year, there's a massively important event set to take place that managed to trigger increased interest in the crypto space: the UNCHAIN Bitcoin & Blockchain Convention which is set to take place in Berlin, Germany between 14 and 15 this June.
UNCHAIN was voted as one of the top 10 blockchain conferences
UNCHAIN has been voted as one of the top 10 blockchain conferences in the world last year and back then, the event managed to gather an intimate audience in Hamburg for quality content.
Speakers debated the enormous impact that the digital assets and socio-economic frameworks have on the blockchain tech and more.
Join the UNCHAIN convention
The event is expecting crypto enthusiasts, visionaries and pioneers in the crypto space for networking, business initiation and all kinds of exciting and at the same time controversial discussions on various crypto and blockchain related issues.
This will be the second edition of the blockchain event, and it will also bring together some pretty massive names.
The event will be hosting early crypto adopters sand various decision makers from some well-established industries.
Prominent crypto voices that will be present at the event include American crypto-entrepreneur Brock Pierce, chairman of Bitcoin Foundation and co-founder of EOS Alliance. He will be speaking in a fireside chat format.
This implies answers to various difficult questions but in a simple language and a more informal atmosphere.
According to official notes, UNCHAIN's last year's fireside chat interview partner Erik Voorhees (co-founder and CEO of ShapeShift) has just praised the conference, saying the following:
"UNCHAIN was less hype and more meaningful discussion than many other global conferences. Highly recommended."
More exciting details surrounding the upcoming event
The event won't be taking place in impersonal and boring frameworks. Instead, we'll be enjoying an eclectic framework for networking and follow-up nightlife program.
It is an urban village made of rough brickwork and scrap wood which will definitely be something else.
It's also worth noting that more than 30 speakers including Wall Street veteran Tone Vays will be there along with other prominent personalities such as Monero's Riccardo Spagni, more lead developers, CEOs and so on.
They will be focusing on regulatory aspects in the crypto space, insider strategies, new use cases, and business models, payments, Bitcoin's scalability and privacy, investment options, and more.
Tickets and discount code
According to the official notes of the event, the most popular Crypto tickers are already sold out but don't worry because there are other options available.
We suggest that you check out the official website of the event. You will be able to check out all the speakers on the site as well.
Don't forget to use the promo code LEV8MPUC to get a 20% discount on Standard and Experience tickets.
Considering just how exciting the crypto space has been shaping to be in 2019, with the bulls back in the market and the mainstream crypto adoption around the corner, there will be plenty of juicy subjects to debate at the convention.