Ethereum's (ETH) – The looming crises biffing the cryptocurrency world over the past few months piloted series of gestures from some altcoins and the general crypto verse, giving it dents and defamations in some areas. Not the end, as the events also transude display of dismay from crypto enthusiast, especially from the recent embargo placed on all cryptocurrency related ads by the Tech giant Google and a previous one from its contemporary, Facebook.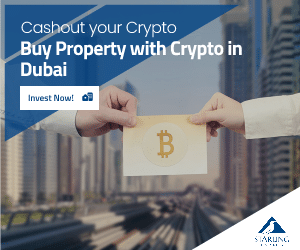 Well knowing that both companies hold a massive share of the online advert industry, the actions never seem satisfactory for users and investors of cryptocurrency. With the claims from both companies that cryptocurrency poses harm or potential harm to its users and can be deceitful, Crytolovers never seem to believe any of it, tagging the ban to self-interest from the successful tycoons.
I will like to say that the worst is yet to come for the Crytolovers, as a perfect storm is about to prevail from twitter.
Twitter, also online advert/social media company, who also holds a significant portion of the online advert, but an underdog to Facebook and Google is also planning to launch its own regulation which would likely be a hit on the Crytoworld.
On Sunday, March 18, 2018, sky news, in a post disclosed that Twitter is "preparing to prohibit a range of cryptocurrency advertisements amid looming regulatory intervention in the sector."
Twitter's Reason To Kick Out Crypto Ads.
The decision to reregulate its advertisement policy was followed by a recurrent two-month celebrity account impersonation scam, coughing out about tens of thousands of pounds a day from Twitter users.
The fraud started with a Twitter post impersonating a high profile twitter account, asking users to send a token sum so that they could claim a larger one as they are giving out cryptocurrency for free.
Source: Skye News
Amongst the celebrity lies the founder of SpaceX, Elon Musk, and Vitalik Buterin, a major Ethereum investor.
In a bid to brand the fraud as being legitimate, enticing individuals, the swindlers, initiated an automated account that retweets, likes and comment to have picked up its own dough under the scam post.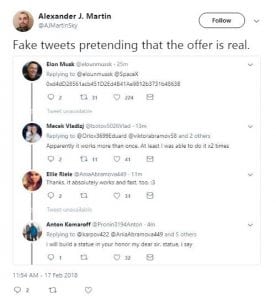 Sources: Twitter
Vitalik Buretin, the Co-founder of Ethereum and Bitcoin Magazine changed his account name to annul tweets that he is giving out cryptocurrency.
The Embargo.
Following a similar decision by Google on Wednesday, and a January ban disclosure by Facebook, Twitter, according to Sky news also wishes to initiate an advert policy prohibiting ads on initial coin offerings (ICOs), token sales, and cryptocurrency wallets globally which will commence in two weeks.
The previous two companies are believed to have made the decision following an Action Fraud publication that victims' losses in Britain over the last six years have risen by 400,000%.
In a bid to combat illicit transactions, the governor of the Bank of England warned that it is high time cryptocurrency faced scrutiny and regulations.
Mr. Carney said: "There are a number of problems with cryptocurrencies. They are small now but they are getting bigger.
"We will talk about them at the G20 meeting and we are talking about them now in the Bank of England. The Financial Policy Committee is looking at the risks to financial stability. There are issues for authorities who deal with money laundering, terrorist financing and price fixing. There have been a number of incidents of theft – not just big crimes but also steady thefts from people's wallets."
This month, Verge (XVG), an altcoin that eulogizes itself as a "secure and anonymous cryptocurrency, built with a focus on privacy" also got its Twitter account attacked and hackers were demanding coins from twitter users.
Source: Twitter
Who Should Improve On Security?
It is no more news that cryptocurrency all over the world is thriving, and I will say that by now, a deaf man should be aware of the existence with series of online adverts, but authorities globally are questioning the viability of the cryptocurrency uniqueness feature which is decentralization.
Amid all worrisome turbulence, scam, and theft, the authorities believe that regulating and scrutinizing the alien technology is the only solution to make cryptocurrency survive.
Nevertheless, with the recurrent hack and theft surrounding cryptocurrency, I would also suggest a bit of regulation to make the industry stable and very much reliable. Contrary to that, musing about the frequent hack and impersonation on twitter which is being used to cart away funds, I stand to rather say that Twitter also needs to appraise its one level of security.
Similarly, Sky news blamed Twitter for not taking down a reported Twitter account after acknowledging to the report.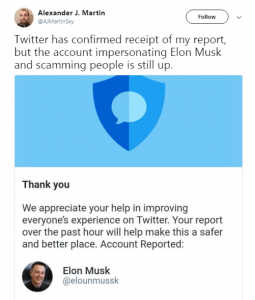 Source: Twitter