PumaPay has made a number of headlines in the past few months after the official release of their long awaited payment solution in September of last year. As they announced their first integration with Red Light Center (RLC), the talk surrounding this disruptive crypto-company started picking up. Most recently, the PumaPay team was in Berlin for Europe's largest merchant payment ecosystem conference, MPE 2020. That's when I got interested.
I've been watching PumaPay from the sidelines for a while, judging investor sentiment before deciding whether or not to invest time and money into the product. After the string of positive headlines promoting PumaPay in recent months however, I finally decided to download the Mobile payment app (available on Google Play and the Apple App Store).
What is PumaPay (PMA), anyway?
Pumapay (PMA) bills itself as the world's first comprehensive crypto payment solution. And it really is a powerful tool for payments. Flexible payment options on the blockchain are few and far between, and PumaPay has a fast and secure platform that can adapt to any business logic. Importantly, PumaPay offers businesses and consumers the ability to engage in recurring payments with any of a number of cryptocurrencies for online subscriptions and services. The native token for PumaPay trades as PMA, and can be found on Bittrex, OKEx and several other reputable exchanges.
With immediate settlements initiated through PumaPay's PullPayment Protocol, businesses can receive payments in minutes, rather than days. Allowing Merchants to pull from customer wallets, the protocol's flexibility allows for pay-per-use, restricted, recurring, shared, and installment-based payments. Luckily, the team at PumaPay has a handy video for understanding the basics of the protocol and how it affects merchants and consumers!
Another exciting product PumaPay offers is PumaPay Pride, a marketing hub that brings consumers and merchants together. PumaPay Pride will eventually be integrated into the mobile app, acting as a directory of businesses integrated with the payment system. PumaPay Pride is coming soon, but was not yet available to test for this review
Crunching the Numbers
PumaPay (PMA) is ranked #573 on coinmarketcap.com with a listed market capitalization of $3,554,756 USD. The circulating supply of tokens stands at nearly 25 Billion.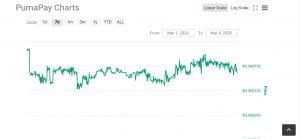 PumaPay (PMA) boasts a 24 hour volume of over $79k USD, and the price is holding at an attractive $0.000143 USD for now (though it is down over 8% over the past 24 hours).
My Review
I downloaded the PumaPay (PMA) app onto my Android device via Googleplay. Installation went smoothly and setup was a breeze. Unfortunately, I was immediately taken back by the improper use of grammar greeting me. I took some screen shots of the broken English used on the initial splash screens.
While poor English can be easily overlooked, it did give me an initial feeling of unease. Generally, before trusting an app with my Ethereum (ETH), I expect a little more involvement into these sorts of details.
The setup otherwise went well. I took note of the recovery phrases generated for my account and I accepted the terms of service.
Upon initializing the service I was greeted with a beautiful, fast responding home screen featuring PMA and ETH prominently among my "Total Assets". Bitcoin (BTC) and Tether (USDT) were also featured along with a button to add other supported currencies (including BCH, DASH, LTC, XRP, XLM and all ERC-20 tokens). A feature here that really stands out is the ability to name and use any custom ERC-20 token that isn't listed in the app.
Links to eight different exchanges listing PMA are offered within a "Buy Crypto" section. Clicking a link to the exchange of your choice brings you to the exchange website where you can sign up, purchase crypto and transfer it back to your PumaPay wallet.
Transferring ETH in and out of the wallet worked quickly and intuitively with options to scan QR codes, as has become standard. Unfortunately, I was unable to test the exchange feature, where PumaPay allows customers to trade one token for another within their wallet. I was instead greeted with a splash screen explaining the feature was unavailable in my region.
Conclusion
PumaPay (PMA) and their potentially disruptive crypto payment solution allows for quick and easy recurring payments to integrated service providers from almost any cryptocurrency. The attractive mobile wallet is responsive and beautiful, if still lacking in features.
The solutions offered by PumaPay combined with the responsive and intuitive design of their mobile app have increased my confidence in the team ten fold. Though the poor English encountered in the initial setup and the unavailability of key features in my region were disappointing, the fast development of the product is reassuring. As PumaPay Pride is worked into the app, and more merchants integrate into the payment system, there continues to be a great potential upside for the company and hodl'ers of their token (PMA).
Micah C. Miracle
Follow me on Twitter and Subscribe to my YouTube channel for more!