John McAfee @officialMcAfee is a big proponent of anonymous coins winning the crypto market in the future. He especially like Monero, Verge, and his favorite SAFEX as coins that could lead the next wave of growth through adoption. The next step for these privacy coins is a payment network allowing wider adoption for merchants and customers. Enter Graft Foundation and the Graft Network.
— John McAfee (@officialmcafee) December 15, 2017
The Graft Foundation
Graft Foundation is a not-for-profit dev team working to launch a point-of-sale network which promises lower fees, faster processing and wider crypto coin acceptance using a debit card to process transactions in real time. The inherent limit to current coins, especially Bitcoin, is the lack of scalability, slow transactions times, growing transactions costs and lack of mechanism for micropayments. The Graft Foundation thinks it has found a way to overcome these limitations with a secure network built on the Cryptonight blockchain technology which is used on Monero and several other privacy based coins.
At the Point-of-Sale (POS) is not the time to determine the customer does not have the correct cryptocoin, fiat currency, or credit/debit card to purchase a good or service. Graft hopes to overcome this using a unique back-end and server build to allow real-time authorizations and exchange between fiat and various cryptocoins on the Graft Network. It hopes to add many of the largest coins such as Monero (XMR), Litecoin (LTC), Ethereum (ETH), NEM (XEM), Bitcoin (BTC) and its own unique coin known as the GRAFT coin.
"All the Graft software is under an open source license. Graft Foundation is a non-for-profit entity and we intend to operate as such unless we're forced to change status by the governing laws of the land." From the Graft Whitepaper.
The GRAFT Network
The Graft network is already in testnet mode with prototype wallets and POS devices with the MainNet and Wallet set to go online Q1 2018. The initial launch will be followed by broker integration and a Graft compatible debit card to launch later in 2018. Both are important to the project as they provide the back end structure to make the network work. Brokers provide the exchange between various coins allowing the merchant to determine the desired settlement coin and the customer to pay with a desired form of payment. This allows the network to work anywhere in the world seamlessly for any coin accepted on the network.
Transactions occur on the blockchain are recorded by miners similar to how Monero and other Cryptonight coins are mined currently. To overcome the delay from transaction to mining and recording transactions, Graft will use a unique Supernode set-up of powerful servers to perform real-time authorizations. The Supernodes will keep all real-time authorizations to prevent double spending prior to the final confirmation of a transaction on the blockchain. This is important for coins like Bitcoin which can take hours to days to settle. Even faster coins with Lightning network can take 30 seconds to several minutes which makes use as a POS impractical. Graft hopes its network can overcome this limitation.
Service Brokers provide several functions including coin exchange, pay-in and out, settlement, authentication and authorization for transactions. They are rewarded through fees and set-up like an exchange with offers for buy, sell and exchange between coins. They are set-up to make the best offer at time of transaction to create rapid movements of various coins on the Graft Network and are vital to the success of the project.
Build your own crypto portfolio with CoinVest
GRAFT ICO
The Graft ICO is set to launch January 18, 2018 and is limited to $10 million equivalent of GRAFT coins. The ICO will make up 5% of the total coins which eventually end up in circulation with the majority created through mining to draw computing and server power to the network. The dev team and founders are keeping a respectable 8% with 27% kept in reserve for maintenance of the Graft network and other associated costs. As with most ICOs there is a discount for early purchasers of the coin. Details can be found at the ICO page here. 
The Graft Network Launching Soon
Graft is currently in closed testing of the POS and wallets while test mining on a closed network. The network plans to go live early 2018 and with the integration of many coins with wide application at POS the network could grow very rapidly among crypto enthusiasts. For broader growth they plan to integrate accepting all credit cards and debit cards which would exchange fiat to coins allowing merchants to accept any form of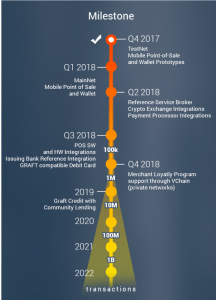 payment on the graft network. This allows one POS terminal for all electronic payments for merchants allowing legacy and crypto payments. This could be huge.
As it is built on the Cryptonight blockchain technology there are elements of privacy which should make @officialMcAfee happy but also both customers and merchants. Follow the team here at their blog, check out the white paper and check out the ICO details before considering investing as all investments comes with risks.