Monero (XMR) Privacy-Oriented Coin Increases By 12.23% Following The Optimistic Report From Satis Group
Monero has been slowly but steadily taking center stage for the last couple of weeks while it keeps pulling more investors and traders towards it.
With so many options available on the market, this coin should not be overlooked under any circumstance.
Monero's success is not surprising
Monero is led by a group of seven developers of which five have chosen to remain anonymous while two have decided to come out openly in public. They are David Latapie and Riccardo Spagni aka "Fluffypony".  The Monero project is open source and crowdfunded.
Monero's success should not be hitting us as a surprise, especially considering the fact that the crypto follows the original idea of cryptocurrencies regarding safety and anonymity.
Satoshi imagined a world in which financial transactions would be both anonymous and safe. Unfortunately, this is totally different from what most pioneer coins such as Bitcoin, Ethereum, and Litecoin have to offer for now.
These coins are at best pseudonymous mainly because developers want to comply with the regulations of existing authorities which is against Satoshi's desires.
Monero was able to restore the confidentiality in crypto usage thanks to its high degree of privacy.
This is the primary feature that makes Monero unique and which has made regulators in more countries skeptical about it. Most of them believe that the untraceable transactions could trigger some undesirable results and practices.
Anyway, having the primary focus placed on privacy and being almost untraceable and unlinkable makes Monero a coin that stands out.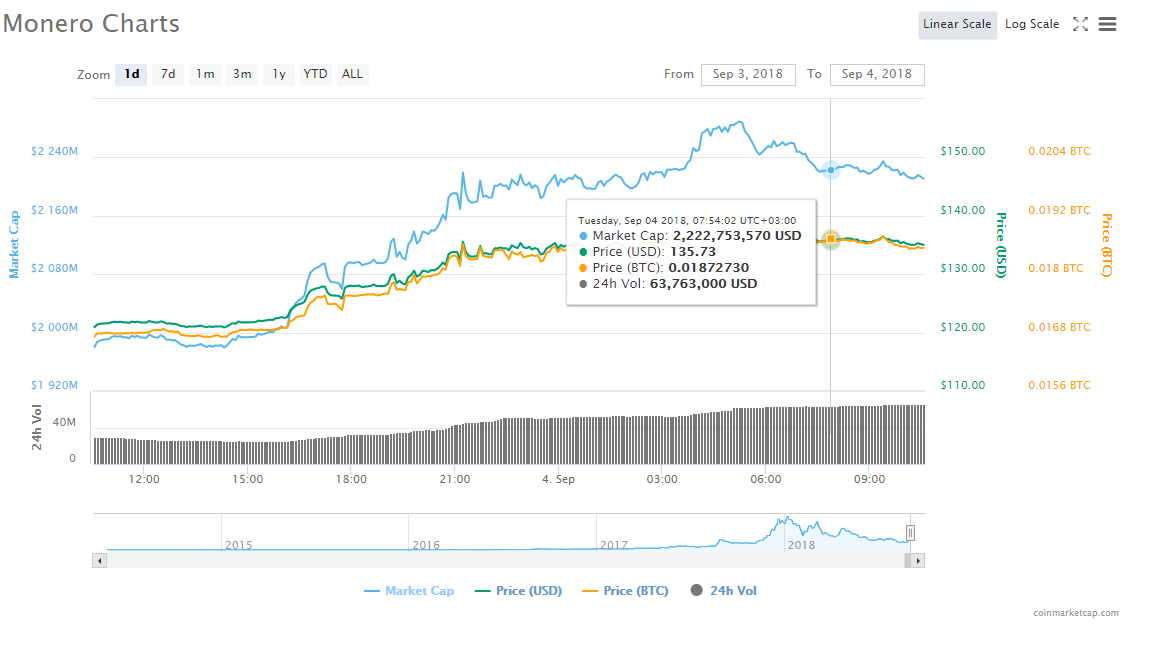 Monero's current market state
According to a report by the ICO advisory and research company Satis Group, both Monero and Bitcoin are the winners regarding price and gain over the next decade.
The forecast released by the company shows Monero as the most significant price gainer.
The 10th largest crypto by market cap welcomed about 12.23% gains during the past 24 hours against the US dollar. XMR is currently priced at on $135.46 on CoinMarketCap.