Stratis (STRAT) – Cast out precedence and price thought off your mind and face reality. Muse about what Stratis offers, then you will know that it might be the next talk of the world in the crypto-verse.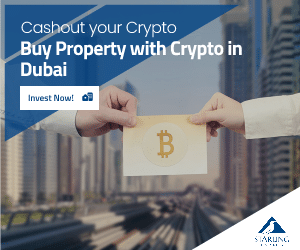 As cryptocurrency continues to display competency day in day out as a way out of the deflation-inflation turmoil relationship between world's currencies, new altcoins are emerging, while some are dying. While the fathers of cryptocoins like Bitcoin and Ethereum are challenged by incompetence in some areas, the newbies are claiming to capitalise on these flaws, while the imminent ones are spreading hunky-dory news about their advancement as if they are the imaginary unicorn. At times, I feel for the incoming ones, they have extra work to do, don't they? Sigh! Although, amidst all challenges that the cryptocurrency dons are facing, they still maintain their meridian while others are tailgating with possible threat of piggybacking them at the pinnacle, so that they can also create massive ripples in the mind of the public like their fathers.
Amongst Bitcoin and Ethereum's ardent challengers with the potential of great eruption is the mighty Stratis (STRAT), a network designed to solve the problems of corporations in the financial sector with the desire to use blockchain. 
Stratis, over the last few month, may have been one of the most tiresome digital assets due to ranges of criticism coming from users, that it is sluggish in self-development and marketing. Nevertheless, I must say that Stratis, based on the outstanding features it offers, is worth being celebrated. In the same line, according to a statement issued by the team that marketing is undoubtedly imminent, but not until some nominal features of the project were accomplished. This, signals its preparation for future.
What Does Stratis Offer?
Stratis (STRAT), released in August 2016, was pitched with the aim of fashioning a customizable end-to-end network for businesses who desire to venture into blockchain technology, thereby proffering solution to their database and cloud computing problems.
Stratis was built with C# for the .NET framework (developed by Microsoft). This, grants developers to build a variety of secure and robust applications that run on the .NET Framework. Since a wide range of people in the software industry is familiar with C# language, companies do not require to train their worker for complex coding language as needed in Ethereum.
In addition, almost all businesses use windows applications like Microsoft Office application and more. Therefore, Startis can easily hang on businesses.
Exceptional features of Stratis
Every blockchain company flaunts features, but can all of them withstand the test of time? While some cannot, Stratis is proving to be exceptional. Let's check these out:
Smart Contracts/Sidechains
Unlike other cryptocurrencies like Bitcoin and Ethereum, Stratis proposes a complete sidechains that cannot affect the primary blockchain, which eradicates the risk of failed token, granting companies optimum assurance on their token.
Breeze Wallet
This is an incredibly lucrative feature for ventures that desire to make untraceable and 100% private transaction. The Project, an update of Stratis protocol which uses TumbleBit, was announced last year. It is congruent with the Bitcoin protocol, thus, can be built upon existing Bitcoin's infrastructure.
Proof-of-Stake
As it holds today, mining, the consensus model to verification in some Altcoin is like a herculean task. As an example, mining Bitcoin requires the adoption of sophisticated and expensive hardware dedicated specially for mining.
To separate the wheat from the shaft, Proof-of-Stake, a method that Stratis adopt is the easiest mode of transaction verification with great speed, making Stratis stand out in transaction verification.
The Cloud
This is a Stratis platform that grants businesses the ability to examine and set out their signalled blockchain-based applications, which is devoid of the need to manage the network. Stratis stands out in this arena; let's see blockchain companies that want to outmatch Stratis in this area. Have you any?
Stratis market and what its future looks like
Stratis, from inception, had been less than $1, until May 2017 when the coin experienced its first rise, rolling past $10, which later retreated to $2.41. Subsequently, it saw an all-time greatest hike, moving to a high price of $21.21.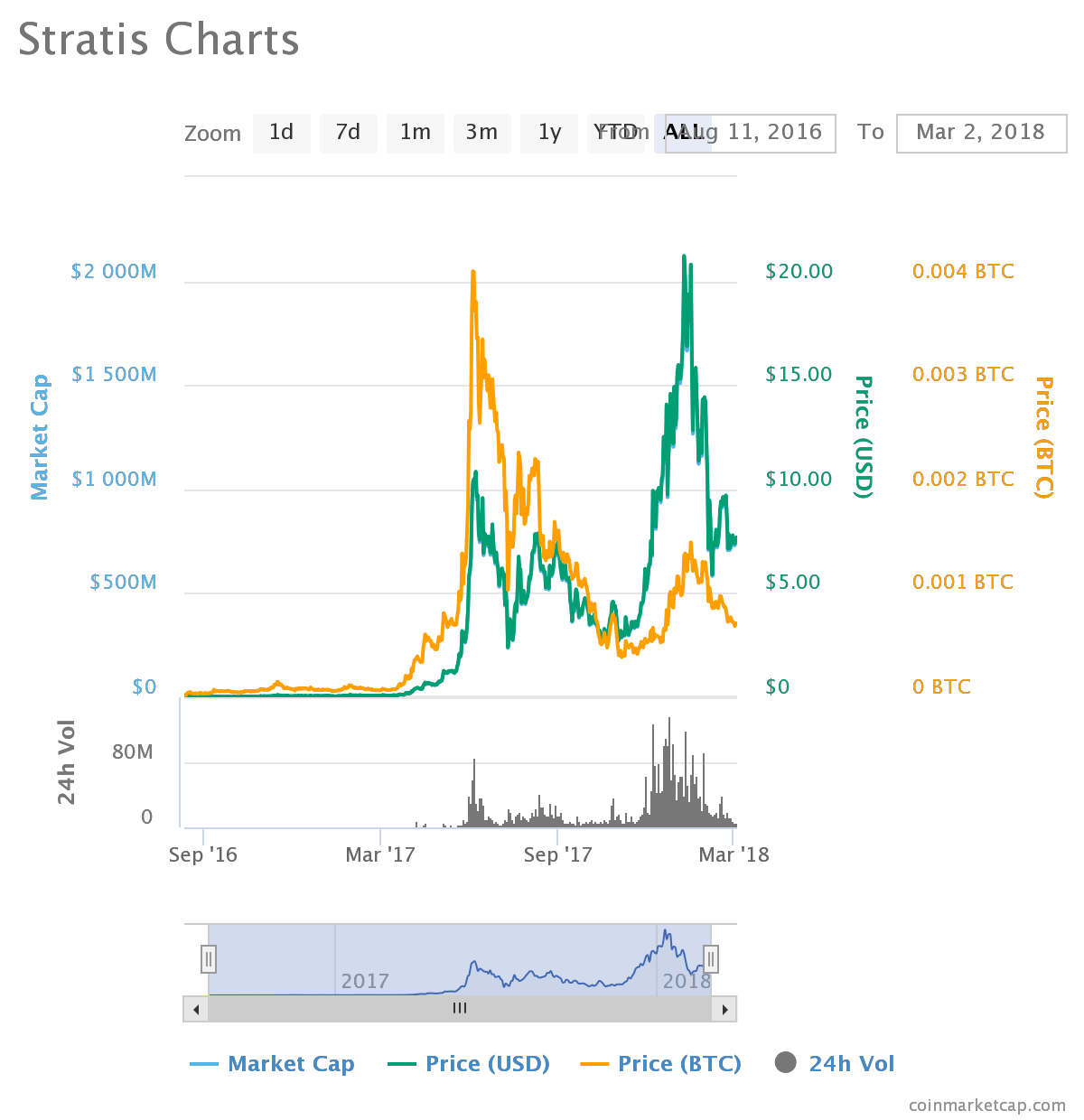 Stratis (STRAT) chart source: coinmarketcap.com
On March 1, 2018, as against dollars, Stratis coin traded up 3.3%, while last week, it traded up 6.2%. On platforms like Livecoin, Cryptopia and more, one Stratis coin is exchangeable to $7.65 or 0.00069885 BTC, while it has a total market Cap. of $755.25 million. On June 21st, 2016, Stratis team held a crowdfunding event which ended on 26th July 2016, and a total of 915 Bitcoin was raised.
Heard of Stratis-Payza collaboration?
Stratis is now relishing the influence of its affiliation with a UK payment platform, Payza (a version of Paypal) that is dedicated with corporate disbursements, e-commerce processing, and payments transaction for cooperation and folks around the world.
The Blockchain offers Payza users worldwide the ability to stock and dispense from their accounts with flexible options like global bank wires, credit/debit card, bank transfers, and more.
Stratis Academy is Awesome
With the imminent launching of Stratis Academy for developers, where developers will utilise and expand their skills, Chris Trew, Founder and CEO of Stratis project, eye broader interest in Stratis from US and Netherlands.
Chris in a statement disclosed that "this achievement (developers academy) is the single major step in the development of the Stratis infrastructure. This is the stepping block for Stratis to rise above all other cryptos by opening capabilities to offer the most solid, proven and future-proof blockchain solution to companies around the world."
Chris Tew & Stratis Team – Image source: youtube
Conclusion
Stratis is one very important cryptocoin that should not be underestimated. Its future is bright following all the glad tiding and goodwill tales tagged to Stratis, much positive effect has not hit its market price and publicity. However, I still believe and hope that Stratis is a sleeping Giant and tomorrow is another day for the blockchain to light the world.