Amazon Is About To Launch Its Own Crypto, And There's Proof To Support The Claim
Crypto developers should take an interesting thing into consideration – the fact that Amazon may eventually launch its very own digital coin.
During the past years, Amazon managed to reshape entire industries with its innovations in e-commerce and its acquisitions of retails stores such as Whole Foods.
Now, Jeff Brown, Townhall Media's Official Wealth Expert addresses some really interesting points that that hint at the fact that Amazon may take a surprising step into the cryptosphere.
The magazine says that investors should definitely keep this on their radar.
Wall Street is currently more focused on the ups and downs of Bitcoin, and meanwhile, it seems that something quite unusual is developing behind the scenes in the blockchain industry.
Brown says that this odd thing that's been happening could have massive implications for cryptos and change the business forever.
"In short, I believe a major U.S. company is about to issue its very own cryptocurrency," Brown writes.
Amazon could launch its own crypto
Amazon, the e-commerce and web-service giant might be on the verge of launching its very own crypto and Brown offers the reasons for which this might not be too far-fetched to assume.
He believes that investors who think Amazon is in the business of just selling all kinds of items and missing the big picture are wrong.
He addresses Bill Bonner, the founder and chairman of Bonner & Partners who had his doubts about Amazon, calling it the "river of no returns."
"We first discussed Amazon over breakfast in July 2015. I contended that the company's stock was worth every penny and that it belonged in every investor's portfolio. Bill didn't bite. And that's fine. As professionals, we can disagree from time to time. And it's healthy to consider differing viewpoints. That's how you learn, after all," Brown writes in his article.
He continued and said that there has been an interesting development with Amazon that should definitely be taken into consideration by investors.
"Something interesting popped up in the internet domain name registry recently," he says, then shows domain names related to cryptos.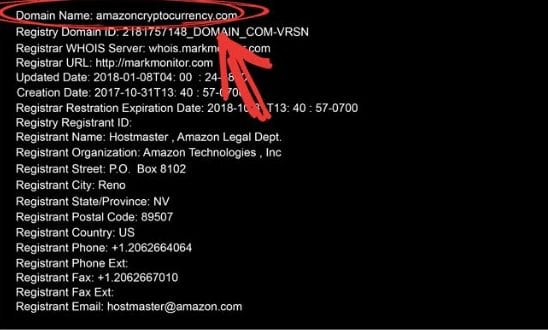 "Amazon registered the new website address: "www.amazonethereum.com". And it registered another: "www.amazoncryptocurrency.com". And another: "www.amazoncryptocurrencies.com"."
These links will not lead to anything as they are not live yet.
Brown believes that this is definitely proof that something exciting is in the works that will change the crypto world for good. You can read his entire article here.