European Parliament Member Supports Blockchain And Crypto At Ripple (XRP)'s Event In London
Eva Kaili is a member of the European Parliament, and she just spoke at a Ripple Regionals event that has been organized by Ripple in London.
She addressed the blockchain technology and spoke about how it's disrupting various sectors, offering her insight into the blockchain.
Interest in blockchain and crypto is on the rise
She also made sure to tell people that she faced massive pushback back in 2014 when she attended the first blockchain conference because she was a politician.
This made her even more curious to learn about blockchain and crypto and the whole technology, so she continued to dig deeper into the subject.
"I believed that if we were not positive, the resistance of the traditional players would only increase and could even kill a technology that had so much potential for good," she said.
She said that things have changed from back then and there is a massive contrast between how crypto and the blockchain were seen and how they're seen today.
She said that financial institutions and EU banks and leader had maintained their interest in crypto and the blockchain for two main reasons: mainstream acceptance of the tech by leaders all over the world and EU's new approach to regulation.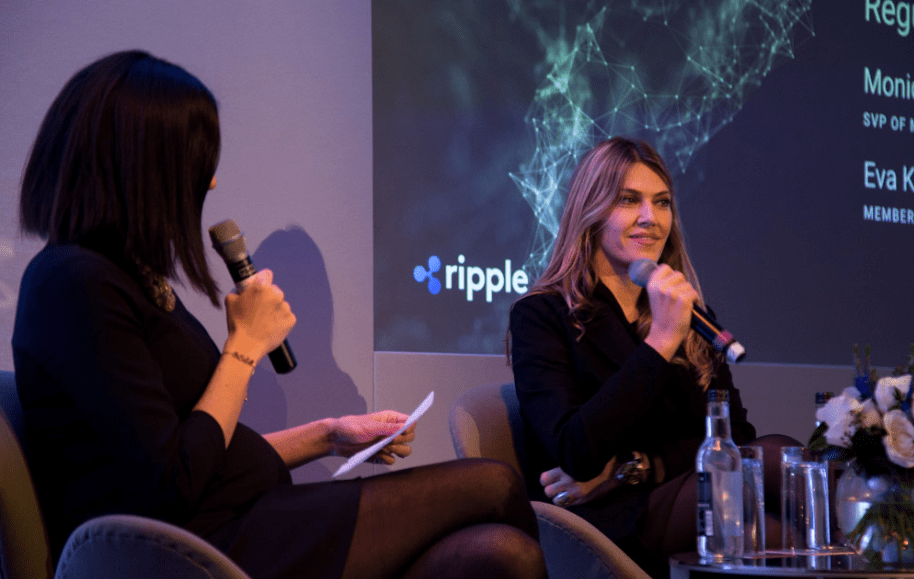 Ripple is revolutionizing the financial system
Indeed Ripple is currently changing the whole payment system.
They're SWIFT's main rival, and they managed, through their products, to make cross-border transactions faster, cheaper and safer as well.
Euro Exim Bank, for instance, ditched SWIFT and started using xRapid.
They said that one of the bank's transactions got lost this month on the SWIFT network and this is the main reason for which it's time to move on to better and safer products such as the tech used by Ripple.
"It was lost somewhere in the quagmire of a central organization, and we have no visibility on where it is. All the counterparty says is, 'We have not received your message," the bank's CEO said.
I am a technical writer, author and blogger since 2005. An industry watcher that stays on top of the latest features, extremely passionate about finance news and everything related to crypto.