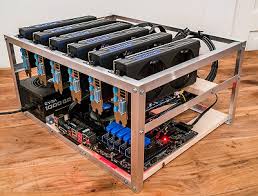 You have done the research and now ready to jump in with both feet but how do you get started? You want to mine but don't know how. the simple answer is that hobby mining is not terribly difficult. You one two major options to start mining. ASIC Vs GPU.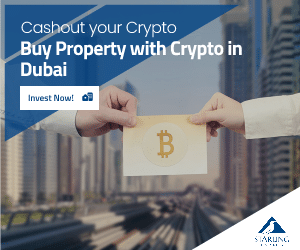 ASIC –
Application-specific integrated circuit. These are designed to do one function. More specifically they are computer hardware designed to perform one task. When discussing mining crypto currency these devices mine one coin as efficiently as possible.
As they have one task they are very limited in functionality. Resale is limited as once they become obsolete and unprofitable they cannot be repurposed. This is not your home computer that runs windows. The largest player in this game is bitmain who designs ASICs for Bitcoin (BTC), Litecoin (LTC) and Dashcoin (DASH). The machines are very expensive and have a short useful life becoming obsolete with the next generation of chips always just waiting for release. Litecoing L3+, Bitcoing S9 and the Antminer D3 are the current gold standard of ASICs for Litecoin, Bitcoin and Dash respectively.
GPU –
Essentially a computer with more than one graphic card, a GPU miner is versatile, can run Linux, Ubuntu, Windows or dedicated mining software to harvest coins or play video games when not used for mining. GPUs can cross generations of advancement and still have useful life with resale when nearing un-profitability.
The powerhouses in this realm are Nvidia and AMD. GPUs function very fast but work differently to have benefits on different types of blockchains. As these are not specifically desiged for mining they can have many other applications including playing video games when not used for mining or when sold after a time mining.
GPU rigs are not all-in-one solutions. This is a computer that also mines. It requires a Motherboard, CPU, Ram, HDD, Case, PSU, GPU to be function. GPU have many options and often are determined by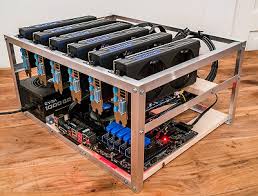 the coin to be mined and the GPUs available at time of purchase. To mine Monero (XMR) would require AMD cards and to mine Ethereum (ETH) requires Nvidia. This is a very simplistic view of choosing a GPU set to run and I would encourage more research prior to deciding as this is the largest investment in building a GPU rig. The choices above are only suggestions and a jump off to further research.
Many GPUs are profitable until you determine the price of electricity to mine. AMD cards as a general rule will use more electricity and produce more heat than Nvidia cards of the same generation. This can be beneficial in winter if you already were going to run a heater but can be a detriment in the summer as it requires more cooling. The ambient air temps, cooling available, electricity cost, and coin to be mined all require consideration when choosing the right GPU for your Rig.
Software
There are many options here and really only limited by your comfort in installing and running software. This write-up is meant for a basic entry into the mining game and most likely the reader is comfortable with windows. Windows 10 can be used easily, just make sure to update to the Fall creators pack for support beyond 6 GPUs. Linux and Ubintu can also be used and vary from build to build and run cheaper than a legal copy of Windows.
For mining you need to select a mining software. The easiest choice for a new miner is to use Minergate as it is a graphic User Interface (GUI) although most serious miners do not trust them and suspect they are re-directing hashing to their own wallets. XMR-Stak comes in multiple varieties for GPUs AMD or Nvidia specific and CPU support. This software is for the intermediate user and while not hard is also not click and go mining either.
Bottom Line
Just scratching the surface here. There are more combinations for miners than can be listed in a single article. The above links are just recommendations to get you started and should not be taken as recommendations to purchase. In future articles I will discuss more specific hardware and associate hashrates to focus on ROI. Use this as a jump off to more research before purchasing hardware.