Ripple's XRP Eyes New Weekly Heights And Dilip Rao Addresses Adoption In The MENA Region
The crypto market seems to be doing better today, and all the important cryptos are trading in the green.
XRP is no exception, and it's currently priced at $0.332921 while occupying the second spot on CoinMarketCap.
According to crypto experts, if there is a break above the $0.3360 resistance, the coin could extend gains towards $0.3500.
Meanwhile, Ripple's Head of Infrastructure Innovation Dilip Rap has recently addressed the importance of the MENA region for the company.
The Middle East and North Africa, adopting DLT solutions from Ripple
Rao claimed that the MENA region is probably the faster adopter of the company's tech.
He also said that they would be signing up with banks in Saudi Arabia, UAE and more countries such as Kuwait and Oman.
Rao also highlighted that central banks and regulators are positive about the technology.
"The enthusiasm of the regulator, the central banks to also encourage the use of Ripple technology to build new infrastructure for payment rails."
It seems that the tech is not only used for domestic payments, but also for cross-border transactions.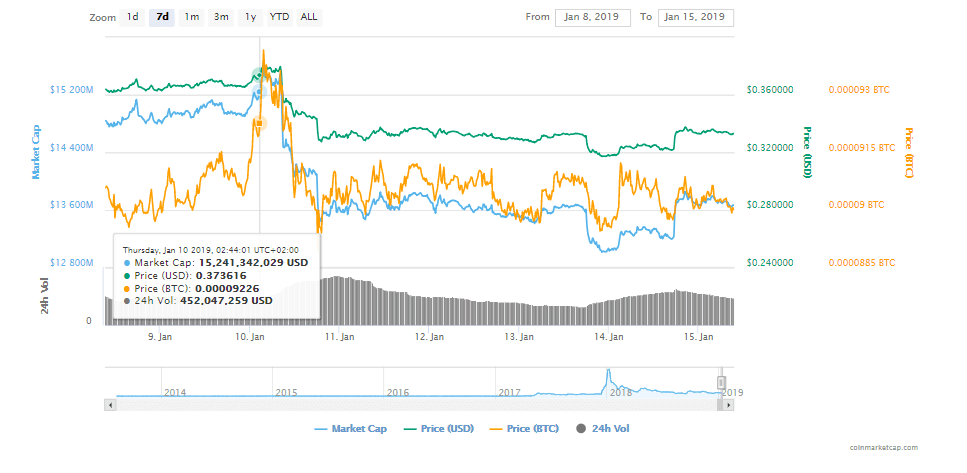 Countries in the region are more open-minded
During the Global Islamic Economic Summit in Dubai that took place in October 2018, Ripple revealed that they were looking forward to expanding to the Middle East and setting up an office in Dubai.
https://twitter.com/RippleXrpie/status/1084557162431610883
Back then Rao said that the countries from this region are more open-minded regarding crypto and the blockchain tech and they are not that attached to traditional systems.
Ripple's latest achievement is that Euro Exim Bank will use Ripple's XRP-powered xRapid.
They just announced that the technology would be fully integrated in a few weeks. They will begin using XRP for cross-border payments in Q1 2019.
One of the main reasons for which the bank chose Ripple's solutions is because they decided to ditch SWIFT after losing a transaction on the network.