Tron's Justin Sun Invites Litecoin Creator Charlie Lee To Lunch With Warren Buffet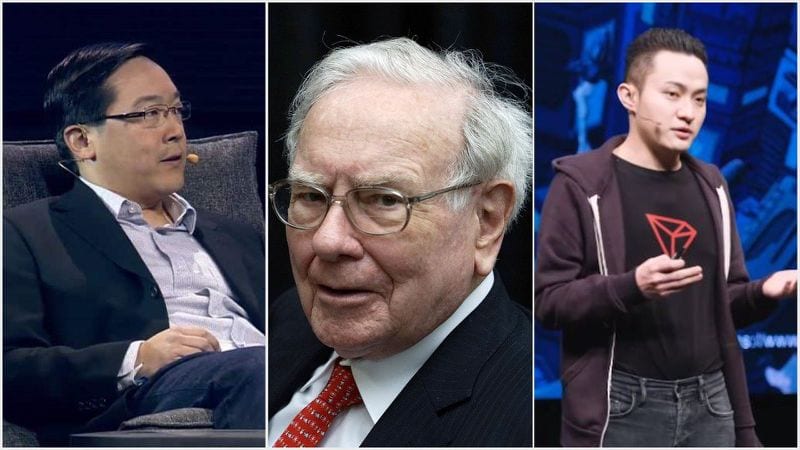 Justin Sun gained massive media exposure not too long ago after he won an important charity auction.
You may recall that Sun won an eBay charity auction to have lunch with renowned investor Berkshire Hathaway CEO Warren Buffett.
Cointelegraph reported that Sun bid a record-breaking $4,567,888 to win the charity auction.
Binance's CEO, Changpeng Zhao, believed that this would be great for the mainstream adoption of crypto and told Sun that this was a pretty smart move. Sun also gets to bring some friends with him to meet Buffet as well.
Justin Sun invites Charlie Lee to join him
The first pal that Sun had in mind is Litecoin's creator Charlie Lee and he invited the man to the lunch on Twitter.
Lee accepted the invitation, and people are waiting to see who Sun has in mind next, and the community is offering suggestions.
Lee believes that Bitcoin and cryptos will "revolutionize money" and that their real power lies in their resistance to censorship.
He said: "the innovation of Bitcoin is that it's a decentralized currency and no one has control. And I think that's the key. They managed, or Satoshi managed, to achieve this goal where previously no one else has been able to."
Thanks Justin! I'm excited about this opportunity to meet a legend.

— Charlie Lee [LTC⚡] (@SatoshiLite) June 16, 2019
Sun also asked Zhao, but he did not seem to enthusiast about it although he found Sun's move beneficial for crypto mainstream adoption.
Lastly, very smart move for @justinsuntron, now the whole traditional financial industry has eyes on #crypto (and $TRX of course). Who is this #crypto kid? Kudos for pushing adoption, Justin! 👐👍👏

— CZ 🔶 Binance (@cz_binance) June 4, 2019
Zhao said that with this move, Sun was able to bring crypto in the spotlight because the whole media was interested in the subject.
Ripple's Brad Garlinghouse is another suggestion that the community had for Sun.
During a recent interview with CNBC, Sun said that he doesn't expect to change Buffet's mind ion crypto, but he does plan to bring along important names in the crypto space, just to give Buffet another perspective on the digital assets.
Famous crypto enthusiast Tommy Mustache made a little joke that you can see below:
— Tommy Mustache #❤️❤️❤️ (@MustacheTommy) June 16, 2019
Anyway, stay tuned to see who Sun will invite next.