XRP Attracts Increased Institutional Interest, Says Ripple Via Quarterly Sales Report – Ripple Doubled XRP Sales Since Q2 2018
Ripple and XRP enthusiasts have been living their best days. More institutions have adopted Ripple's products almost on a daily basis.
Now, the company just released its XRP Markets Report for Q3 of 2018 and it reveals a massive surge in institutional interest.
Exciting figures in the report
The report says that Ripple doubled its sales of XRP and it managed to sell a total of $163.33 million worth of the digital asset which is enormous, compared to the $73,53 million in Q2 of 2018.
It seems that the majority of this surge came from sales that have been made straight to institutions.
In the third quarter of 2018 Ripple sold $98.06 million to institutions compared to $16.87 million in the Q2 of 2018.
The report highlights that "XRP volatility was light throughout most of the quarter, then jumped in the last two weeks of the quarter as the price also increased."
This does not come entirely as a surprise considering that Ripple CEO Brad Garlinghouse has recently hinted at a big surge in institutional sales of XRP saying that the company has been seeing a second rate of interest from various prospective buyers.
"Q3 will definitely be a record of institutional participation in buying and interest in holding XRP," Garlinghous teased back in August.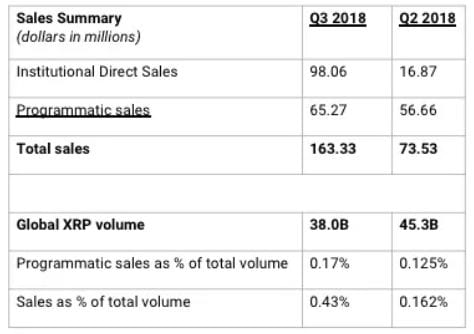 Ripple released 400 million XRP out of escrow
It's also important to note that Ripple released a total of 400 million XRP out of escrow in the latest quarter.
The coins are being used "in a variety of ways to help support the XRP ecosystem," according to the report.
Ripple owns 60% of the total supply of XRP, with approximately 91% of that investment locked in escrow.
In the report, there are also presented interesting details regarding the markets, ICOs and regulation, geographic trends, Wall Street adoption and more. You can read the complete report here.
Brad Garlinghouse
Garlinghouse is both the CEO and Chairman of Ripple Labs. This year, Ripple surpassed 300 partners, including over 115 banks worldwide. Having launched On-Demand Liquidity (ODL) for cross-border payments, Ripple now has more than 20 partners using XRP for ODL, including Moneygram, Western Union, and American Express.
I am a technical writer, author and blogger since 2005. An industry watcher that stays on top of the latest features, extremely passionate about finance news and everything related to crypto.